updated Thursday, August 16, 2007

KATHY AND RICK IN PUERTO RICO

TRIP 2 to San Juan, Puerto Rico, August 15 to 29, 2007
is at the invitation of Professor Heeralal Janwa and his graduate student Fernando at the University of Puerto Rico. Rick will give some mathematics lectures confer with them on projects at the University. Our previous trip, April 24 to May 5 began those projects. Our last trip was inspiring and rich with the culture and lanscape of a place we had never seen before.
Go to Arrival and First day in San Juan August 15, 16, 2007
Go to No Hurricane Friday and Saturday in San Juan August 17, 18, 2007

**********************************************

See below...the details of our previous trip to Puerto Rico.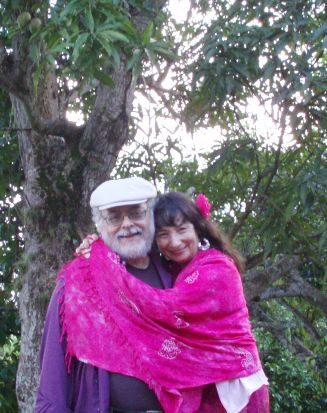 Under the Mango Tree
San Juan Botanical Gardens
APRIL 24 TO MAY 5, 2007
May 5, 2007 NEW UPDATE: we're home with Answers to the last seven questions about our trip to Puerto Rico!
4. Into the Rainforest
Answers to Ten Questions about our trip to Puerto Rico!
********************************************
Kath's Tropical Poetry Journal
#3 Textual Ecosystem Preserve(5/1/07

#2 Climatic Dream Analysis(4/28/07

#1 Simulations from the Tropics (4/26/07) ******************************************