Opening Another Visit to San Juan, Puerto Rico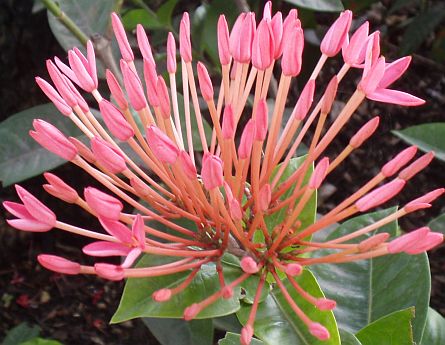 (A bloom on campus
University of Puerto Rico at San Juan.)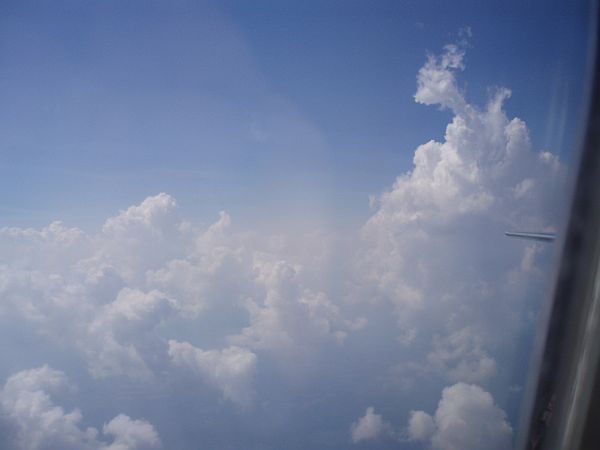 Cloud creatures greeting us on our arrival (wild duck?)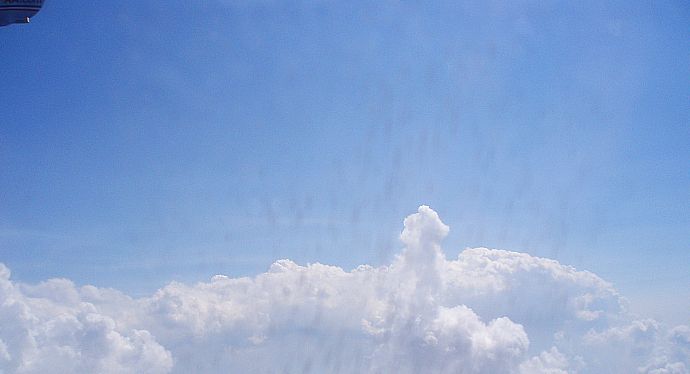 (Seahorse?)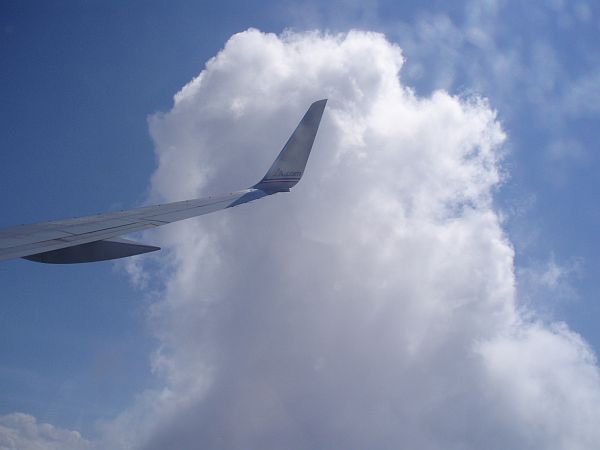 (Giant monster head looking back, laughing?
--Made a bumpy ride--he blew big winds, and children were crying! It wasn't scary.)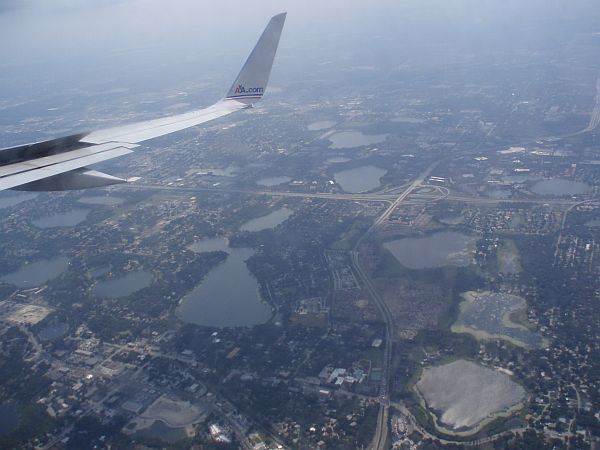 Our connection was in Orlando, Florida...we had never seen such a place! "If lakes had eyes..."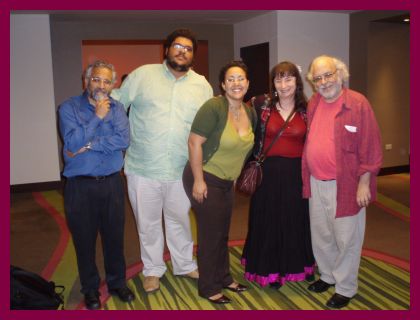 Our arrival welcoming party, after a day of travel
. Professor Heeralal Janwa, graduate student Fernando, his friend Rebecca, and us.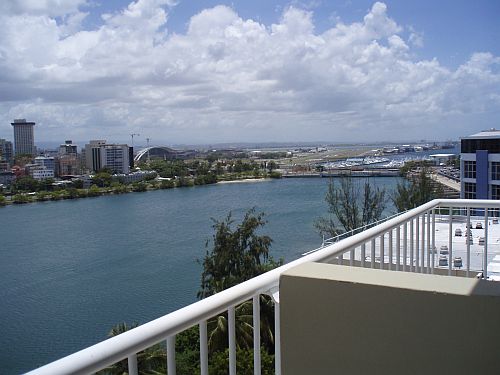 View from our hotel room balcony.
This is where we are staying. The University put us here.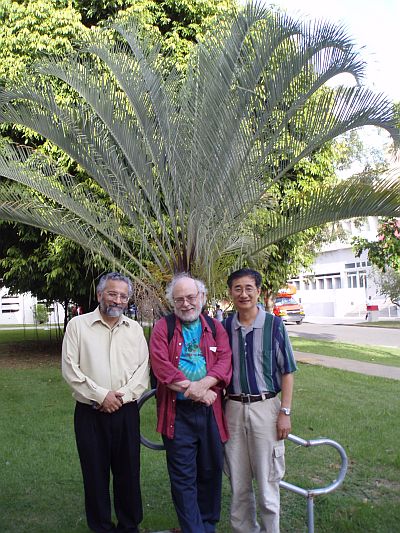 On campus, Rick, with mathematics growing out of his head
surrounded by Professors Heeralal Janwa and Puhua Guan.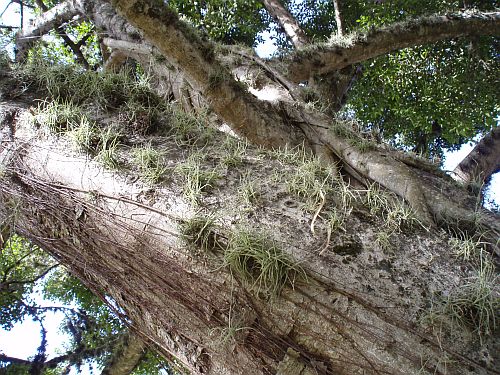 A typical tree on campus. Only fancy dress trees are here.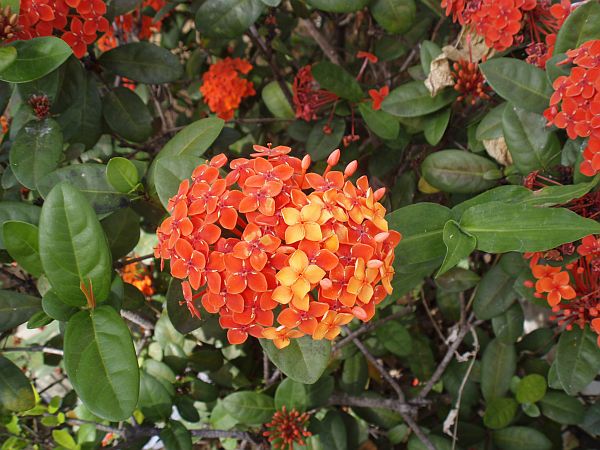 Just another bush on the way to the mathematics building.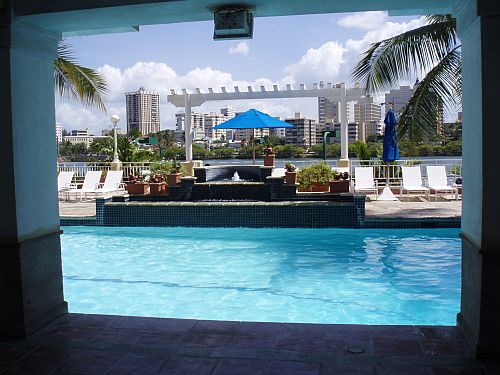 Our hotel pool has a waterfall.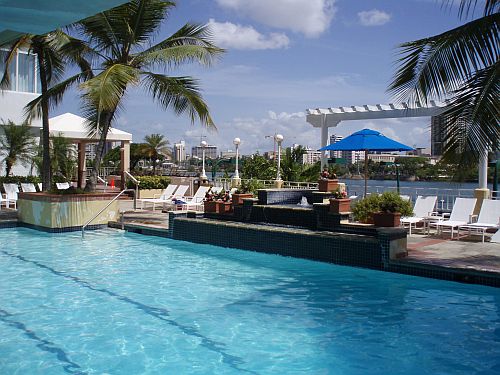 Beyond is the bay. Kath went swimming before we left for the univedrsity today and also under the stars in the evening.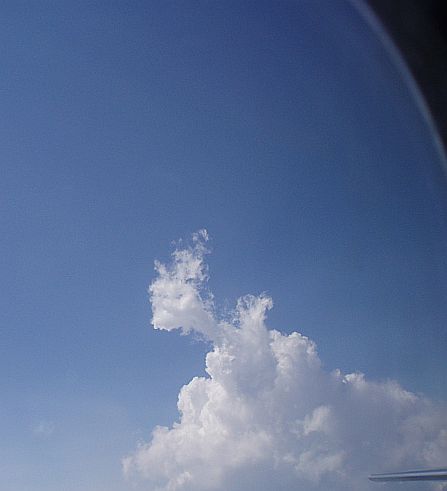 We dozed on the plane, after spending most of the night preparing for the trip... Kath awakened only to read strange wonderful fiction (Virtual Light by William Gibson) "The Poems of the Late Tang" traslated by A.C. Graham, and a long overdue reading "100 selected poems ee cummings". Now you would think being an English major that would have gotten my attention years ago... but many other poets, courses, children and work as well-- and so I had read, but never really concentrated on, him. Just had the book in our library for the right time. What a thrill... and to realize this kindred spirit poet of mine had been there all along waiting while I was writing non stop... amazing chills. I had to close the book and smile a lot. Do you know what I mean? Then photos of clouds as you see above, like She creatures of the skies... all stirred up, waking from dreams... poem fragments seed scattered in my trip journal. Yes. I love this perspective, this virtual space of travel, the leap, the flight, the gap, the leaving behind and going to. The bliss of creativity blue like those skies and emotional sweetness like the clouds changing shape, we ride through them, and begin again. And now we return, The trees here never undress, wrap themselves in green scarves always...but sometimes I think there's more than one in there, and that's why they are so modest. Something's going on under the canopy. Then the (surprising) blooms that grow on them, like the flowers in my hair, are signs of pleasure. Yes.
Go to the next two days of this trip
Go to Our Puerto Rico Travel Page
Go to our home page