Thursday Evening Poetry Workshop and French Baroque Feast
Music and Poetry Party at the Wilson's in Pasadena, Ca
March 22, 2007
Thursday Evening Poetry Workshop welcomed a fine group of poets this week including first time guest Toti O'Brien, second from right, who read her newest poem, the darkly beautiful and mystrerious "Creation". Regina Higgens, front left, also a first time enthusiastic guest at our new locationm read her questioning " A Mother's Instinct". CaLokie, on the right, as usual provoked animated discussion with his reading. This time his poem was "The Reich Stuff". Justin Kibbe (left), read his musing "Bird on concrete". Poems were mixed with French Onion Soup, along with French wines and later French Baroque music!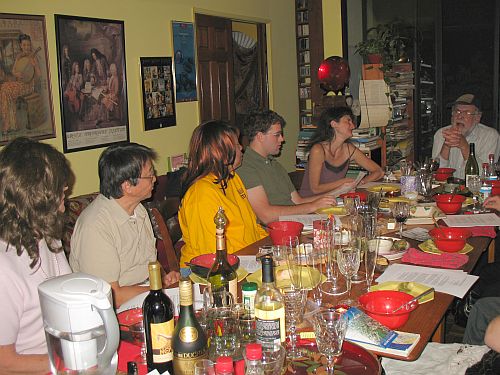 Sharon Hawley, front left presented her amazing poem "The Small Ones" and took care of making sure the drinks were poured. Albert Kung (second from left) read his beautifully subtle "Silent Passion", and cheered Kath along in the kitchen.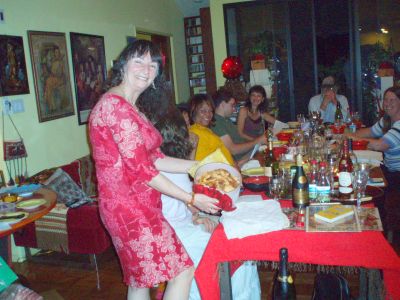 Kath began the workshop with a reading of her new poem "Tender". Then three French souffles enhanced the exhuberance of the evening.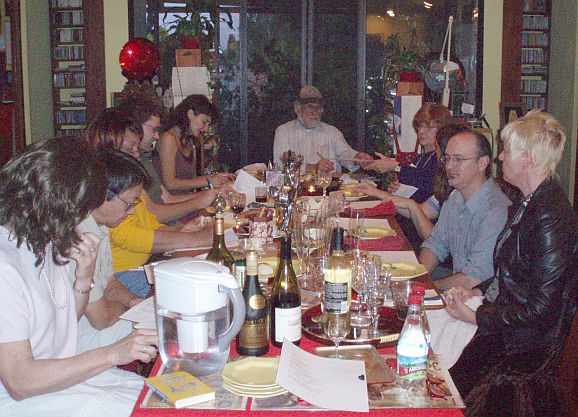 One of the wonderful things about our workshop is the mix of poets and musicians, as well as neighbors and friends. On the right see Marishka Hopcroft and her husband Bruce Teter, guest musicians for the evening, who were fascinated with the poetic dialogue. They as well as other guests have been very impressed with this process of poets talking to one another about their poems, now a part of our lives, but to others an unusual and interesting process to observe.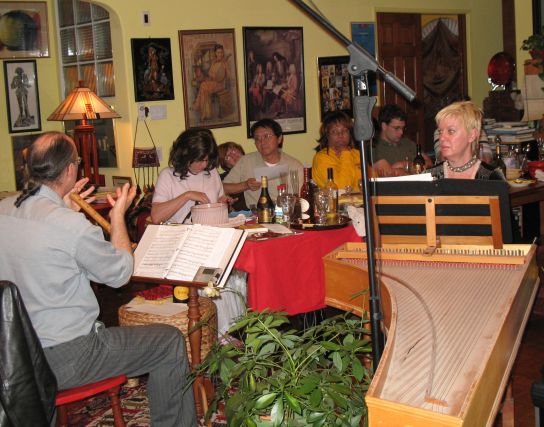 Bruce Teter introduced the program, explaining he and his wife called their duo "Distorted Pearl". The name comes from the original meaning of the word "baroque". Bruce and Marishka played French Baroque Music of the 18th century.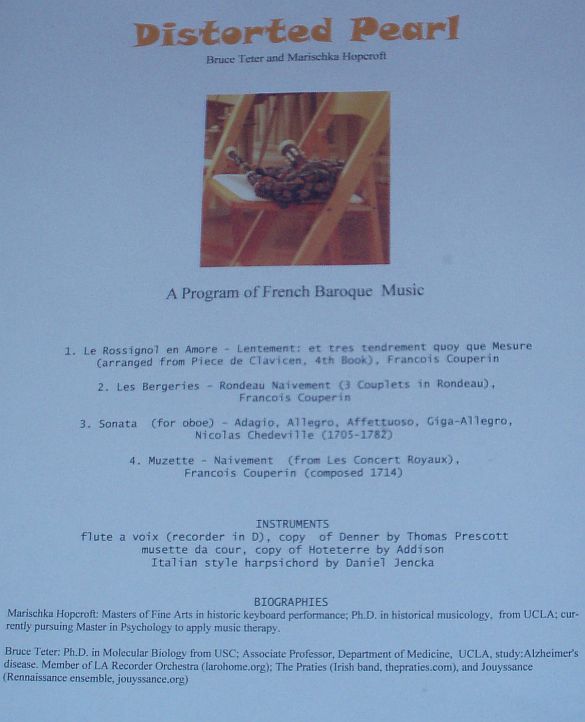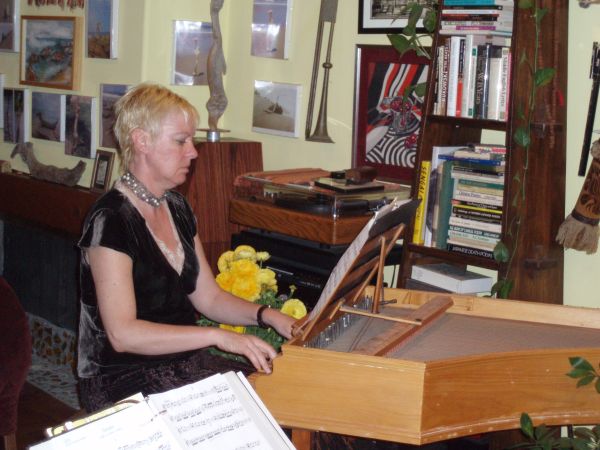 Marishka beautifully played an Italian style harpsichord, made by our friend Daniel Jencka, on loan until our larger Flemish harpsichord is completed.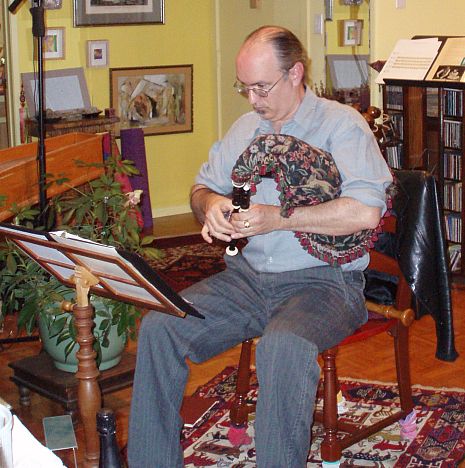 Bruce played is one of several players in the U.S. of the beautiful French Musette. This unusual, rare and complex instrument was a joy to see and hear--what a special experience to have this happen at our home and workshop.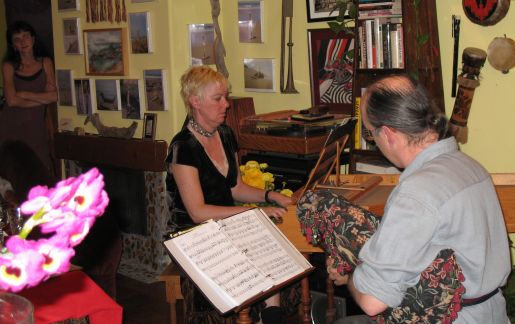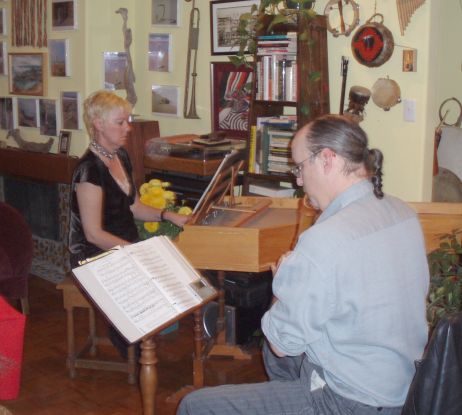 Bruce and Marishka also performed music by Francois Couperin for recorder and harpsichord.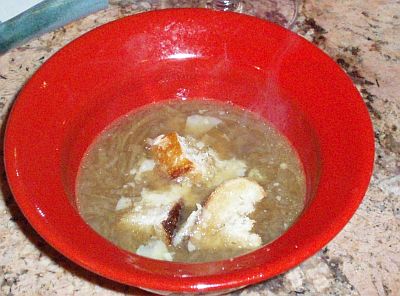 Kath made French Onion Soup in honor of the occasion. The onions were cooked all day the day before, giving it a deep, sweet flavor, enhanced in the cooking by French brandy and white wine in the classic tradition.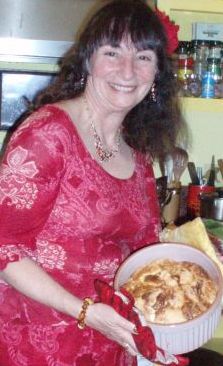 Kath in the kitchen.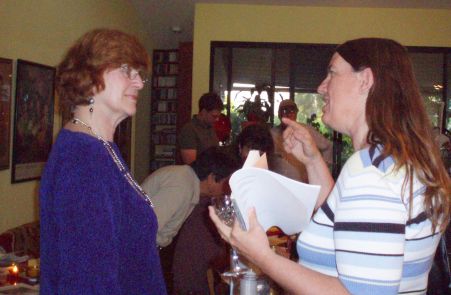 All this provoked great conversations during the evening.
Here are Mira Mitaric and Debbie Kolodji (right) in animated discussion. Debbie read her fascinating " Jabberwocky in the desert".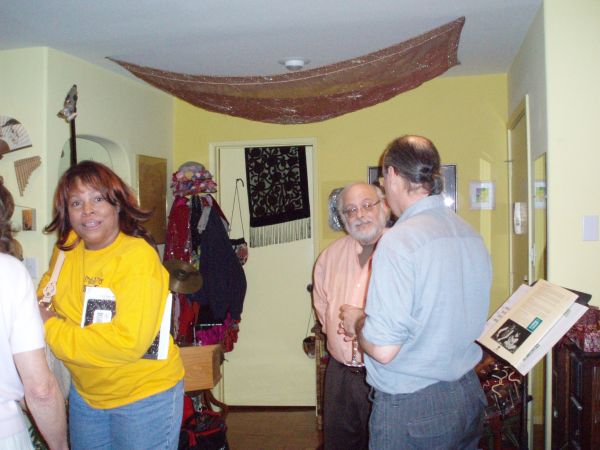 What a wonderful gathering of poets and musicians.
On the left is poet Regina Higgens, on the right, Rick greets Bruce, a friend of many years. As well as being a wonderful musician, Bruce Teter is a scientist, Associate Professor, UCLA, Dept. of Medicine, studying prevention of Alzeimer's Disease.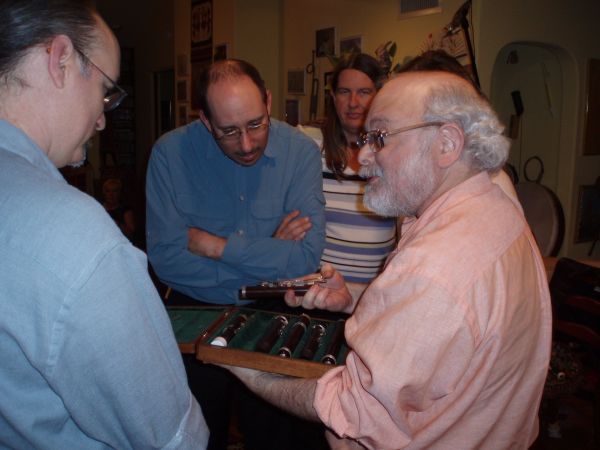 Here Rick shows one of the flutes from his collection to Paul Sherman (center), another musician friend guest who is preparing a program for next week's poet's night. Paul Sherman is a player of both baroque and modern oboe, and director of the Los Angeles based "Ensemble Green".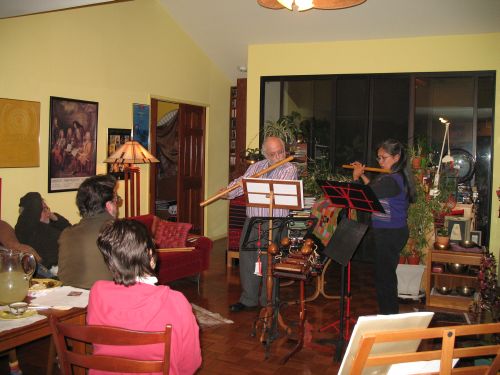 His wife, our friend Asuncion (also a guest tonight) accompanied Rick at a previous Poet's Night in performance of renaissance flute music, February 21, 2007.
go to last week's workshop Irish Night/ Poetry Workshop
go to Rare Instrument Concert with Bruce Teter and Curtis Berak
go to Elizabethan Night/ Poetry Workshop
go to a Chinese New Year/poetry workshop
go to the Indian Feast/poetry workshop
go to Sweetheart Day Feb 14
go to The first Wednesday workshop party
go to Monday Night Poetry in Pasadena
go to Modern Verse
go to Ephemeral Poetry
go to our Circle of Musicality
go to Rick Wilson Flute Site
See Directions to the workshop (our home in Pasadena).