A Gathering of Poets on IRISH NIGHT
at the Thursday Evening Poetry Critique Workshop
March 15, 2007 at the Wilson's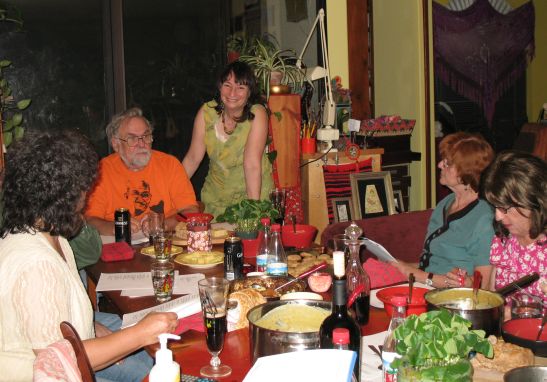 The tall glasses are poured, the soup is being served (pub-style split pea) and Kath's handmade Irish Soda Bread, and the poems are being discussed. We did our best without our "poetry guru" Don Kingfisher Campbell (who was ill this night, hopefully recovered by now). One round of comments featured "what Don would have said". A bit wild we were, but doesn't it suit the occasion?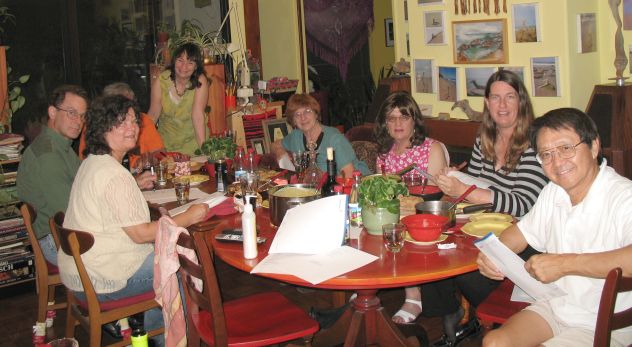 Poets at the workshop from the left: Peggy Castro, Jack Chansler, CaLokie (you can see him better in the first photo), Kath, Mira Mitaric, Debbie Kolodji, Sharon Hawley, and Albert Kung.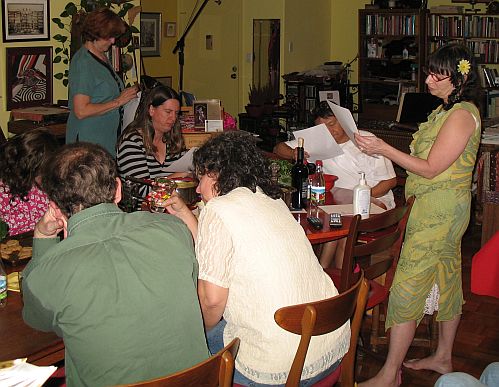 Kath began with a reading of her new poem "A Dark Matter". Then poems comment aloud. Sharon read her "still-life" poem "Flowers", Albert read his amazing "Mystic Crevice", and Mira Mitaric read "I don't want to be a brag" an autobiographical poetic argument written in response to a Saturday workshop prompt.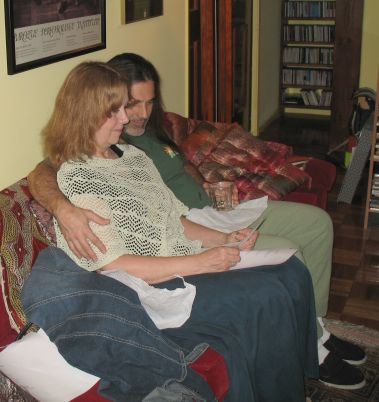 Musician for the evening Steven Radice and his artist sweetheart Gail enjoyed the poetry too. Steven wrote the "Found and Composed Fortunes" the fortune cookies for last Chinese Night two weeks ago. He composes his own lyrics and songs, as well as so musically playing music old and new, and including the Irish Traditional Music of the evening.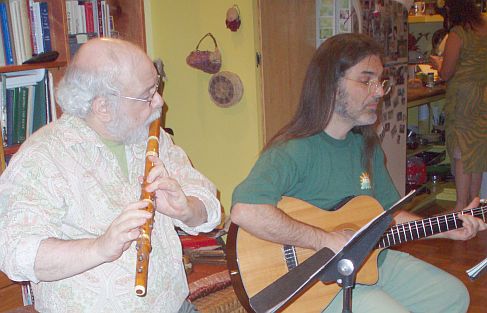 Rick Wilson loves the Irish style of playing and has studied the traditional techniques with Chris Norman. Rick played a circa 1815 boxwood flute made by William Henry Potter, London, from his collection. The flute is of an appropriate type used by traditional players. Steven Radice and Rick started the musical entertainment with three dance tunes.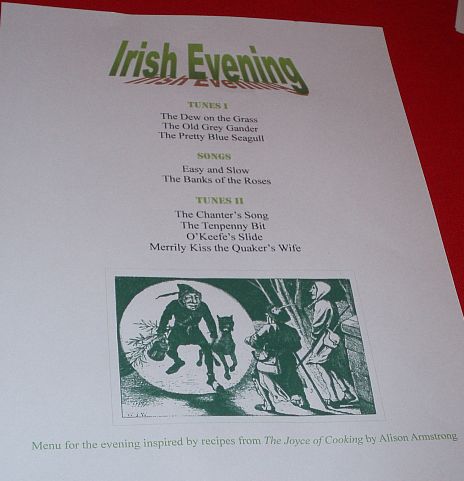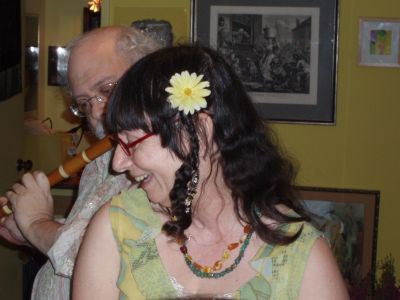 Kath joined them to sing two traditional songs, first the teasing and subtle "Easy and Slow"...
'Twas down by Christchurch I first met with Annie
a neat little girl and not a bit shy
she told me her father who came from Dungannon
would take her back home in the sweet by and by

and what's it to any man whether or no
whether i'm easy or whether i'm true
as she lifted her petticoats easy and slow
I tied up my sleeves for to buckle her shoe

we wandered by Thomas street down to the Liffey
the sunshine was gone and the evening grew dark
along the Kingsbridge and begod in a jiffy
me arms were around her beyant in the park

from city or country a girl is a jewel
and well made for gripping the most of them are
but any young man is he really a fool
if he tries at the first time to go a bit far

now if ever you go to the town of Dungannon
you can search till your eyes are empty or blind
be you lying or walking or sitting or running
a girl like Annie, you never will find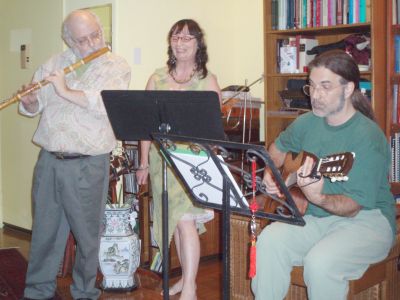 Then the lovely Banks of the Roses (Kath sang these two verses)
On the banks of the roses, my love and I sat down
And I took out my violin to play my love a tune
In the middle of the tune, O she sighed and she said
O Johnny, lovely Johnny, Would you leave me

And if ever I get married, twill be in the month of May
When the leaves they are green and the meadows
they are gay And I and my true love can sit and sport and play
On the lovely sweet Banks of the Roses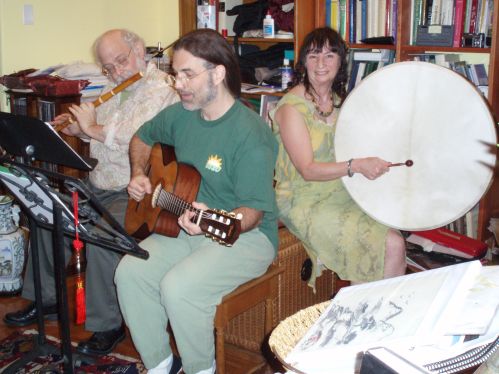 Kath played her Bodhran, considered the heartbeat of Irish traditional music a single-headed frame drum long-associated with festivals. While many bodhrans are 18" heads this is an espeailly deep sounding 25" diameter drum.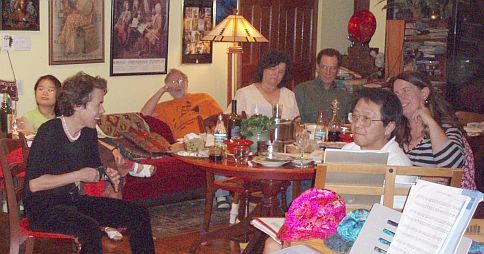 We had an appreciative audience! On the left in foreground see Isabella Kierk, our neighbor and Caltech scientist, and behind her our good friend Jian Yuan Thum, a Caltech alumni, in Kath's choral group and yoga classes at Caltech. Both joined us to hear some of the poetry and the entertainment.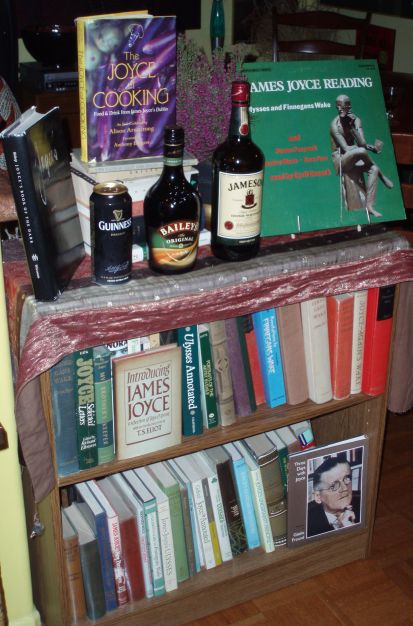 The evening was as well as an Irish fest, a special tribute to the great poetic novelist James Joyce. Kath has had influence and pleasure of his work as a companionable part of her life for years, and we moved the James Joyce collection, libations and books by and about Joyce. Kath in her days as a humanities dept research assistant at CUNY enjoyed especially assisting Richard Barsam in his Joyce studies. Her son Tim reads Finnegan's Wake aloud to his 2 and 8 year old. The menu for the evening was inspired by recipes from "The Joyce of Cooking" by Allison Armstrong. The cookbook includes a quote for each recipe from a food mention in one of Joyce's works.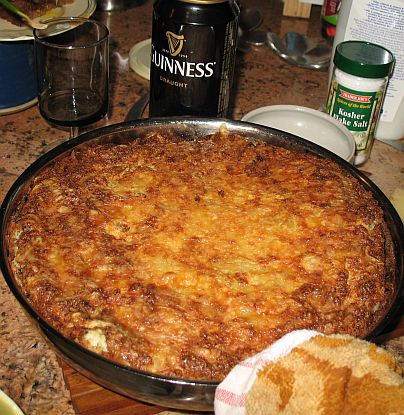 One of the dishes was "Murphy's Puffs" mashed potatos raised by frothy egg whites and enhanced with lemon and cheese.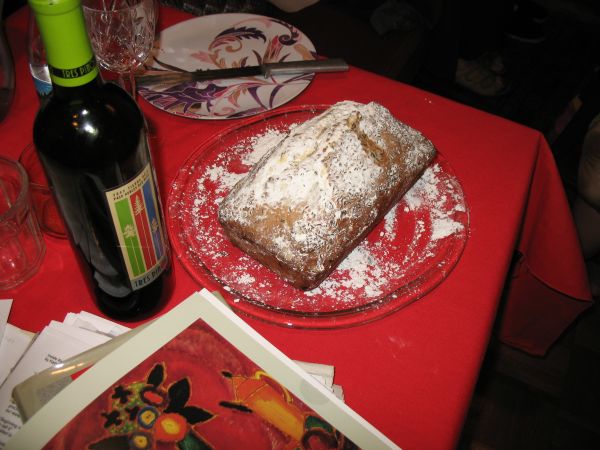 This is the luscious "Molly's Seed Cake" before slicing. Sweet and rich rich in eggs, caraway seeds and Jamesons in the making:
"the sun shines for you he said the day we were lying among the rhododendrons on Howth head in the grey tweed suit and his straw hat the day I got him to propose to me yes first I gave him the bit of seedcake out of my mouth and it was leapyear like now yes 16 years ago my God after that long kiss I near lost my breath yes he said I was a flower of the mountain yes so we are flowers all a womans body yes that was one true thing he said in his life and the sun shines for you today yes that was why I liked him because I saw he understood or felt what a woman is and I knew I could always get round him and I gave him all the pleasure I could leading him on till he asked me to say yes and I wouldnt answer first only looked out over the sea and the sky..." from Ulysses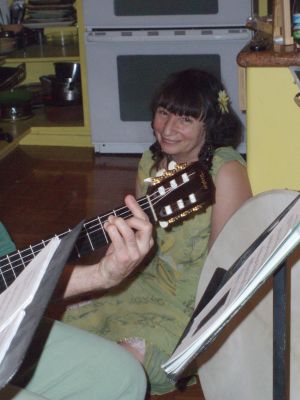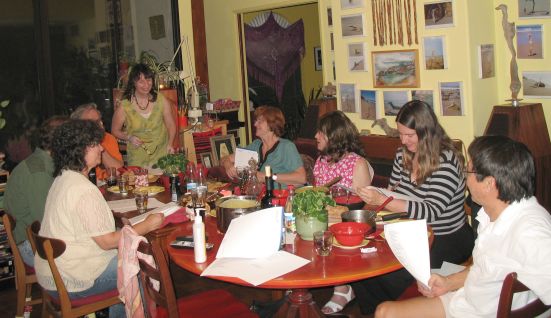 Good spirits make for good poetry and good spirits.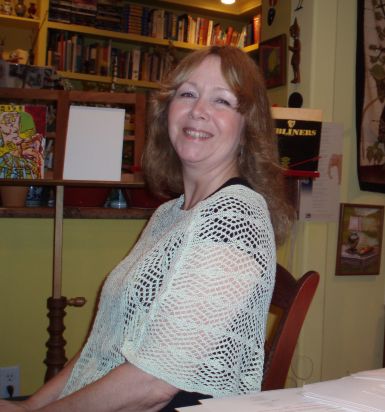 Perfectly expressing the pleasure of the evening, Gail beams.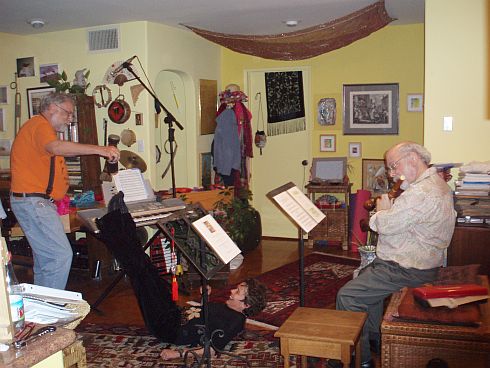 I told you we got a little wild, right? There's CaLokie doing the oh my Guiness jig, with Isabella playing along.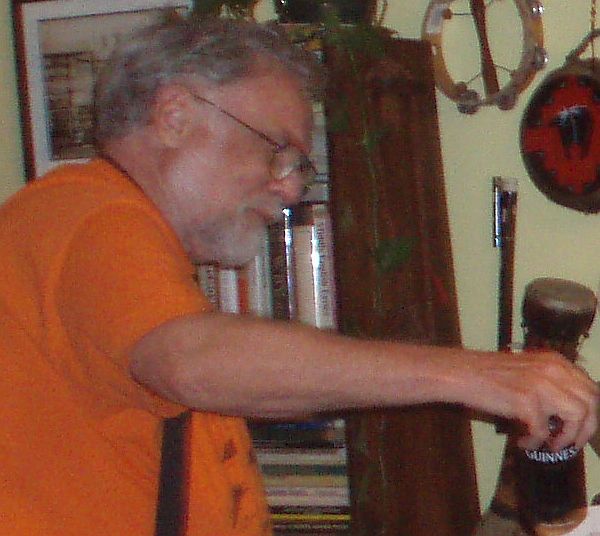 The best percussion instrument...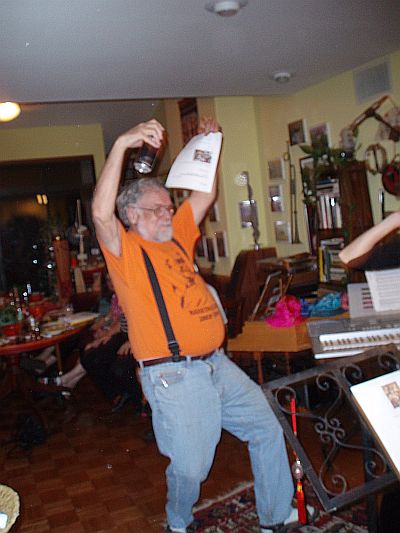 The end of a wonderful evening.
CaLokie is holding in one of his hands, a copy of Michael Dunn's poem dedicated to our gathering. Kath gave each poet a copy.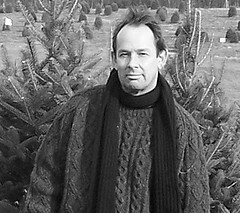 Michael is in Fredericks, Maryland and has been following and enjoying our gatherings from afar. He also advised us to get the tall cans of Guinness for the party as the best, rather than the bottles. He features Irish spirits in stunning form in another poem each poet received a copy of as a "party favor". Michael Dunn is currently the Featured Poet on Kath's Ephemeral Poetry Blog.See his book Beyond Door's Threshold light
go to Elizabethan Night/ Poetry Workshop
go to a Chinese New Year/poetry workshop
go to the Indian Feast/poetry workshop
go to Sweetheart Day Feb 14
go to The first Wednesday workshop party
go to Monday Night Poetry in Pasadena
go to Modern Verse
go to Ephemeral Poetry
go to our Circle of Musicality
go to Rick Wilson Flute Site
See Directions to the workshop (our home in Pasadena).