WEDNESDAY EVENING CRITIQUE and POETRY PARTY
at the WILSON'S February 28, 2007
Celebration the Chinese New Year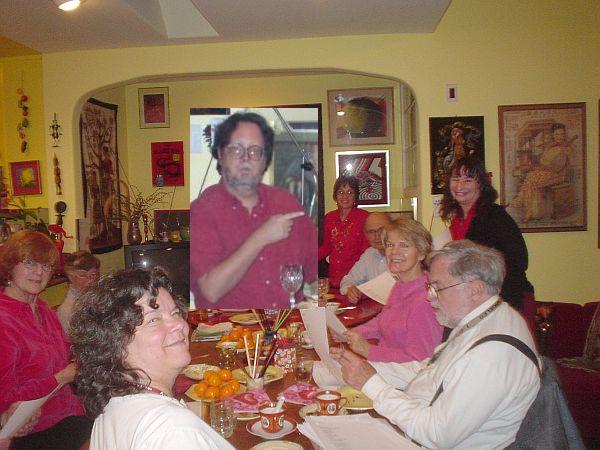 Don Kingfisher Campbell presided over a lively poet's night last Wednesday, readings began the evening, along with the friendly and insightful critiques. Around the table from front left Peggy Cramer read a fine poem "Her Name Was Mary", Mira Mitaric, Peggy (a friend and neighbor who participated with critiques) Don Campbell, co-host Mary Torregosa (who read her dynamic "Once Again") Dick and Pauli Dutton, Kath (in the background) read "Inside the Atomic Clock", and front fight, CaLokie reading his fascinating poem based on the San Gabriel Valley Poetry Calendar (to date) .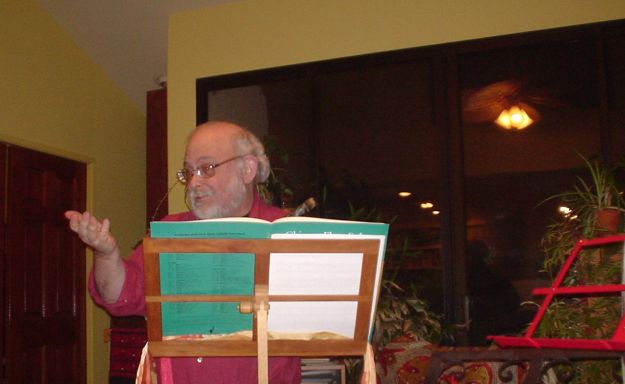 After the Critique Rick brought out his collection of Chinese flutes for the celebration.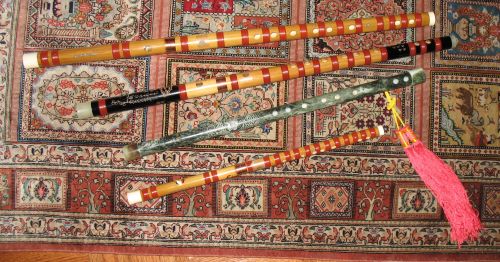 The flutes were mainly purchased on our trips to China, and Rick was glad to be able to get them out and play on them. "Poets make the best audience" he always says.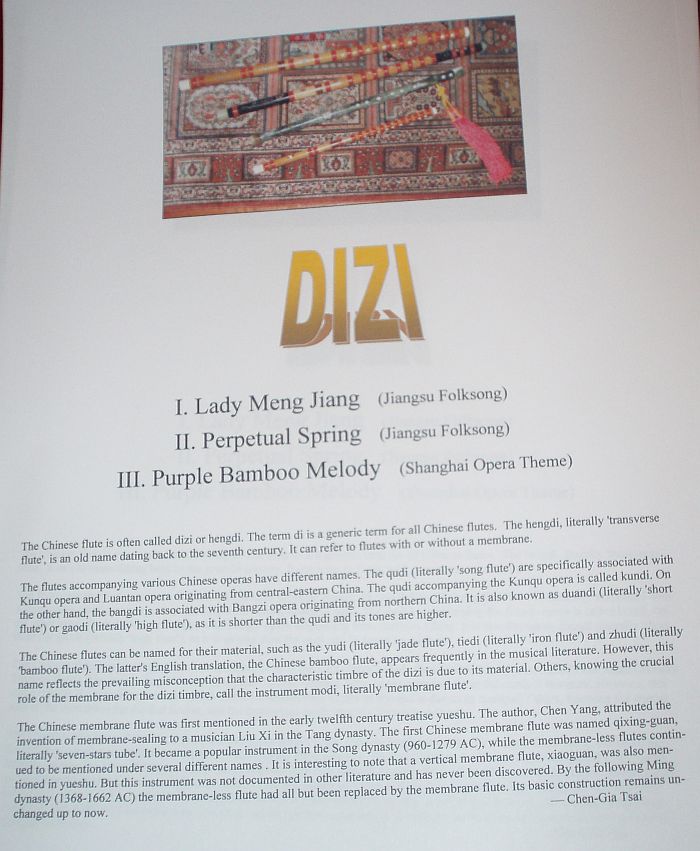 Rick made programs for the short recital he have, playing three Chinese melodies, and included some history and descriptions of the flutes.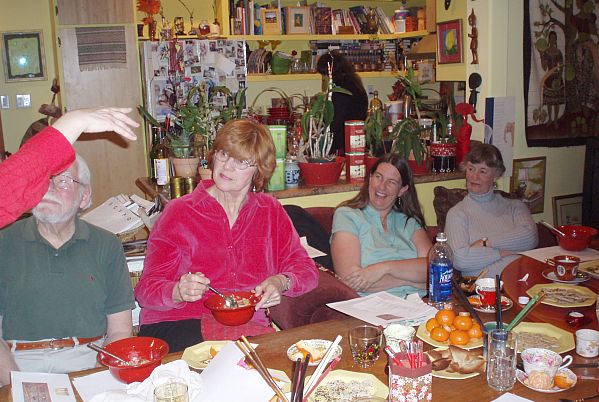 On the left is our Welsh neighbor, Gordon, who thoroughly enjoyed the poetry, music and participated in the critiques, his friend Peggy is on the far right. In pink is author Mira Mitaric, and to her right is poet Debbie Kolodji, who arrived in time for the music after a late evening at work. Debbie recently founded "Poets of the Fantastic" a group of poets especially interested in "speculative" and "science fiction" poetry, especially influenced by scientic flights of imagination. Kath is a delighted member. Mira is holding up Kath's special Chinese "Mapo tofu" dish. She made both vegetarian and regular versions of this traditional spicy meal which included ground pork or vegetarian sausage, spicy hot and black bean sauces, vegetables and tofu. Also on the menu was Kath's first attempt at hot and sour soup, (included lily flowers given by our friend Susan Cui, from Szechuan province of China, who we visited along with her mathematician husband Xing Quang at the University of Delaware.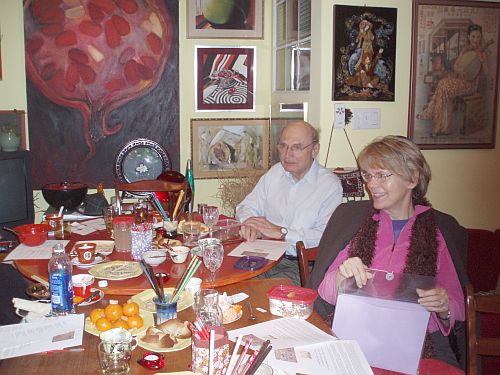 A nice photo of Poets Pauli and Richard Dutton, and looking over at them from the right on the wall (placed there for the evening) our "Chinese Calendar Girl" we bought at the antique market in Shanghai.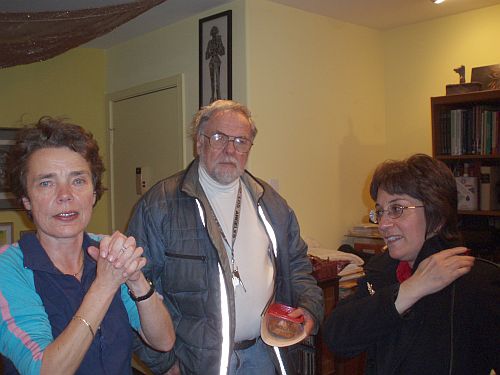 On the left our guest and neighbor Isabella, scientist at Caltech, who enjoyed the poetry and took the first photo on this page as well as the ones of Rick and Kath alone. Center is CaLokie, and on the right Mary Toregossa, about to leave. It's always hard to end our Wednesday "mid-week weekend evening" (CaLokie's phrase) but tomorrow is a work-day.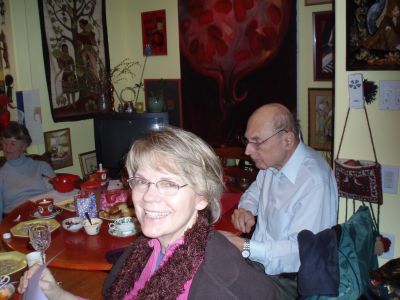 Pauli Dutton, head librarian at the Alta Dena Libray, is smiling about her planned "Poetry and Cookies event:
"Poetry and Cookies"
Saturday, April 21, 2007 from 2- 4 at Altadena Library
Free Drawing for poetry baskets, great poetry, and cookies!
Fifteen poets have signed up to read. We have a lovley anthology of the poems free to those in the book and the first 25 guests. Afterwards we will have a poet's corner in the back of the library for poets to sell their poetry books. .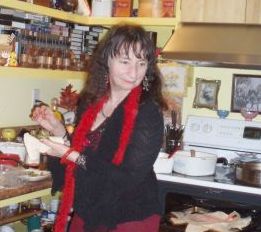 Speaking of cookies, Kath had her first try at making fortune cookies from scratch for this occasion! See below!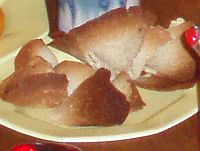 A wild an exciting experience, the cookies are baked only a few at a time and quickly folded into shape. Some even looked like fortune cookies! Here are:
Selected Fortunes
by Steven Radice
Cookie says:
he who throws dirt loses ground.

Flies never visit an egg
that has no crack.

You get what you want
now what?

Man should be greater
than some of his parts.

Go not forget a friend
especially if he owes you.

Better to lose a lover
than love a loser.

Chicken sit on hill
make egg roll.

Man with spit spersonality
sweet and sour.

If man destroy bamboo
bamboo shoot back.

Enjoy love and cooking
with extra spice.

Do not question
the Wisdom of the cookie.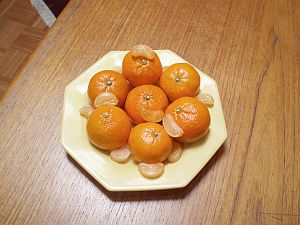 A celebrational traditional pile of tangerines for Chinese New Year. Kath decorated with tempting tangerine wedge candies.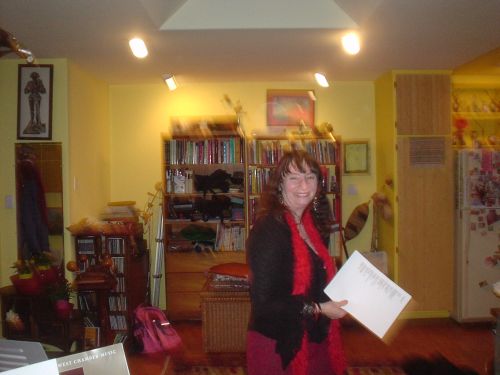 Here's Kath with her atomic clock poem. Also featured were albums from our visits to Shanghai, and poems by Kath written on those trips.
Go to Kath's 5 Shanghai Dumplings, 2005
Go to
go to Monday Night Poetry in Pasadena
go to Modern Verse
go to Ephemeral Poetry
go to our Circle of Musicality
go to Rick Wilson Flute Site
See Directions to the workshop (our home in Pasadena).