THE ART OF FOOD IN IRAN
We have mentioned some of our delicious food experiences in Iran during our other reports, but here is an overview and some details.
Breakfast
Before we left for Iran we would have been surprised to know that we would come back saying: "the best bread in the world is baked in Iran." But it's true, as far as we know. First of all, Iranians eat their bread freshly baked, and hot. It was delivered fresh from the local ovens to our guest house every morning at 6:30 am and put on our breakfast buffet table immediately. So we were completely spoiled. The only thing wrong with breakfast is that Kathy had to get fully dressed, headscarf pinned and all, before we could walk down the hall to have it. But what a reward! There were several different kinds of bread. One was barbari, crisp and latticed, and a little salty. Another, baked on a bed of stones, giving it a dimpled appearance, oval shaped, a little thicker...this was our favorite, sangak.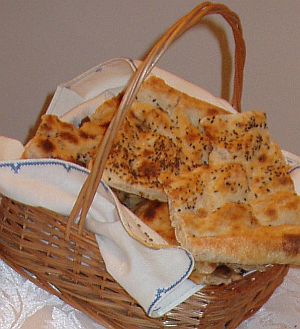 From Kathy's journal...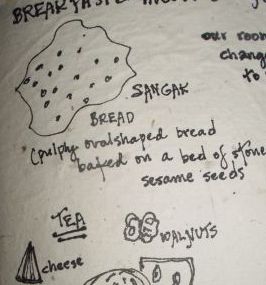 We passed this bakery on one of our walks, not far from our guest house.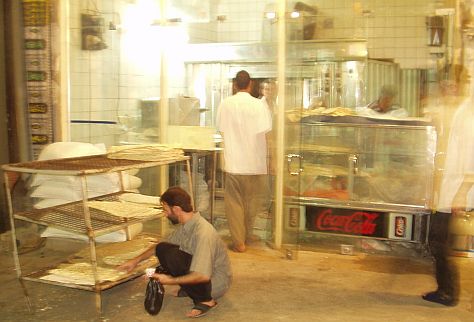 The bread was the centerpiece of breakfast, with really good butter, and a cream that Kathy loved to spread on it, the consistensy of sour cream and the taste of ricotta. Also a selection of jams, including carrot jam. Always a warm egg or two, almost hard boiled, and hot. We peeled and salted them. Walnuts were always on the breakfast table. Cheeses and some cold cuts, although the bread, eggs and cream were our favorites. The cheese was like feta, and was very good too. The tea was delicious. We don't know much about it, except that it was very strong but not bitter, and we had to learn the right way to pour it. — an inch in the bottom of a glass, then pour the hot water over, from the pitcher next to the tea. We grew to love it, and our friend 'Mr. Breakfast,' hired by IPM to take care of us, began to pour tea as soon as he saw Kathy come down the hall. We usually drink coffee at home in Pasadena, but this tea was so satisfying that we were fine. There were instant coffee crystals on the table, but we did not try them, because we liked the tea so much and we like to grind our home coffee from whole beans.
All of our breakfasts were in our guest room lobby at the end of our third floor hallway, outside the kitchen, with Mr. Breakfast in attendance. Round tables were set there, and the invited speakers, and even graduate students from other parts of Iran who stayed on different floors of the guest house came to our floor for breakfast. All except for when we went to Isfahan. There we stayed in a beautiful hotel and the breakfast was similar, but more elaborate, including scrambled eggs and sausage. But we liked our cosy home hallway breakfasts the best.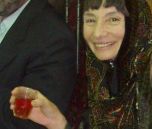 Tea and snack
More of that wonderful tea was served mid-morning
at the conference center with pastries or cookies... to help everyone be awake.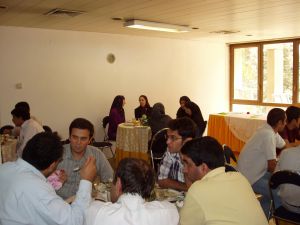 Lunch
You can see Mr. Breakfast in a rush to take care of everyone in this picture. (Even though it's lunch time.) We found another picture of him but still only a hint of the ever present smile! But you can sense his eagerness to please.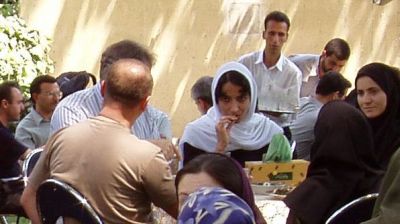 Our lunches were in the tea room at the conference center, or outdoors in the IPM garden a few times.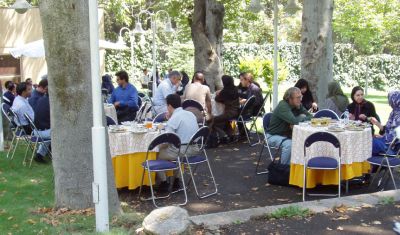 At lunch, rice was always there. The rice was cooked so that it was very light, and not at all sticky. A layer of crispy rice was cooked at the bottom of the rice pan, and after the usual rice was served, Mr. Breakfast and his helpers, rushed to bring everyone the best part—squares of toasty, tasty rice. Lunches at the conference included stew-like mixtures that accompanied the rice, called koresht, containing lamb or chicken and vegetables, especially eggplant. They were always different.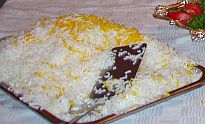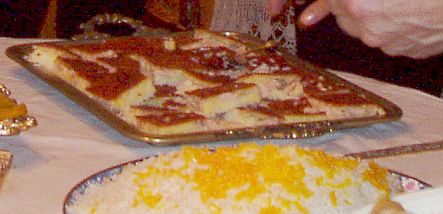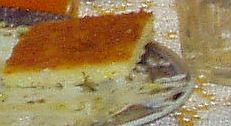 On the left below, you can see that Mandana wrote the word koresht into Kathy's journal at lunch...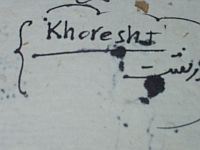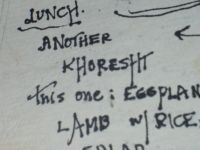 We were taken to restaurants for lunch several times. Lamb kebabs, spicy minced lamb kebabs, and chicken kebabs were common, and very good. Kebabs were served in restaurants, but at home people cooked other things. The kebobs were usually served with some kind of salad and rice. By the way, we had one vegetarian with us, invited speaker Richard Brualdi. The organizers of the conference were constantly looking out for him, and he was served a special plate at every meal. Once on the way to a traditional Isfahan specialty restaurant, our tour bus made a special stop before we got there. Someone ran into a fancy restaurant and came out with a covered plate to be given to him at our next stop, which specialized in a mutton dish. See our report on this dish in our 'Goodbye to Isfahan, Part VI'.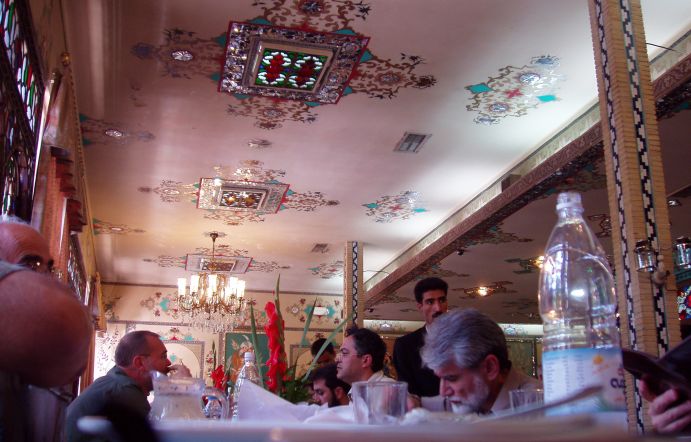 Tea and snack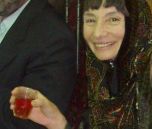 The Iranians get up very early and go to sleep in the wee hours of the morning. They do close shop and rest in the hottest part of the late afternoon and evening...which is the only way to explain families pouring into the mountains for a picnic at midnight! We noticed that most of the time we were scheduled to be doing something, and no nap was scheduled. Mandana told us that since most guests would not be used to the Iranian schedule, no naptimes were planned for us! Now there are some who would complain about having to take a nap, but we felt deprived! So we usually whined and complained until we got a nap too. When we woke up from our confiscated 30 or 40 minutes, Mr. Breakfast would come running with melon and tea as soon as he saw us come out of our room. This is another way we were spoiled. How would we function again in the 'real world'?
Dinner
Dinner was usually late, and often we ate out. Sometimes we had to climb up a mountain before eating. (See our report on Gardens in Iran.) Twice we were invited to very special Iranian homes for dinner. The first was at the home of Reza Khosrovshahi and his wife. Reza is the Director of Mathematics at IPM.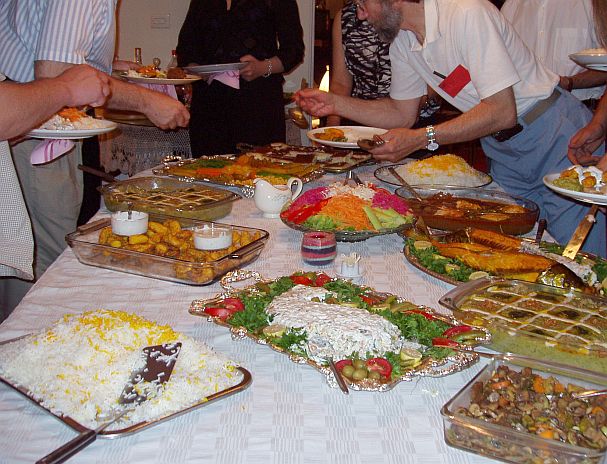 Fish, rice, rice squares, a very special dish, a version of fesenjan, a chicken stew with pomegranate juice , walnuts, and cardamon. There was also eggplant, a mushroom dish other vegetables and salads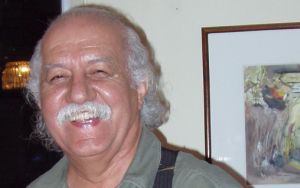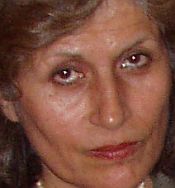 Before we even noticed the food we were impressed by the wonderful abstract paintings on the walls. They were by Reza's wife. We soon convinced her to sell us this one!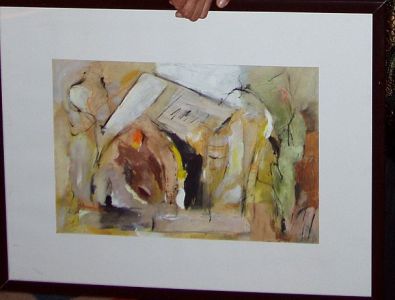 The food was delicious, and as you can see above and below (eggplant, yogurt) artistically presented.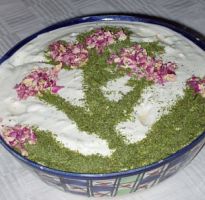 The other home was that of Nanaz's mother. Nanaz, a scientist at Jet Propulsion Laboratory in Pasadena, is the wife of Shahriar Shahriari, organizer and invited speaker from Claremont, USA. Her mother, in Tehran, not only had the delight of having her two grandchildren visiting, but prepared an elaborate and delicious meal for about 30 mathematicians and friends.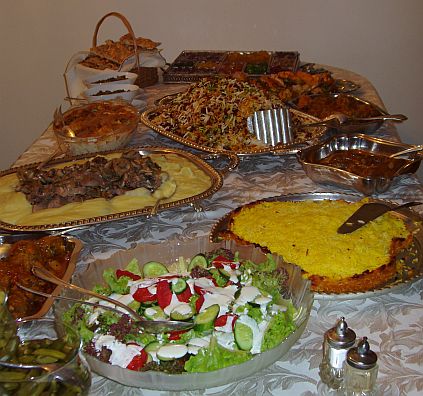 Above is the wonderful homemade dinner buffet. The rice was presented inside of a big crispy square, and another unusual rice dish with vegetables was served also. An unforgettable specialty, not pictured but noted in Kathy's journal was, a layered Iranian bread 'cake' with yogurt in between layers, which had to be tasted to be believed. It was served as an appetizer, and we think we were too stunned and hungry to take a photo!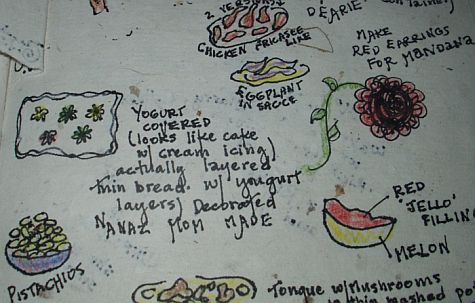 Conversation was lively, live music was played (by us included) and we met interesting people we had not met before. One of these was Shahriar's father, who, we learned, is a very famous educator in Iran, and translator of many, many books. Mandana was very familiar with his work and was honored to meet him.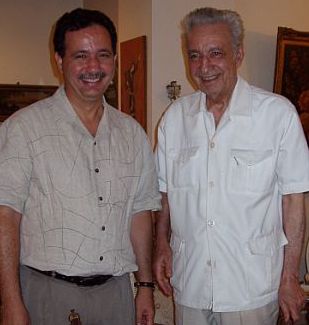 Dessert
At the two home dinners we experienced, the desserts were varied and delicious. At Reza's house, we had homemade ice cream, somehow both rich and light, with berries and other fruits, pie, custards and our favorite melon.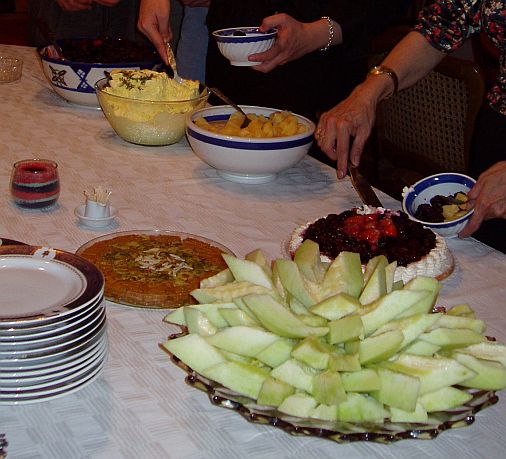 Nanaz's mom made us beautiful flans, a tray of preserved fruits, not too sweet, each one different, the melon was filled with homeade red berry jello!
One night after a particularly long busy day, after our flight back from Isfahan, our group came home late... and what does one do for dinner? Well, just like back home— they call out for pizza.

Here we all about to sit down at the pizza party table Mr. Breakfast had prepared for our return. The drinks were sodas, and later, non-alcoholic beers and bottled water.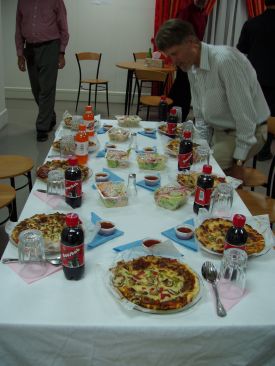 Looks familiar...