ALL THE POETS WERE AT OUR HOUSE

Febraury 9, 2006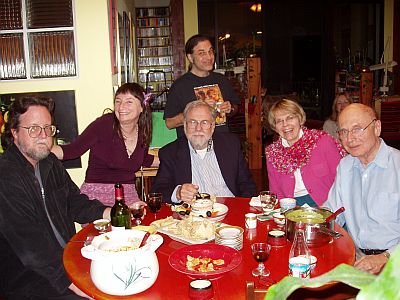 Poetry web sites and cafes were quiet tonight because all the poets and were at our home at Catalina Avenue in Pasadena. We were honored to have so many good poets and fine friends in our house at one time. Above see left front see poets Don Campbell, the poetry "guru" of Pasadena, Kathy Wilson, CaLokie, Pauline and Dick Dutton. In the background is Steven Radice, lyricist, composer and artist. Peeking out in the far background is Steven's sweetheart, Gail, a fine artist.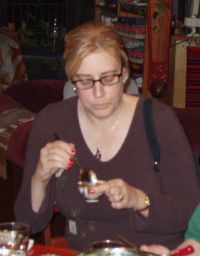 Poet Theresa Antonia enjoying homemade soup at our home...(will post recipes soon!)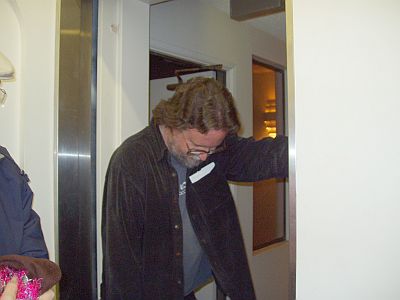 Poets know how to have fun in an elevator. Don patiently herds them all in.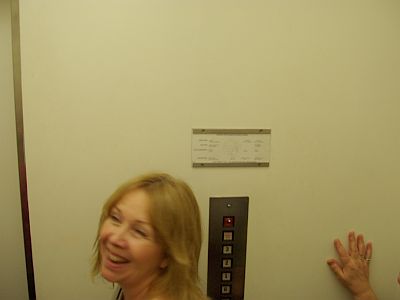 Giggles from Gail.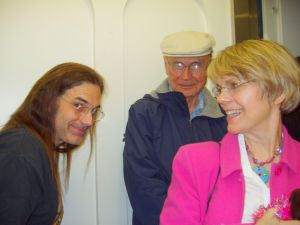 Steven entertaining Pauline and Dick.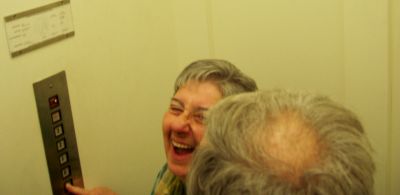 Michelle Angellini telling elevator jokes.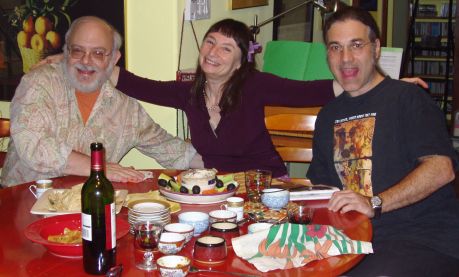 Kathy with her mathematician husband Rick (a professor at Caltech and a poet in spite of himself. Kathy and Rich have read together at local poetry readings) with friend Steven Radice.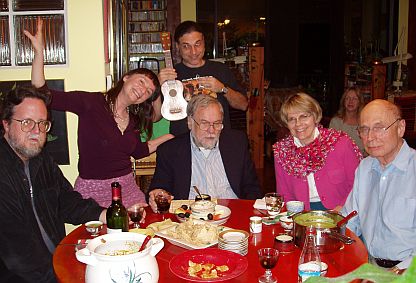 Steven in the background just before he and Kathy performed his own song "Ants in the House" Steven on uke and Kathy on DanMo, a Vietnamese percussion instrument with 5 corncob wooden bars and 5 woodblocks of different pitches.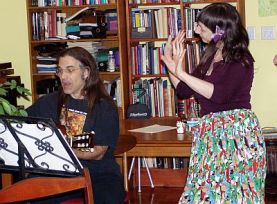 Then a hula dance. Steven played "Lovely Hila Hands" and Pauline, who has studied hula too, danced with her hands (not pictured, unfortunatedly...)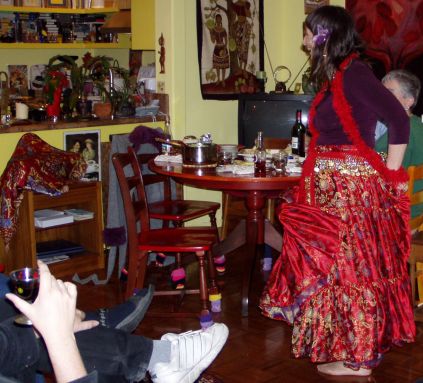 Entertaining the poets is hard work...then gypsy belly dance...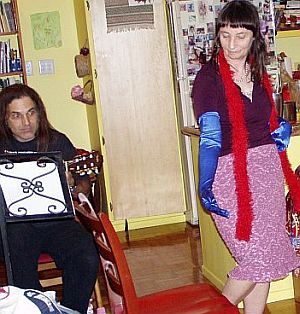 And a burlesque opera glove striptease...no one was bored.Steven looks a little worried...now what will she take off...only her gloves, though.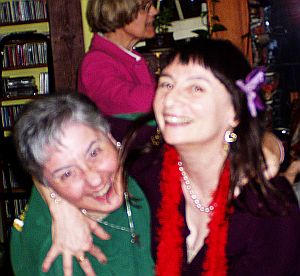 Michelle and Kathy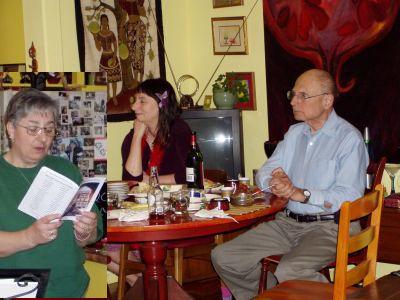 We even did what poets are supposed to do. Michelle read from The 2006 San Gabriel Valley Poetry Calendar Don Campbell published.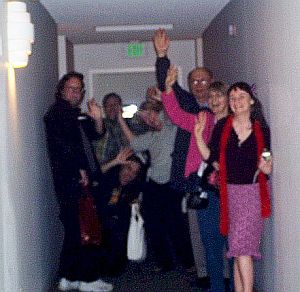 The end of a poetic evening...
Poets have the most fun!!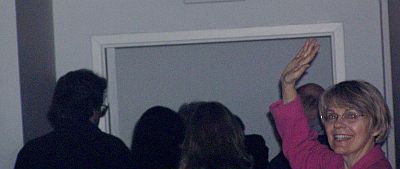 PAULINE DUTTON, ABOVE, WAVING
WROTE THIS POEM TO CELEBRATE OUR POET'S NIGHT:
An Evening with Kathy and Rick
Red everywhere--tables, chairs, divans
Tiny Turkish cups embellished with gold
Creative, sumptuous soups- food for the Gods
Strawberries, chocolate, wine
Spiraled snail green tea
Art on every wall
Mysterious objects poised on still sands
Tiny paintings on small walls
The bathroom with a 1,000 eyes
A side trip to hear Nikki Giovanni
Inspire us to think, be, do better
A parrot repeats our words as we enter and leave
Energetic Hawaiian and Gypsy Belly dancing
A guitar plays the ant song
Stephen Foster on the harpsichord
More delicious poetry
Yes, we all want to come again
And stay forever
Pauli Dutton 2-9-06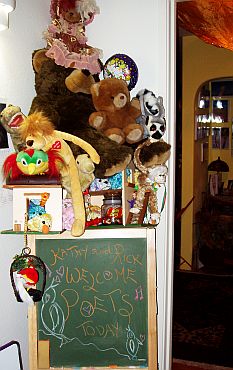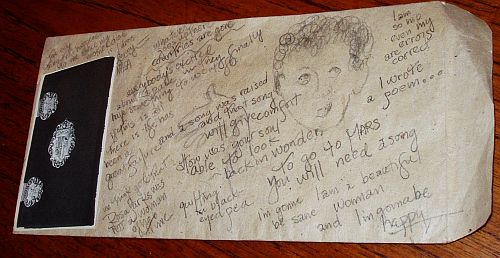 Kathy's sketch/collage on handmade paper envelope of Nikki Giovanni , and notes from her lecture...after all that's why we all got together tonight! We all walked over to Caltech for her talk...and celebrated before and after. She was an inspiring and vital poet...who would be pleased to have provoked such a wonderful time!