/fred.htm
THE 'KATHY KASPER' ARCHIVE

'Kathy Kasper' Jewelry was sold by the artist in Santa Barbara 1976-2000. It has been an interesting and varied evolution of a delicate, feminine style.
KATHY (KASPER) WILSON
Many of Kathy's old customers will appreciate an explanation of the changes and evolution of her life and work. Kathy has always maintained a personal relationship with her customers, and considers them her family of friends over the 28 years of her work in Santa Barbara.
In 2000 Fred Kasper died after a two year diagnosis of melanoma. Kathy was married in 2001 to their friend of many years, Rick Wilson,
a Professor of Mathematics at Caltech, Pasadena CA,
a player and collector historical flutes.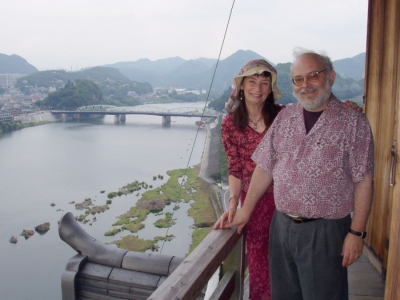 Their life together has been a wonderful adventure of travel and nourishing companionship.
See the Kathy&Rick Home Page to follow their travels and adventures.
See their trip to trip to Korea and Japan 2004
See their trip to Iran 2003
Rick and Kathy have made a page in honor of Fred Kasper commemorating his life and music.
Kathy continued her work at the Santa Barbara Art Show until 2004, when she "retired" from the show in order to develop more of her other artistic work, to fill your on-line orders, and to travel with her husband Rick.
Rick and Kathy maintain a home in Santa Barbara and are usually there on weekends, while their work and life in Pasadena at Caltech and frequent travels keep them busy otherwise.
Kathy's son Timothy, who many old customers remember, now is married with two boys, his newest born last February.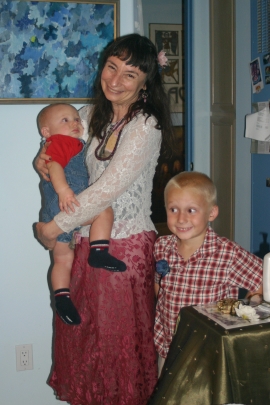 Grandma with Ryan and Dylan (age 5 and a half)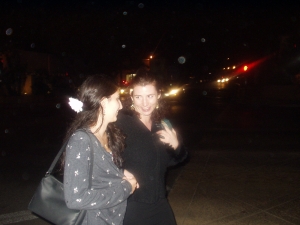 Kathy's daughter Colleen (on the right, above), owns a spa specializing in skin care. On the left is our niece Diana, Rick's brother's daughter, who has come to Southern California to go to college.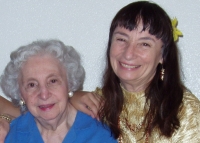 Kathy's mom, Mary, who spent hours at the Art Show helping Kathy decorate her boxes and cards with flowers, still lives in Santa Barbara. See her 83rd birthday celebration
*****************************
Please email Kathy or call with orders, or talk about old times!
(805) 886-9384 or (626) 390-1332.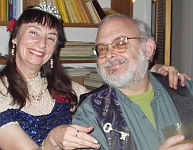 Above, Kathy and Rick on their third wedding anniversary, 2004

Go to our most recent adventure, an autumn visit to Chicago. Rick lectured at Northwestern University, and the University of Chicago.
Go back to Kathy's Jewelry Home Page
Go to Kathy's Art and Poetry Page
Go to Rick's Historical Flute Page
Go to Fred Kasper's Page
Go to Kathy&Rick Family&Friends Page