RICK AND KATHY WERE IN SAN DIEGO
August 10 to 15, 2005
at the NATIONAL FLUTE CONVENTION
UPDATED: 9/10/05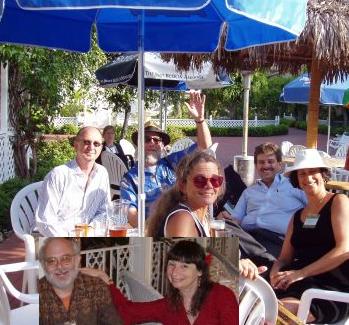 Above see a last gathering of flute friends before leaving the convention in San Diego. Cheerfully waving in back is David Shorey, flute expert and dealer, now based in Marina del Rey, CA. In front of him is his wife Nina, his partner in David and Nina Shorey, Antique Flutes. To her left, in back is Ardal Powell , scholar and flute maker from Hudson, New York, and on the right are Phil and Phyllis Unger, flute enthusiasts and dealers, owners of The Flute Center of New York. from New York City.
Wednesday, August 11, 2005
Adrienne Greenbaum Klezmer Class
(in-room session)
See Notes and photos
Thursday, August 12, 2005
"The Tip of Louis Lot's Pen"
David Shorey, Lecture and demonstration
See Photos and Notes
"Performance Practice Studies:
Where They are Going and What Teachers Need to Know"
Ardal Powell
Lecture notes and drawing to follow
Gala Concert Compositions by Perle, Hindemith, Liebermann,
and John Kaizan Neptune, shakuhachi maker and virtuoso
Notes and photo to follow Friday, August 13, 2005
A Selection of Historical Flutes and Informal Conversation
with Rick Wilson, collector and player
in-room session: a meeting with Susan Maclagan
See Notes and photos
"Shakuhachi: Old and New Directions"
Recital: John Kaizan Neptune, Shakuhachi
also Wataru Kozan Tanifuji on shakulute
Notes and drawing to follow
Saturday, August 14, 2005
"A Tribute to Frans Vester"
Lecture Recital by Mia Dresse
See Photo and Notes
See portrait
"46 Variations on A Carnival of Venice for 58 Flutes"
Trevor Wye, with Pianist Junko Nakamura
Demonstration and Recital
Notes and Drawing to follow
Sunday, August 14, 2005
Recital: "John Solum: A 70th Birthday Celebration" Works commissioned by John Solum
by Laderman, Beeson, Kuferman, Copland, and Leo Kraft (in attendance) last work conducted by Solum
Drawing and program to follow
"Tone and Intonation: An Illustrated Talk by Trevor Wye"
"A down to earth common sense guide on how to achieve good tone and intonation in the shortest possible time, thus allowing more time to be spent at the beach."
Assisted by William Bennett on flute
Notes and Drawing to follow
Ornamentation and Techniques for the Irish Flute
Nicole Rabata workshop followed by Recital
Notes to follow
A House Concert
with Daniel Jencka, harpsichord; Rick Wilson and Harry Bernstein, baroque flutes
Music by CPE Bach, and early classical Anonymus
See Photos and review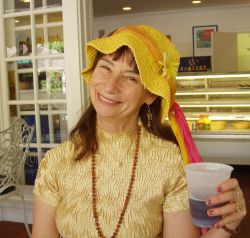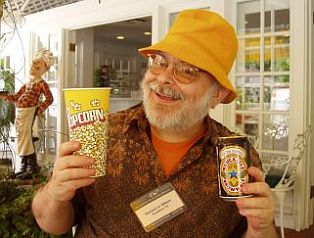 More Soon! Arived home in Pasadena Sunday Night, 1 a.m.
Go back to Newest Updates
Go to Kathy&Rick Home Page
Go to Kathy's Summer Journal