OUR HIGHLIGHTS OF THE CONVENTION EXHIBITION
at the 33rd Annual Flute Convention
in San Diego

Rick says if he had a bigger house (and $22,000) he would have bought this subcontrabass flute at the exhibition.
LONG ROWS OF EXHIBITORS, MOSTLY MODERN INSTRUMENTS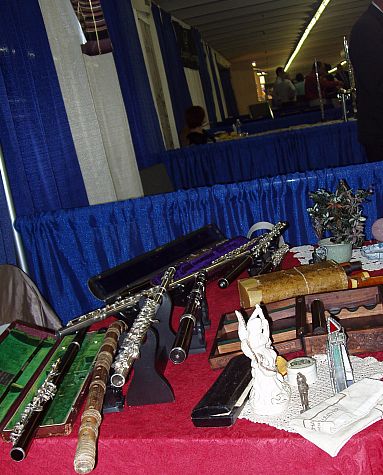 AN "OASIS"
NINA AND DAVID SHOREY ANTIQUE FLUTES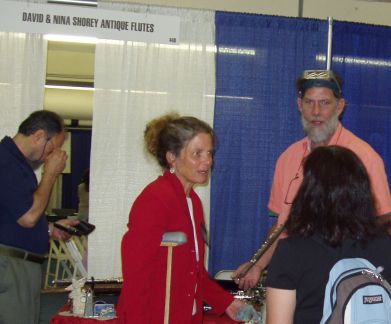 Nina and David talked about the 19th century flute, its qualities and beauty to all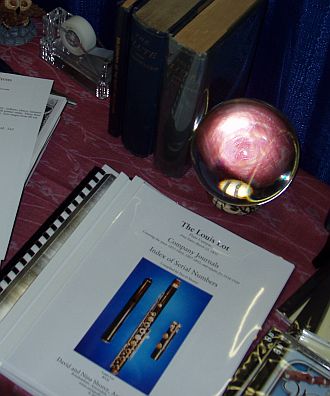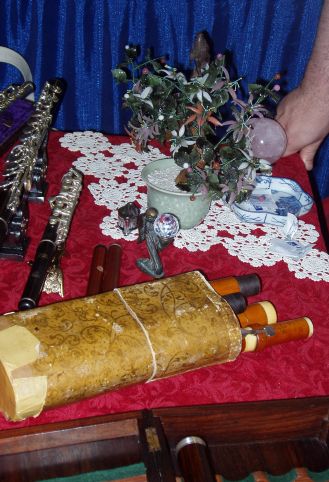 Their beautiful, intricate display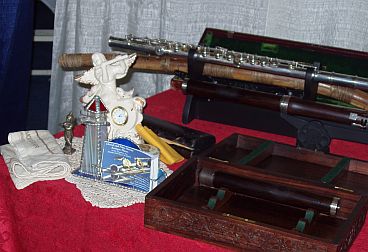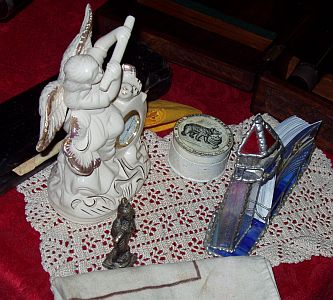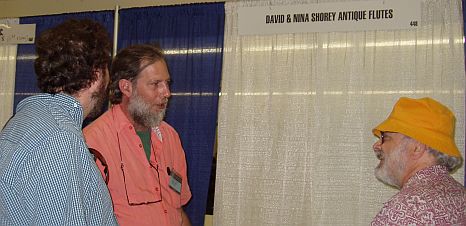 *******************************
THE WORLD OF SHAKUHACHI
Monty Levenson's Display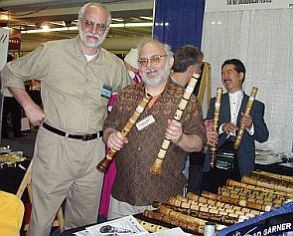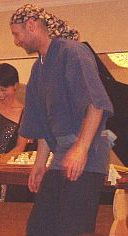 We were impressed and fascinated with the playing of John Kaizan Neptune (on the right), and so we were pleased to find Monty Levenson's booth, and stopped at his display several times to buy John's discs and try Monty's handmade shakuhachi flutes. See Monty's Shakuhachi Website . Also read an interesting interview with Monty Levenson. In the background is smiling Wataru Kozan Tanifuji, who presented the Shakulute , a Western flute with a shakuhachi mouthpiece. He played in a demonstration concert with John Kaizan Neptune during the convention.
ARDAL POWELL AND THE HISTORICAL FLUTE WORLD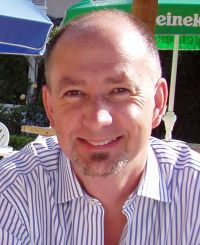 We were pleased to see Ardall Powell, scholar and maker of historical flutes, and our friend. Folkers and Powell make professional-quality baroque flutes and other historical transverse flutes closely modeled on original designs from the sixteenth to the nineteenth centuries. We own several beautiful Folkers and Powell flutes. We were happy to have a chance to see him, as his workshop in upstate New York is a long trip for us.
PHIL UNGER'S 'FLUTE CENTER OF NEW YORK' WORLD
was another friendly spot for us. Phil is the owner of The Flute Center of New York
We enjoyed our talks with him and his wife Phyliss.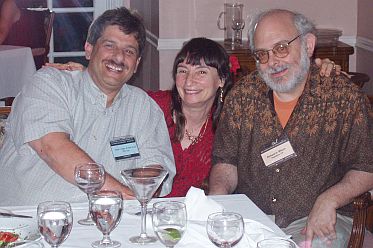 Above photos were taken at the lovely "Louis Lot Dinner" we had one evening during the convention.
Go back to The National Flute Convention, 2005
Go to Rick Wilson Historical Flute Page
Go to Kathy's Summer Journal: The Outsider Page