THE FIFTH SHANGHI CONFERENCE ON COMBINATORICS
BANQUET IN SUZHOU
After the tourist boat on Lake Taihu, we were driven in our bus again to the city of Suzhou, where we celebrated our last night together, and a wonderful conference experience.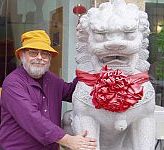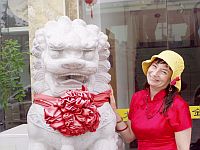 Welcoming creatures, outside our restaurant.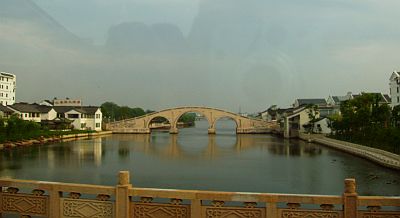 Beautiful old bridges and canal.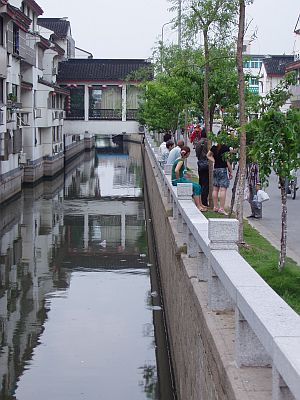 A reflective mood...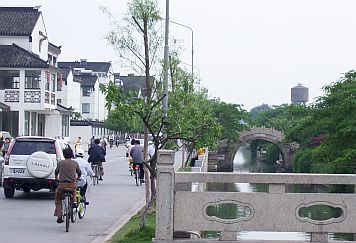 Waterside travelers. There are so many bicycles here.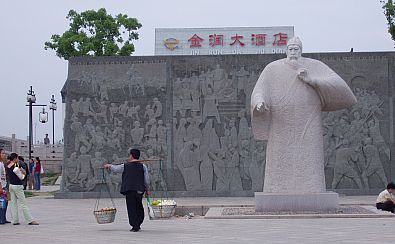 Carrying vegetables by the garden square, new statue and wall represents historical figures.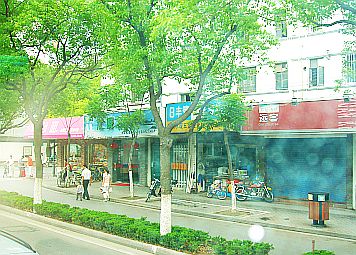 From the bus window, the city streets.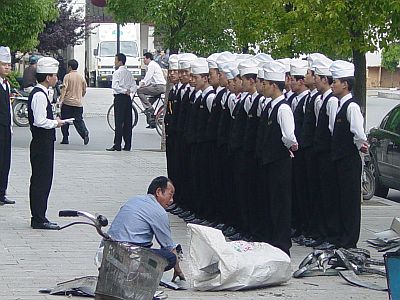 The kitchen staff gathers before our banquet.(Thanks to Charlie Colbourn who contributed this photo.)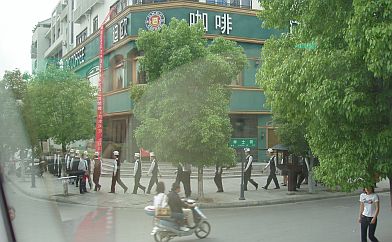 Now on their way to enter the restaurant for our banquet preparations.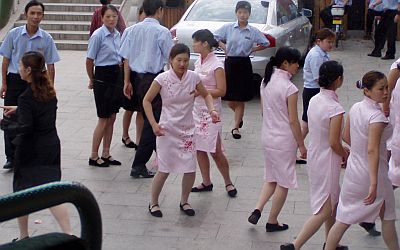 Preparing to serve the meal!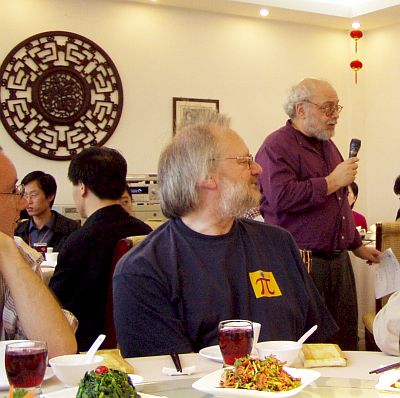 Rick Wilson (Caltech, USA) welcoming the participants and thanking our hosts at the start of the banquet.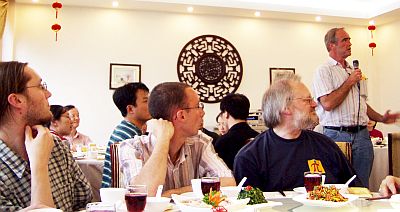 Charlie Colbourn (U of Arizona, USA) praises the hospitality of our hosts and the great conference.
Stefaan De Winter (Belgium) had good words to express our enthusiasm and appreciation.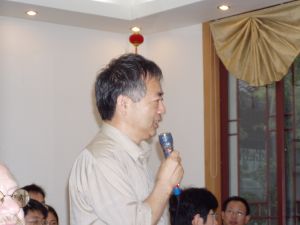 Eiichi Bannai (Japan) praising the mathematical and community pleasures of our conference.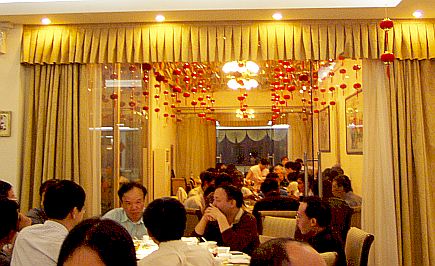 The group enjoys an amazing meal.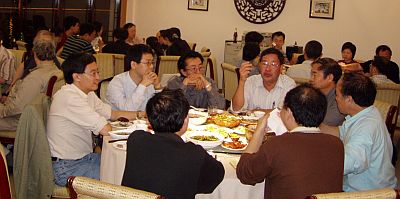 Overwhelming in the variety...here are some notes from Kathy's journal: chestnut mix, lily buds, spicy squid, dinner tarts, mushrooms, porkfat with spinach, duck blood, edamame, whole fish, cherries with corn, pickled duck, spicy cilantro, chicken feet...ginko, celery, delicious steamed greens, watermelon...and much more...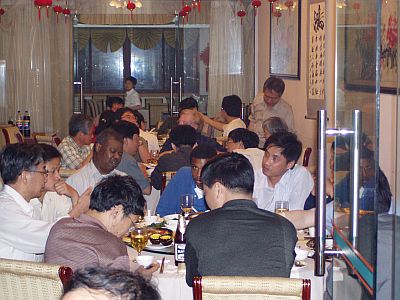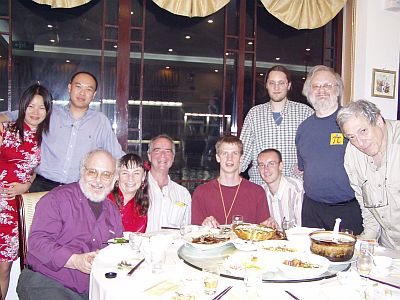 Our table of good friends!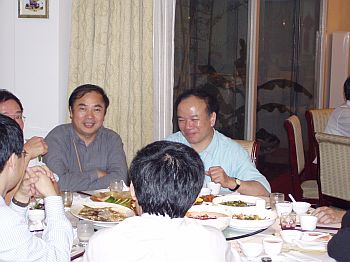 On the right, Hao Shen, organizer and gracious host.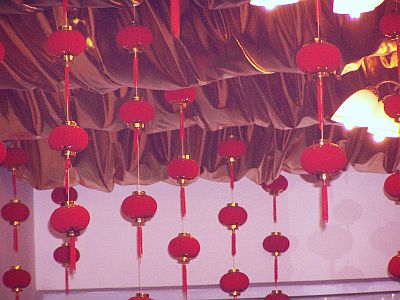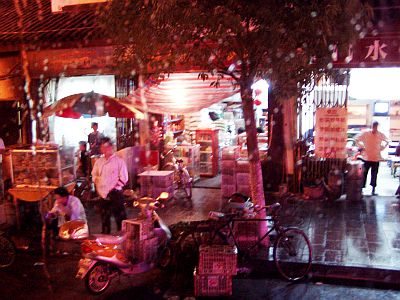 The night time atmosphere as we leave.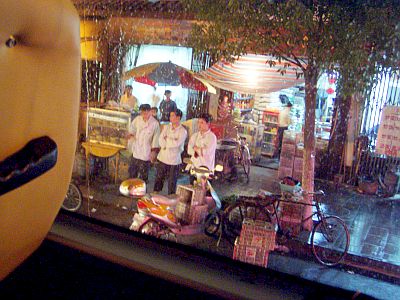 A light rain falling.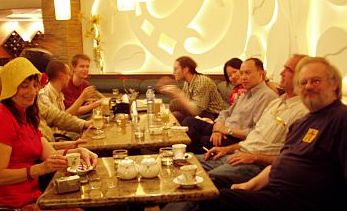 Our table moved next door to a lovely cafe before we left, to taste coffee at an elegant Chinese coffee shop. Our animated discussions and good spirits continue.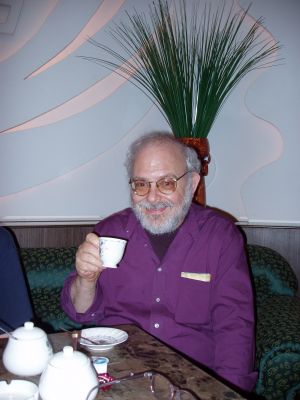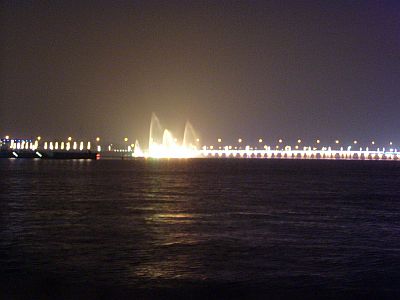 We are taken in the light rain to see the Lake by night...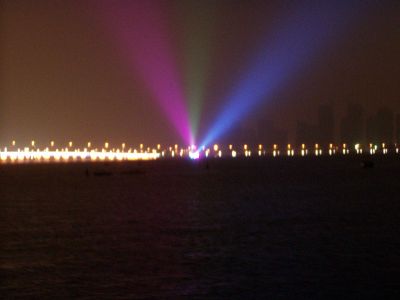 After this, the bus ride home, sleep, and in the morning, to the airport and the flight to Taiwan!
Go to the trip index
Go to Kathy&Rick home page