LECTURES IN TAIWAN
Since Dinky's report on our Shanghai lectures was so popular, he decided to give you a brief report on the lectures he attended in Taiwan, celebrating Frank Hwang's 65th birthday.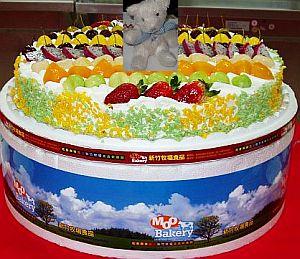 Dinky really liked the birthday cake, and though he had a better chance of understanding things at this conference, since after all, this was a really a birthday party!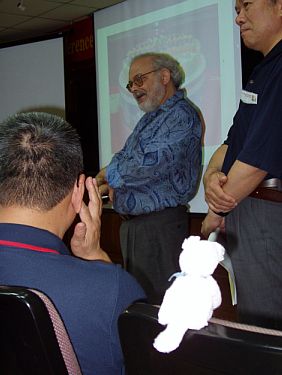 We last left a certain small white bear, listening intently to Rick's lecture, and hoping that no one would ask him to leave. We told him it might help if he got down and sat properly; no one else was sitting like that on the back of the chairs! And perhaps he should keep his voice down, as why else would the mathematician next to him have to hold his ears?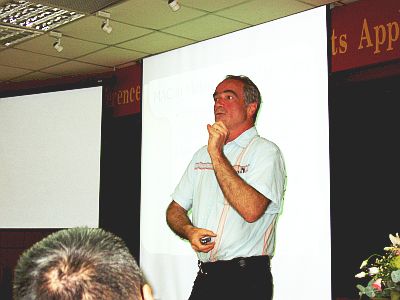 Here's our friend Charlie Colburn from the University of Arizona, looking very serious about Topology-Transparent Communication and Cover Free Families.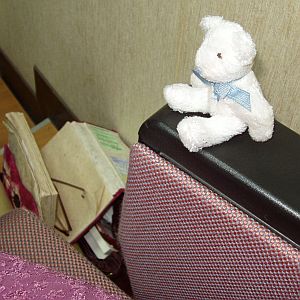 But there is something you like about this Dinky, we can see you have decided to be more discreet, and only sit on the armrest!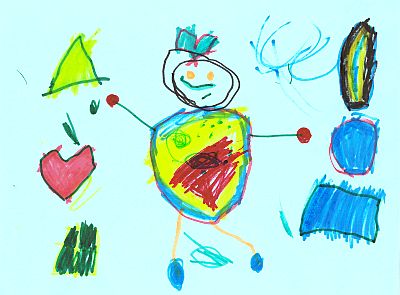 Look, says Dinky, I knew they'd try to see things my way! It's called "Daddy with Shapes" and it's right up there on the screen, illustrating his lecture. Now we're talking! Kind of looks like ME don't you think?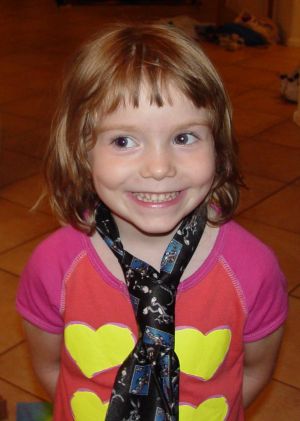 It's by my friend, his daughter, Miss Sarah Colburn, at age four. Here she is right after she made that picture.
Now she's seven. She's lucky...I can't wait to be seven!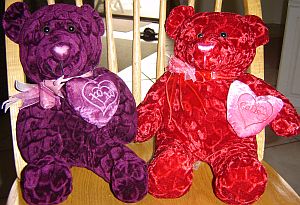 And she loves bears! (She's a very smart girl, you can tell.) In fact I am very much looking forward to meeting her four favorite bears. She sent this picture to me of "Blossom" and "Heart". They are much bigger than me, but they look friendly. Maybe I will be that big when I am seven. I want to meet "February", and "Buttercup" too. They all get to travel around with her! Hi Sarah, from Dinky.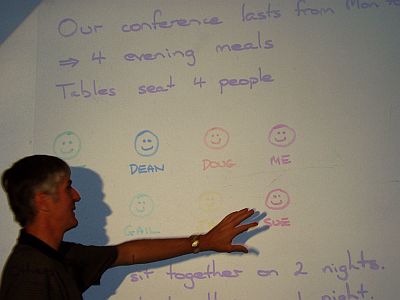 Here's Chris Rodger, from Auburn University talking about "Neighbor Designs" a nice friendly topic. Oh my, he's saying... "This ones's for you Dinky!" He illustrated his lecture himself, so I could understand it! And he drew pictures of all his friends having birthday cake!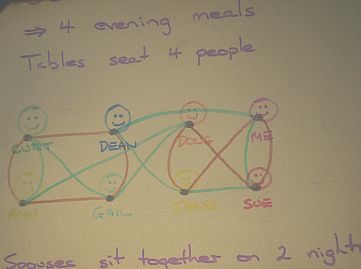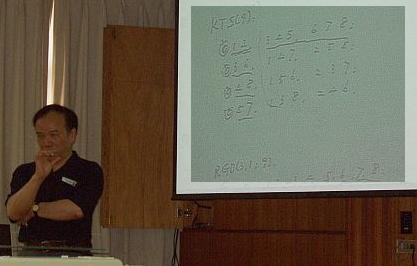 Hao Shen our host in Shanghai, traveled to this conference in Taiwan too. Look what you've done Dinky, he can hardly keep from laughing while he's talking about Embeddings of Resolvable Group Divisible Designs!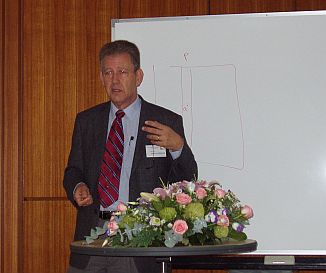 And Dinky, try to be quiet while Uriel Rothblum from the Industrial Engineering and Management Technion in Israel tells you about Convex Combinatorial Optimization, please! I like the flowers, can I go up there and play? Later, Dinky, be quiet we'll ask Frank... after all, it's his party! And he already let you sit on his cake!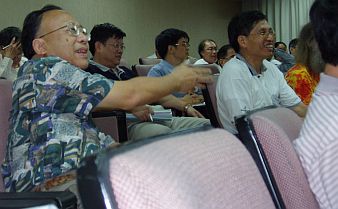 He's such a nice man, says Dinky, he says go ahead, it's Dinky's turn! He knows how to treat a small white bear!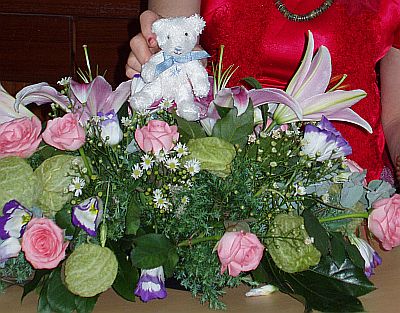 SEE DINKY FEATURED IN:
Dinky's lecture notes in Shanghai
Read Dinky's Best of Taiwan Reviews(look for udates soon)
MEET DINKY, your guide!

for more about Kathy and Rick's adventures while attending the Fifth Shanghai Conference on Combinatorics, and the CTS Conference on Combinatorics and its Appplications in Taiwan, go to the China-Taiwan Index
Go to Kathy&Rick Home Page