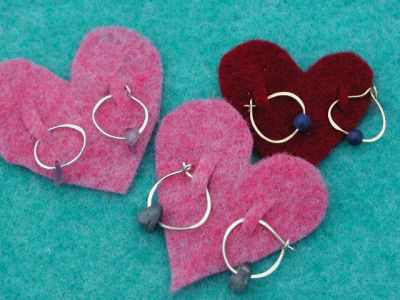 "GEM HOOPS"
A small colorful hoop, your choice of colorful gemstones.
The silver or gold-filled hoop is a sturdy but delicate looking wire. State color choices, or order an assortment. Some choices: red=red coral, orange=carnelian, yellow=citrine, green=malachite, blue=turquoise, indigo=lapis lazuli, violet=amethyst. Other stones available on request. Specify round or irregular stone if you have a preference (you can see the difference in the photo above). Occasionally, if the stones have very small holes, the gem will be nested in hoop as pictured below. Birthstone collection available. At this price, clear quartz crystal is substitituted for a diamond., etc. You will be pleased with the selection of semi-precious gems. $20 pair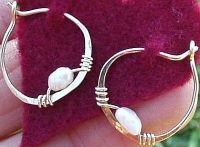 item#icicle1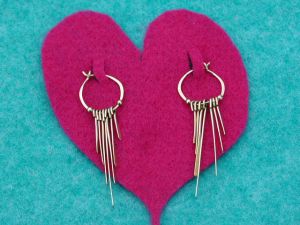 This is one of the all time-favorites in the Kathy Kasper archive!! Thousands of these have become part of the collections of devoted "icicle" fans. They are light, and stay in, they are hard to lose. A dangly earring you can sleep in if you want to, because they lay flat, since they are a hoop. Kathy had a customer who told her she bought them as a young girl and had not changed them for 10 years! She was a swimmer, and even wore them in races. Seven thin "icicles" dangle in graduated sizes from a small hoop. The beads and a little flattening of the hoop keep the icicles on, and they can make a soft jingle as you walk. The gold are "Sunlight Icicles" and the silver are "Moonlight Icicles." You can specify the length you would like. They can be short (longest dangle about 3/4 inch) medium (longest dangle about one inch) or long (longest dangle about one and 1/4 inches.) $28. pair in sterling silver, or $30 in gold-fill.