KATHY IS STUDYING PERCUSSION WITH LYNN VARTAN at the Pasadena Conservatory of Music
See report on Lynn's solo concert at Boston Court, Nov. 2005
See Lynn Vartan 's web page and bio
See Lynn's concert schedule
See the Pasadena Conservatory of Music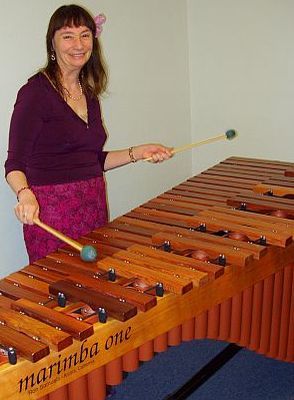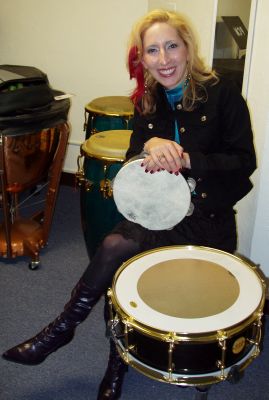 Kathy's first improvisation and lesson on marimba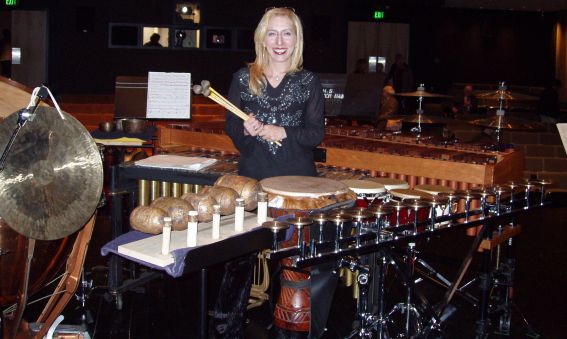 Lynn at the Norton Simon Museum, Southwest Chamber Orchestra program on the music of Chinary Ung. She played "Grand Alap "A Widow in the Sky" with Tom Peters, bassist.

Lynn is demonstrating one (of many) ways to play the Tibetan cymbals from Kathy's collection.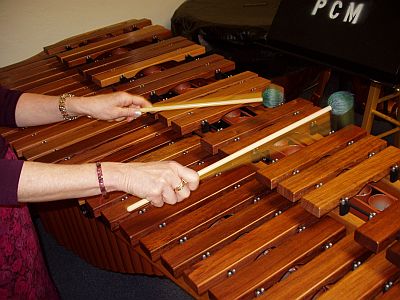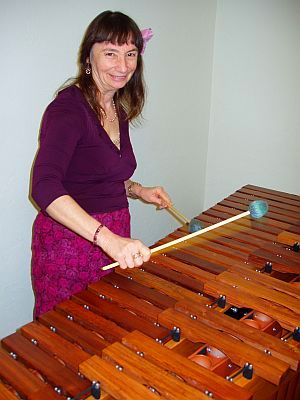 *Photos and notes taken at Kathy's percussion lessons, Pasadena Conservatory of Music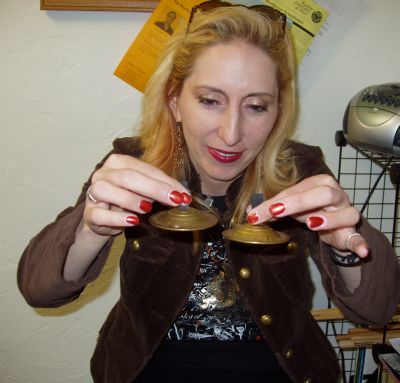 A lesson, January 2006 included experimenting with tiny finger cymbals.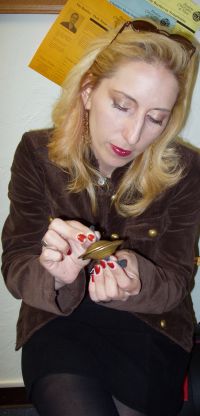 Traditionally, percusionists have explored every way of making sounds on everything in sight!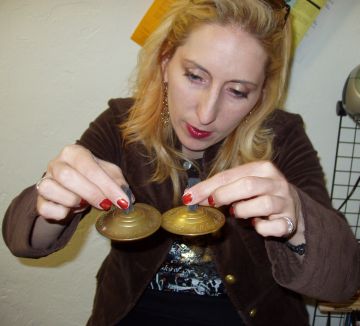 Percusion instruments can be sounded in many ways, depending on the effect desired. Many composers of contemporary music include very detailed instructions on how the sounds should be made, and sometimes much is left to the improvisation skills of the performer.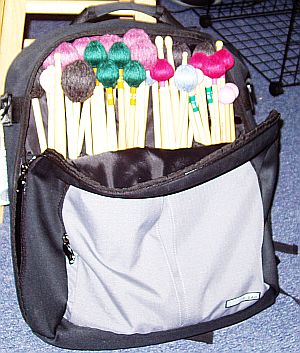 The Colorful World of Percussion Mallets...
what a percussionist has in her bag!
LYNN VARTAN SOLO PERCUSSION CONCERT
On Saturday, November 5, 2005
at Boston Court, Pasadena
(Kathy's review) The pulse of the world could be felt last night in the small theater room at Boston Court in Pasadena, a ten minute walk from our home. Lynn Vartan touches her audience with the voice of their own hearts. Freely expressive and intense during her solo percusssion concert, she played a wide span of pieces, including complex contemporary composed works, (works by Kevin Volans, Joeseph Schwantner, and Donald Crockett), a conga drum improvisation, and arrangements of Armenian folk songs, speaking from her own heartfelt roots. During the concert we heard marimba and drums of many kinds, and a multitude of percussive metallic and wooden voices. After the concert for a relaxed half hour she answered questions and shared her musical experiences with the same candid directness with which she plays, charming her appreciative listeners and inspiring her lucky students.
See Concert Program and Notes Go to Kathy&Rick Home Page
Go to Kathy's Outsider Page