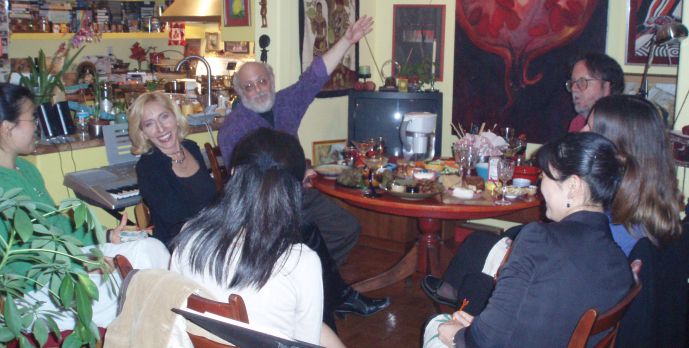 Host Rick Wilson welcoming poets and musicians, Lynn Vartan, honored and smiling musician guest on his left and Don Campbell featured poet, on his right.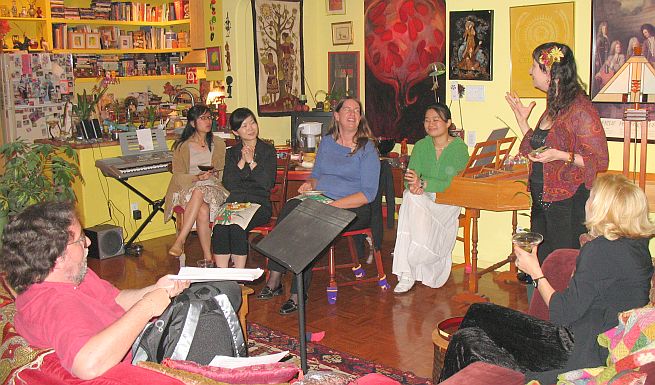 Kath introducing Don Campbell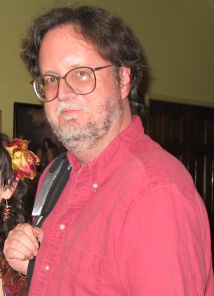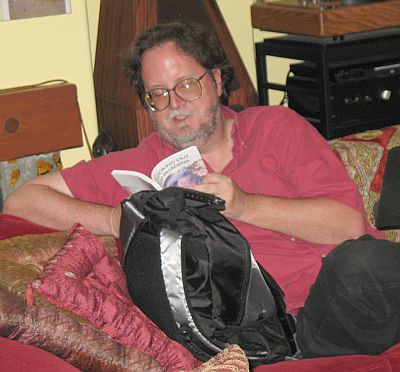 Reading from his work in "Looking Out of Pasadena". The volume, which he compiled and published, includes the work of several other local poets, including Kath. Don read and gave the listeners copies of several other poems: "Child Hoods", Tatuie, "*", "Youth" and "Top of the News". He also read from his broadside, published by the University of La Vernem "Latest Headlines".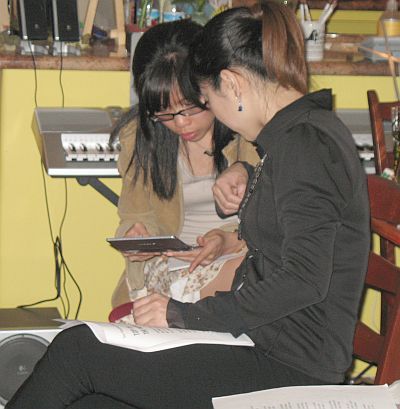 Musician friend not long in the U.S. and not a native speaker, uses a translating dictionary during the reading.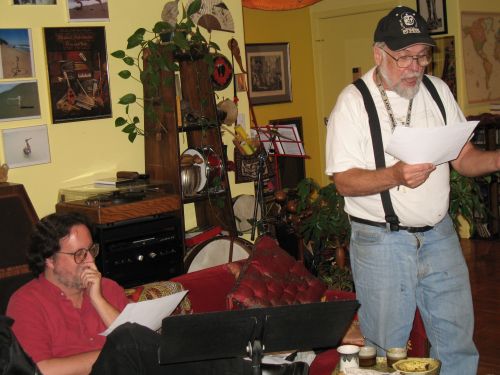 CaLokie, another fine local poet joins Don in the reading. Don and Cal aften read together and if you have not heard them, you are missing an essential ingredient in life.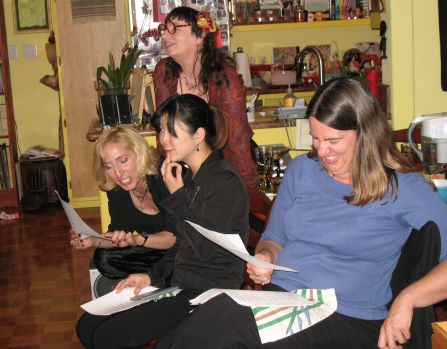 Witness the adoring and amused expressions.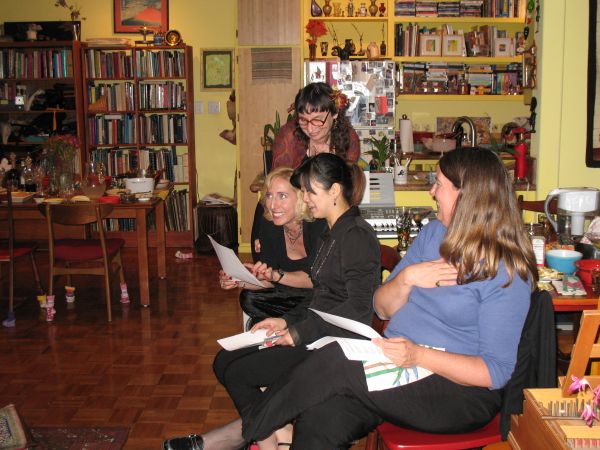 CaLokie and Don often ask for audience participation. CaloKie's poems had "chorus" parts. (This one featured Google as god.) Here we are at "work".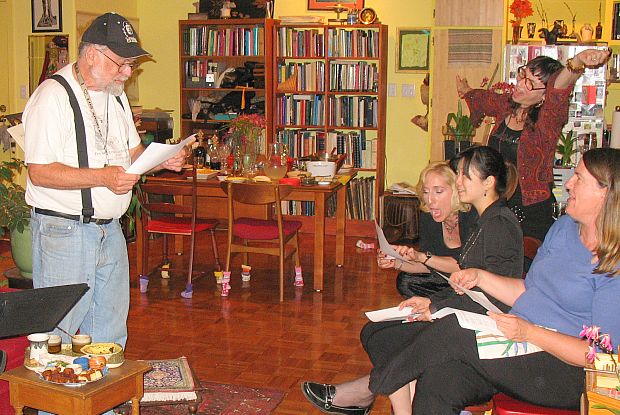 Talk about audience involvement!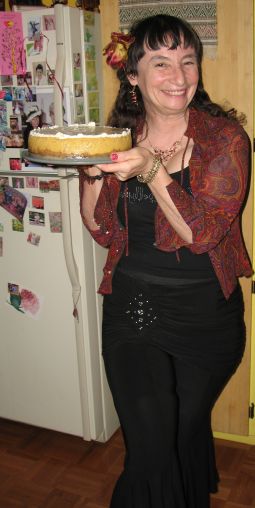 Kath made her famous "pumpkin cheesecake" for the occasion.

Thanks you Don Campbell, it was a fantastic reading.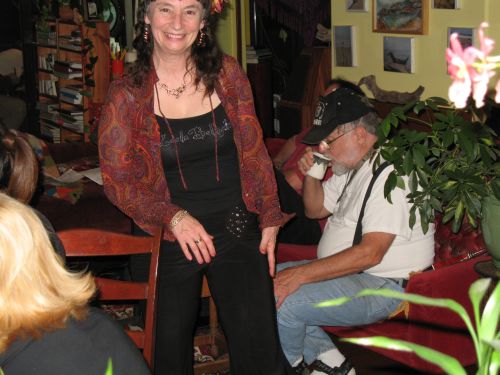 We made these poets sing for their supper" but we did our best to make it worth their while, Kath made two kinds of Maltese soup, a "minestra" one with ham, and the other vegetarian, Indian curried black lentils and spicy corn, 3 mustard dip/ choice of 3 sausages both vegetarian and "real", cheeses, shrimp cocktail with Rick's special sauce, baby artichokes, asparagas, and vegetables and dips, as well as libations including Kath's special "make Lynn happy" martini's ...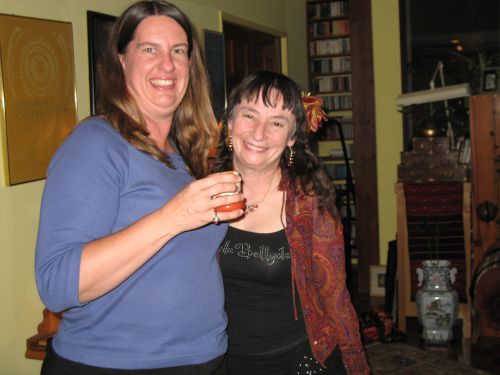 Friend and poet Debbie Kolodji, head of the Southern California Haiku Study Workshop, and Kath. Debbie read her scary poem published the Rhyming Issue of Don's recent issue of San Gabriel Valley Poetry Quarterly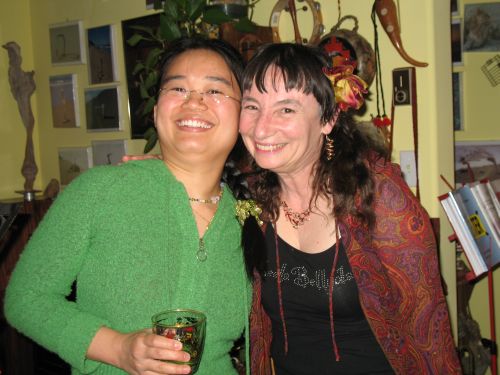 Friend Jian Yuan, biology researcher, Caltech, also Kath's yoga and singing friend.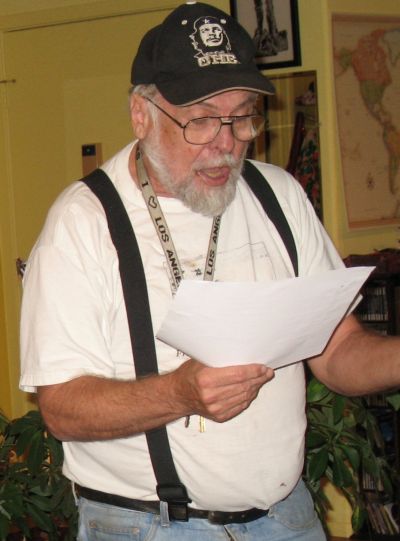 Great picture of CaloKie reading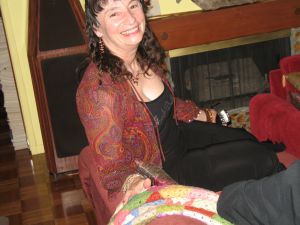 Kath delighted with the evening.
Kath's Ephemeral Poetry Blog
Go to Kathy and Rick's Home Page
Go to Kathy&Rick's Traveling Recipe Blog