LAKE LOUISE IN THE SNOW
November 12, 2008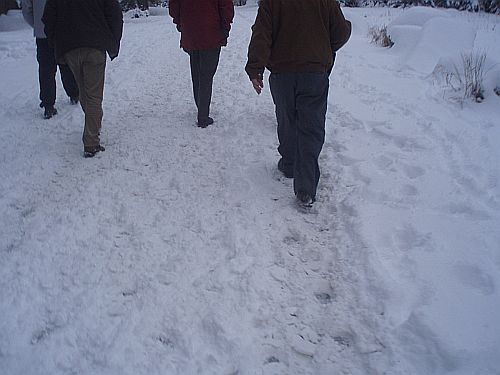 An afternoon stroll, Southern California meets Lake Louise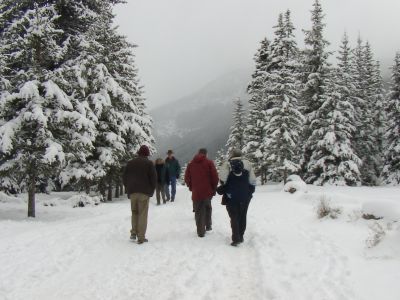 Beginning of the walk. photo by Rick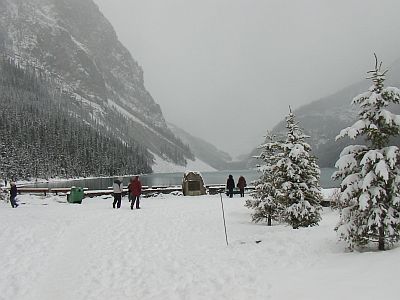 Getting closer.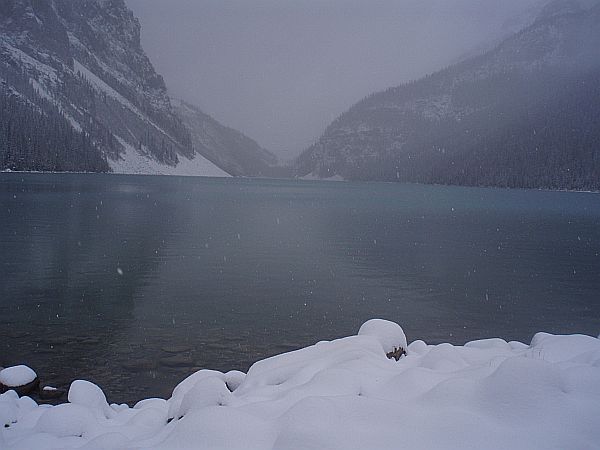 You can see the snow falling!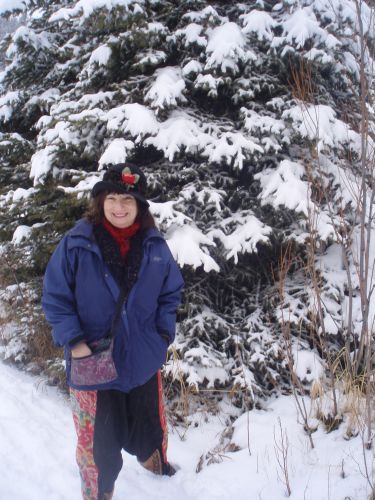 Snowpants? photo by Rick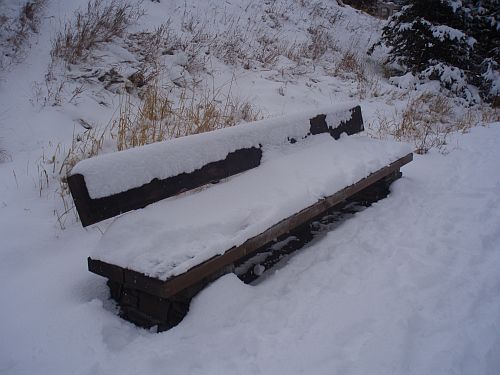 Is this a dream?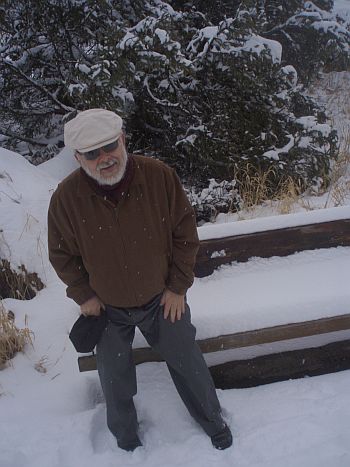 Well, let's find out.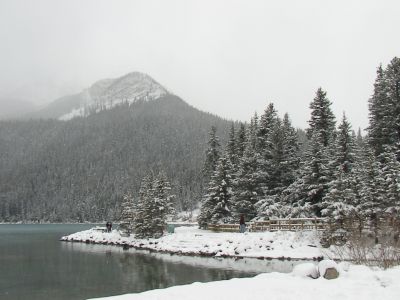 Where we are now. photo by Rick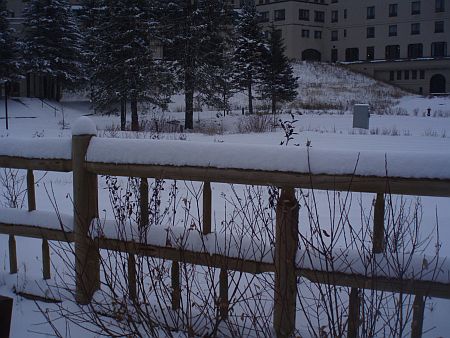 How deep the snow is.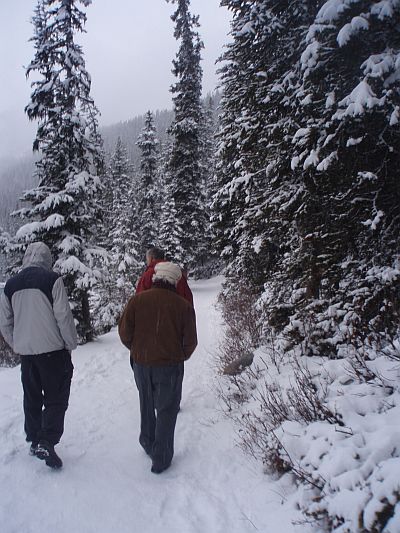 One person does not own boots, the other two live in Canada.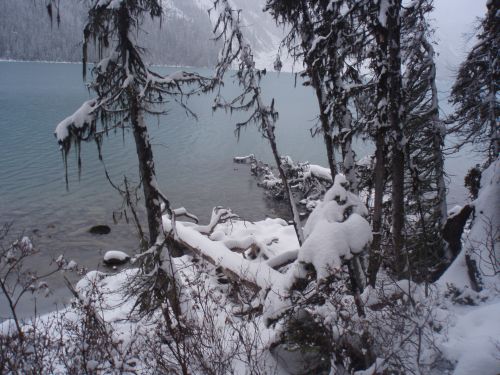 I was sure I saw several natural snow "creatures" by the lake.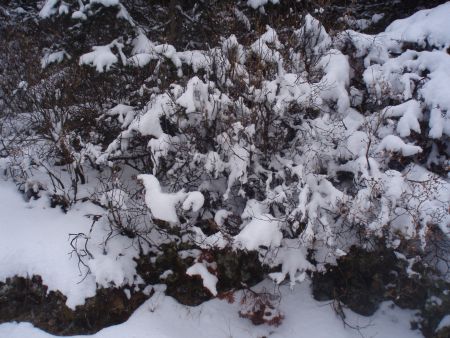 More natural artworks by the path.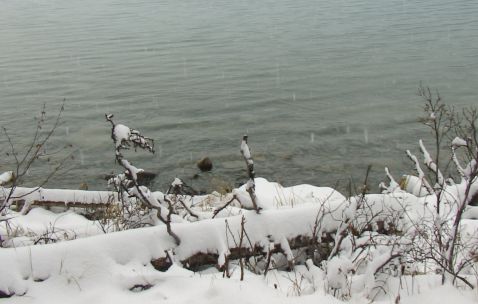 Snow creatures in conversation. photo by Rick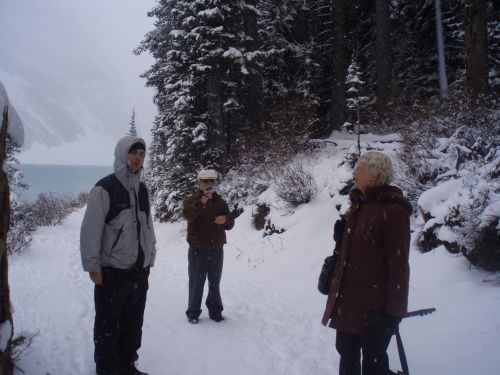 I think it's time to go home.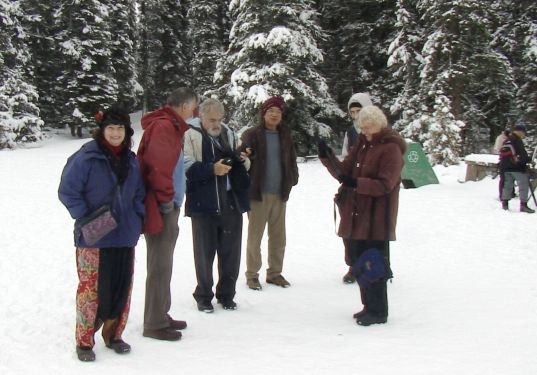 photo by Rick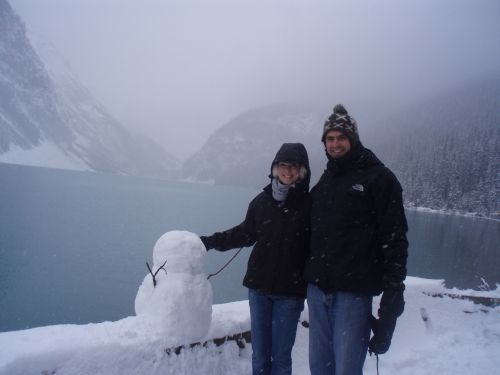 We did not make this (we had no gloves) but we found this creative couple doing a snow totem of our Southern California friend Sharon Hawley. Sharon hopes to bike solo across Canada this spring. Her proposed trail passes through this area. Do you think it will melt before then?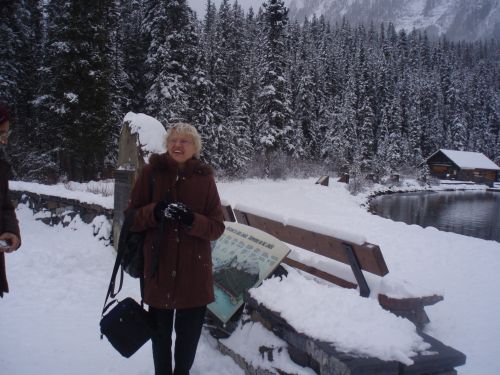 Mmmmm who should I through this snowball at? I'm the only one wearing gloves, too!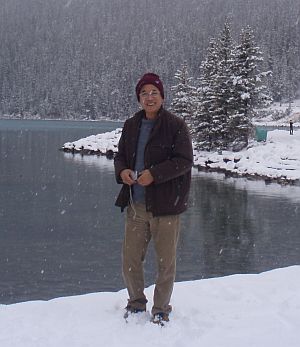 Masa Jimbo, our wonderful host from Nagoya was with us too, his smile is melting the snow.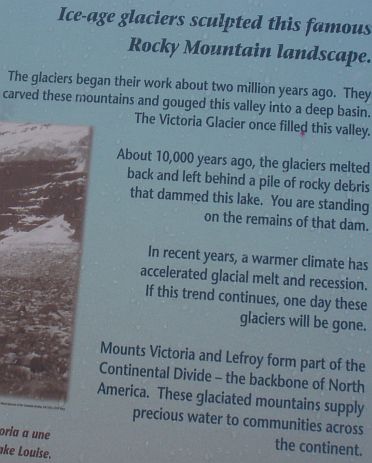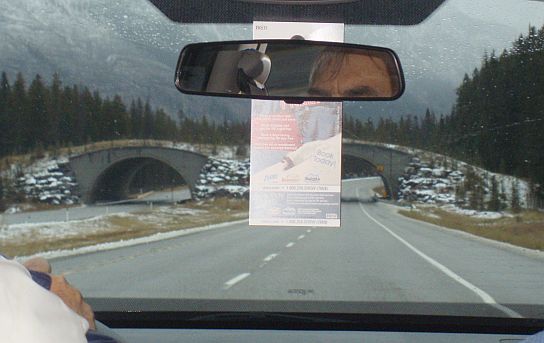 On our way home we were shown the wildlife bridges that are built over the highway. The area here is mostly wild protected parkland, but the highway runs through, so people can be here too. The bridge is forested, so that the animals will feel safe and and monitering has shown that it is a well traveled bridge by local animals.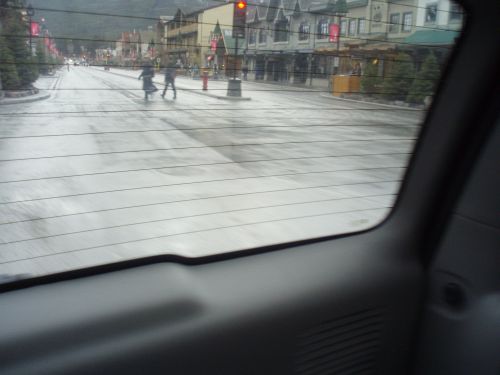 Here is where they keep the people, the town of Banff, a short hike down the hill from the conference center. We passed it on our way to Lake Louise. It (and our conference center) is wet from drizzles and has had very light snow.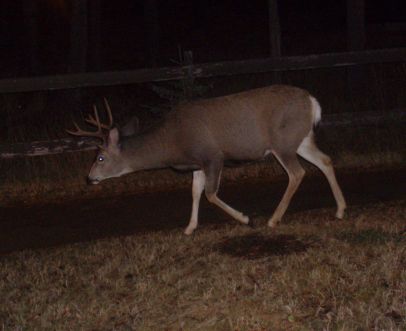 When we got back to the conference center there was an elk waiting for us on the way to dinner.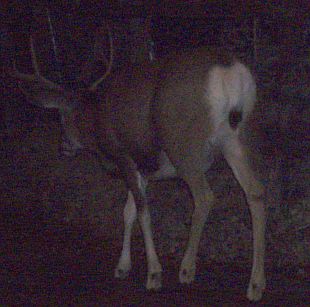 The End.
p.s. A big thank you to our friend Aiden Bruen his wife Katri who invited us for a drive and visit to Lake Louise, about an hour from Banff. Thanks to Eric Mendelsohn who drove through the snow in his big rented car and to our friend Peter Dukes, former student of Rick's, an organizer of the conference. To our delight Masa Jimbo our dear host in Japan, rented an extra car and surprised us by driving in and parking next to us just as we arrived. Everyone lives in Canada but us (and Masa) and they knew what we were in for. Katri brought an extra windbreaker for me, which helped a lot. What an amazing experience, and beautiful place.
Go to Index of our visit to Banff, Workshop on Design Theory
Go to Portraits of the speakers at the conference (sketched by Kathabela)