A TRIBUTE TO JOHN KASPER
(May 27, 1915—October 1, 2005)

John Kasper and son Fred, circa 1953
John Kasper, known for his groundbreaking and brilliant work as a crystallographer, was a gentle, patient, and loving father that shared his long, and cultured life with his family. For many years he was a research scientist at General Electric, in Schenectady, New York. Father-in law to Kathy, she loved him as a father, and shared many hours of quiet talks, music and observations of nature on walks through the neighboorhood where he lived with his wife Charlys in Scotia, New York. Kathy remembers fondly sharing the cheerful comaraderie of his favorite traditional martini on visits. He loved classical music and delighted in his children, grandchildren. He and his wife Charlys always extended their love to Kathy's children and to Tim's sons Dylan and Ryan who earlier this year played with him happily on a visit. They welcomed Kathy and Rick and encouraged our adventure together, taking pleasure in the similarity of our life to theirs, traveling to conferences and experiencing many cultures.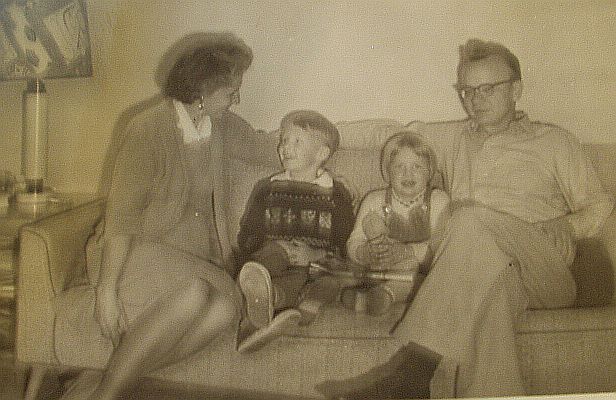 John Kasper with his young family, circa 1960
His wife Charlys, son Fred, and daughter Marian, who gave him many hours of companianship and help in his last years, as did her daughter Colleen. A few years after this photo was taken, another son, Robert was born. Robert, Professor of Computer Science, Mount Vernon Nazarene University, and his family, wife Theresa and sons David, Daniel and Joseph were a joy to him. He will be missed by us all, and remembered for his generous heart, brilliance and sweet spirit.
See more on the work of John Kasper
See Fred Kasper (1952-2000)
Go back to Kathy and Rick Home Page