A MANDALA OF CULINARY WONDERS BY HARRY BOWER
FOR STEVEN AND GAIL
October 28, 2005

To put us all in the mood we had some sparkling wine in Harry's "tipsy" glasses. An anniversary gift to Kathy and Rick, they had to be experienced. A still photo cannot do them justice! They wiggle and wobble but don't spill! Lots of fun, and a lot like us! Harry served glazed spicy pecans and a tofu/miso/tahini dip. When Kathy asked about food restrictions, Steven told us they don't eat any of the "cute farm animals" so Harry's meal was organized around their preference.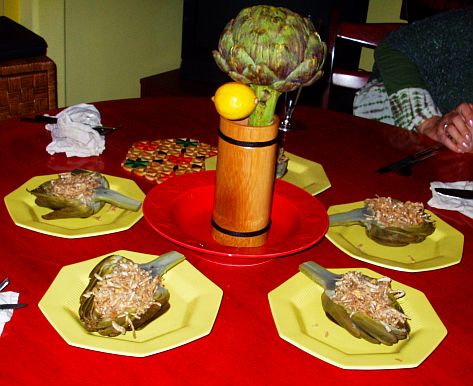 Wonderful Artichokes stuffed with grated celery root and walnuts in a garlicky vinaigrette! Harry did the centerpiece too.
Crabcakes with homemade tartare sauce.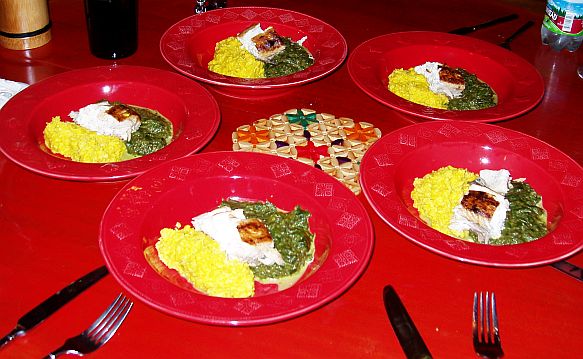 The main course: Spinach and Mustard Green Saag, Fresh Corn Polenta, Yellowtail Tuna.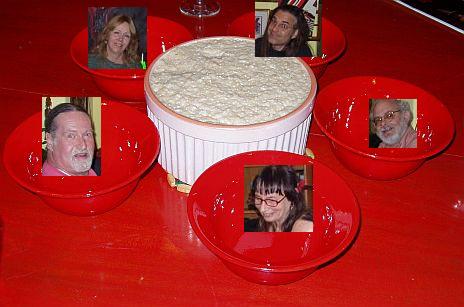 Maple-coconut rice pudding for dessert.
To see all the fun we had between courses, go to Steven and Gail's visit October 28, 2005
Go to Harry's Culinary Wonders Part I
Go to Kathy&Rick Home Page