A COZY FAMILY DINNER
WE FOUND A NEW DINING ALCOVE IN OUR SANTA BARBARA HOME
Kathy was busy making lots of small courses and Mama wanted to stay in the kitchen and be with her, of course! Inspiration! Move the lovely little dining table and chairs into the hallway by the kitchen. Cozy and comfortable. Of course no one could get in the front door... we'll just put up a "do not disturb" sign. Rick and Mom had a lovely viewing table, and Kathy sat down with them eventually too.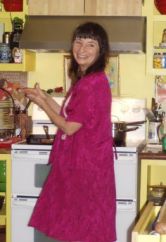 (Yes, that's our Pasadena kitchen the day before...but Kathy was doing the same thing in Santa Barbara...so you get the idea.)

We're about to leave for Mom's home. Rick was wearing Mom's favorite Egyptian print shirt that Kathy found for him. This is the spot (by the door) where we had the table. We ate under the chupa (the very one that Kathy and Rick were married under). We have it hanging over the entry hallway. The flowered poles near the ceiling are still the bamboo the ones Kathy made to hold the chupa. We have them set in the four directions above doorways from the hall. The little African masks were gifts from friends Hyla and Tracy. The wonderful flowered wreath on the door was a gift from Colleen.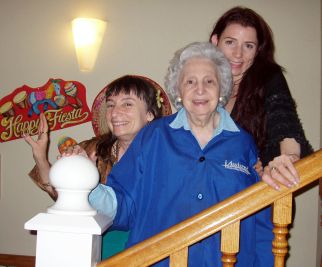 Standing on Mom's stairway at Garden Court, three generations! Colleen came back from work and had a little dinner, nap and Grandma time, then drove her home.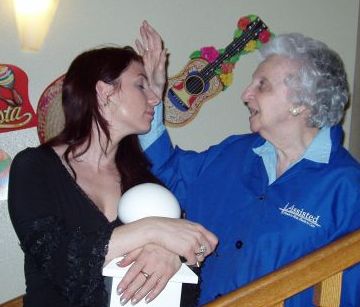 "Goodnight!" from Grandma.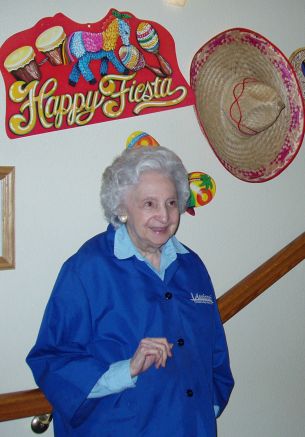 What a delightful time we had!
Go back to What's Mom up to now?
Go back to Kathy&Rick Home Page
Go to Kathy's "Outsider Page"