INDEX OF NATURAL CREATURE WORKS
Most of the "creatures" were "discovered" over the last eight years on walks on the rocky Arroyo Burro beach in Santa Barbara, although others, not yet listed, were found in the green hills of suburban upstate New York, in the San Francisco area, the suburbs of Chicago , in Pasadena, in the mountains of North Carolina and the hills of Wyoming. The process is "calligraphic" and "inspired". The objects are found, and put in place, sketched and photographed, usually within a total of a half an hour.
The process consists of:
1. Finding the creature (or significant object).
2. Placing it in its dramatic context.
(Everything involved is found on site. Nothing is added. Each flower or other scrap seen in the photographs is found on the same walk., and the pieces are not altered or enhanced. No glue to keep anything in place, and a minimum of construction involved. The uncovering, visual recognition, and placement is considered the art.
3. Photographing it. (This is the most vivid result of the work, presented here.)
4. An "on site" ink sketch of the creature in its dramatic stance . (Not yet cataloged.)
5. The "creature" is usually left in place, and nature continues to take its course. Although many hundreds of creatures are documented, only approximately 75 wood or stone original "creatures" were removed from their original site, and are now in captivity.
Each of these unique pieces can be placed again in dramatic context, now accompanied by its photograph, as in a gallery or home or in another creative context.
See a home gallery
See collaborations with glass artist Shelly Szekeley.
See Jewelry Improvisations
5. The creatures figure strongly in the artist's 18 part series The She Poems.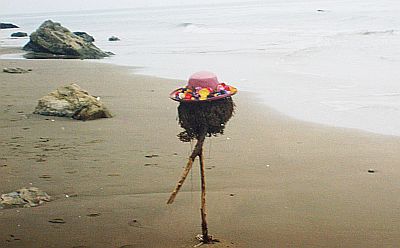 Self-portrait on the beach, 2000

HIGH QUALITY COPIES OF THESE ORIGINAL IMAGES
CAN BE ORDERED, signed and numbered,
with a written commentary FROM THE ARTIST
Copyright 2005, Kathleen Mary Wilson
Select