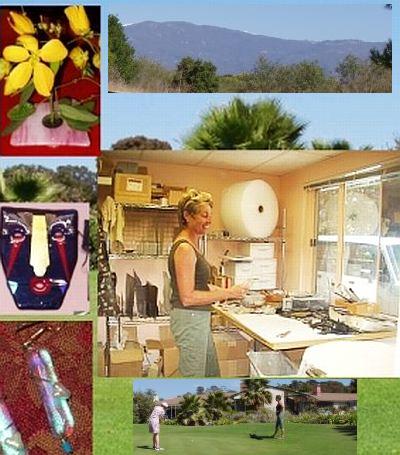 Shelly Szekely is a wonderful glass artist, who has one of the most beautiful studio locations in the world. Nestled into the foothills just outside of Santa Barbara, her workshop adjoins the jewel-like nine hole "Hidden Oaks Golf Course". Shelly and Kathy have been good friends for over ten years, they were former companions at the Santa Barbara Arts and Crafts Show. You can still find Shelly every Sunday at the Artwalk on Cabrillo Blvd in Santa Barbara. As well as glass jewelry pieces, Shelly makes beautiful dichroic glass moribana flower arrangement holders (top left, more to be posted) and amazing glass-art faces.
You can now come to beautiful Santa Barbara and spend a day learning from Shelly Szekely in her studio. She will share her 15 years of experience and knowledge as she teaches you the age-old art of glass fusing.
You will make earrings, pendants and a dish or flower fase to take home. Glass tools and kiln provided.
This will be a full resort experience, including an overnight stay at the Country Club where her studio is located. Your own room with private bath, outdoor pool and jacuzzi and a beautiful 9 hole golf course. Price per person 475. includes instruction, room, and a ride from the Santa Barbara to the studio.
Email: shellyszekely@yahoo.com
phone 805-967-4602 for more info
********************************************************************
by Kathy Wilson and Shelly Szekely
DESIGNS WITH STONES AND DICHROIC GLASS

in sterling silver and gold-filled


item#shelly1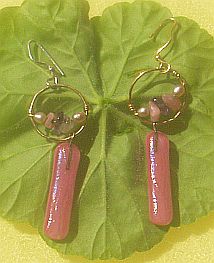 This graceful dangle combines Kathy's work with that of her friend artist's Shelly Szekely. The lower portion is glass art by Shelly. The upper section is by Kathy: a gold filled or sterling silver circle, ornamented with natural pink freshwater pearls, amethyst gemstones, and pink Rhodochrosite. The gems are attached securely with fine wire strung through and wrapped at each edge. French style earwires are handmade by Kathy. This pair measures 2 1/2 inches. Length can vary by making the circle smaller. The glass piece is one inch long. $60 pair. specify sterling silver, gold filled or combination of the two, for added contrast.

You may order the upper or lower part only, with the earwires at 1/2 the price.
You may suggest other colored glass and stones. Please write with questions.
See below for a description of the earrings in the lower left, another Kathy-Shelly collaboration.
See more information Shelly Szekely's moribana vases used for flower placement.
See Kathy-Shelly Found Art-Moribana Collaborations

item#shelly2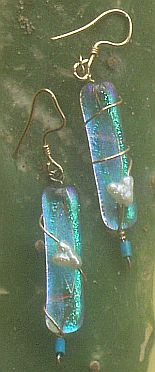 Above, the prominent glass piece is shimmery pastel rainbow colors by Shelly. Kathy added the heart shaped pearls and turqouise. The total length from the ear is 2 inches. You can request other stones to be used as accents. Handmade French earwires by Kathy. $65 pair. Specify gold-filled or sterling.

For the elegant table setting at our family and friends pre-wedding dinner at the beautiful Caltech Athenaeum in Pasadena, Kathy created unusual centerpieces, composed of interesting blooms, and some of her found art pieces from the waterfront in Santa Barbara. Shelly's stunning flower vase Moribanas held the dramatic wooden figures in place, securely in the "kenzans" (pin holder) at the base.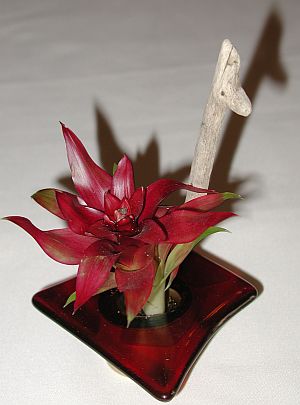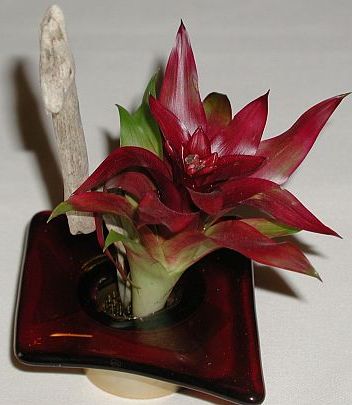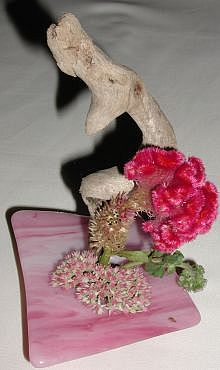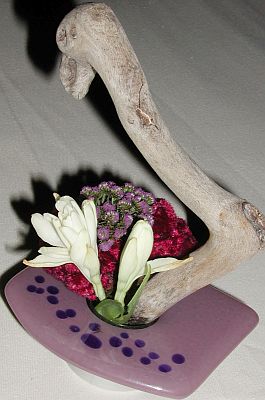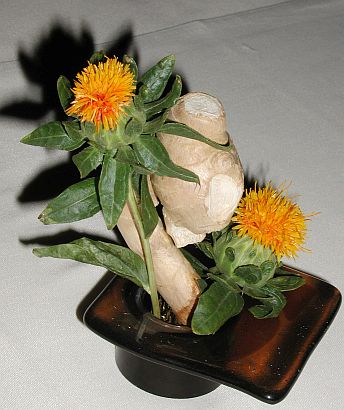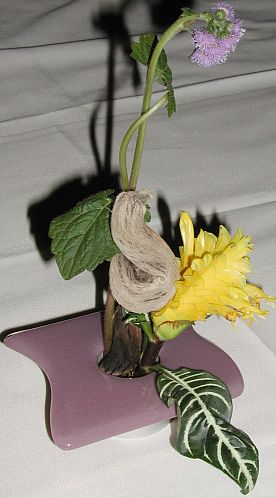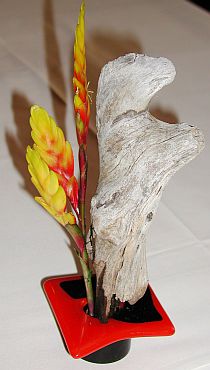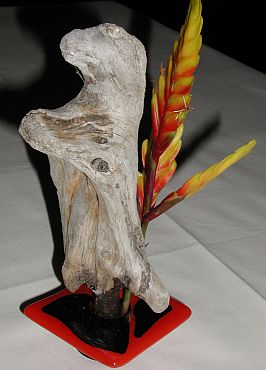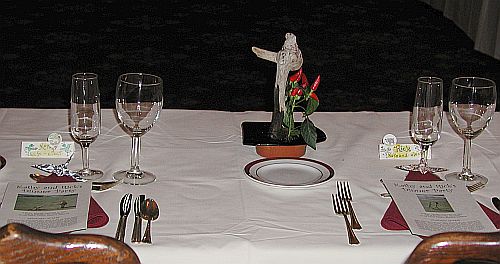 If you would like to own a glass art moribana with one of Kathy's creature creations, as piece of interesting artwork for your home, it can be custom made upon request.
See another moribana collaboration in Kathy's Creature Gallery
Go to the top of the page
Go back to Kathy's Menu