LITTLE PEOPLE WITH SIX POINTED STARS

Personalized Judaica Jewelry
item# j1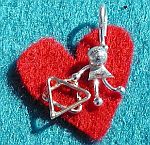 This is the most simple style, a little person holding a six pointed star. It can be a girl or a boy (girl pictured). $25. Sterling silver person, gold fill star makes it very clear. You can have it all in sterling (same price). All 14k possible, price is usually four to five times the price, depending on the design. This can be a charm, pendant, or a small pin.
SIX POINT STAR PENDANT with FAMILY

item# j2

This is a larger six pointed star (silver or goldfill), with the family, (in this case two children/people dangling with a heart). The upper piece, (which can be ordered alone, (about 3/4 inch) is $30. The lower part is priced at $35 (each child is $15 plus $5 for the heart) = total $65. People are sterling heart gold fill (or silver if you like)Remember you can have as many little people dangling as you like. Add $15 for each.
Silver chain is $10, see catalog page for lengths.

Go back to Kathy's Home Page Design Index