RINGS
item#rosering

This rose is hand built individually, and not made from a mold. The petals are cut and shaped, the center is swirled from a tiny piece of flat silver. The petals are curved around the center, resulting in a perfect, three dimensional rose in bloom. The band is a gently swirling solid thin band. This is feminine and special. A traditional design that Kathy started making about 25 years ago, she has made hundreds, each one different, each as a special order. She even made one as her own wedding ring, and this is it. In sterling silver $75. In 14k gold 350.
PLAIN 'POUNDED'BANDS
rp1 (thin); rp2 (thick)

A plain band is a simple, elegant design. Kathy's signature 'pounding' gives it a shimmery, handmade appeal. It can be thick or thin, as pictured. The thin band is $10 in sterling silver or 14k gold fill, and the thicker is $15. They look pretty on any finger even a thumb, and are lovely and comfortable on toes. Kathy specializes in providing any size, from very tiny for a baby or small person, to as large as you could want. It is good to know what size you need.
ADJUSTABLE RINGS
item#r1 (left), r2 (right)

These feminine, swirling, graceful rings can be worn on different fingers, even on your thumb or on your toe. The ring on the left is thinner, and the price is $10 in sterling silver, and $15 in gold fill (will not tarnish or wear off) with small sterling silver balls on each swirl.
The right hand photo is of a similar design but thicker. If you like a more solid look, you will like that one. The price is $15 for silver and $20 for the gold with silver balls.
item#r3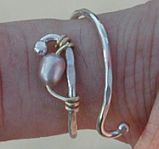 ADD $5 TO ABOVE PRICES FOR A FRESHWATER NATURAL PEARL ADDED TO RING AS PICTURED (specify white or pink)
Go to New Updates Page
Go back to Kathy's Home Page Index of Designs