item#FL1




A little sterling silver or gold flute player charm. (Or scatter pin.) Specify boy or girl as above. Flute can be silver ($25); gold filled. ($30); or 14k (45); All 14K flute and player ($125);14k gold player, silver flute ($115).
For earrings: post earrings 2x price.
For dangles, with french wires (like small fishooks) or tiny hoop earrings, add $10. for silver or gold fill, $35. for 14k.
item#: musicalfamily

can incorporate any instrument being played. Here the father is a playing a five string bass. This piece was made especially for my sister-in-law Georgene Wilson in honor of Rick's brother Steve. Inquire about pricing. Some instruments are easier than others, and the family members holding a simple object are $20 each.
TREBLE CLEF EARRINGS WITH PEARLS dangly earrings
item#tp1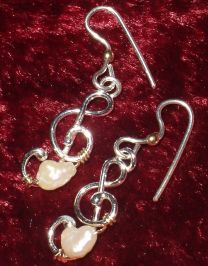 can be sterling silver or gold fill, at $35. a pair. About 3/4 inch. Longer, add $5. For treble and bass, add $5. A beautiful elegant design, the white pearls are eye-catching. Their irregularity is fascinating.
TREBLE AND BASS dangle earrings.
item# M001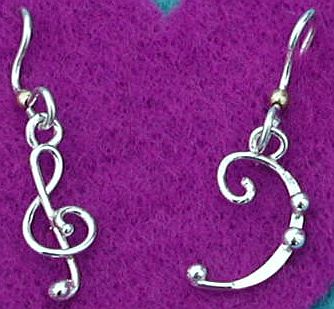 It is hard to find the bass clef in an earring design, especially handmade! Here are both treble and bass. Perfect for keyboard players and music lovers. Sterling silver, about 3/4 inch long. Light and elegant. $25. (You can specify two trebles.) See two bass clefs above. Longer lengths add $5.

Go back to Kathy's Menu of designs