JIAN YUAN THUM
Delightful Colors Designs
Handmade Jewelry
Click here to order by email

or phone: 626-376-4470
About my designs:
Patterns:
Patterns form a very important part of my designs. Some patterns tell a story, some patterns have special significance, some patterns are chosen purely because they please the eye. Sometimes one pattern leads to the next. Sometimes there may even be patterns within patterns. Sometimes though, there needs to be a break between patterns, and such transition points are always carefully set.
Colors:
Beautiful colors have always been a source of delight for me. In my designs, I always incorporate as many colors as I can, but never randomly. The color combinations I make are always carefully thought out. Each color has to fit with the colors that are next to it, and with the piece as a whole. Sometimes I receive requests for specific colors or color tones in a piece, and I can base my designs on them.
Mood:
Some of my designs are created in more of a free-form setting, where I just start with something and see where it goes. Sometimes I start out with a particular mood. For example in Night Leaves, I started out seeking to create something dark. I took out the black glass beads, found that the green leaves matched well, and the rest just followed. The result is a powerful and elegant piece.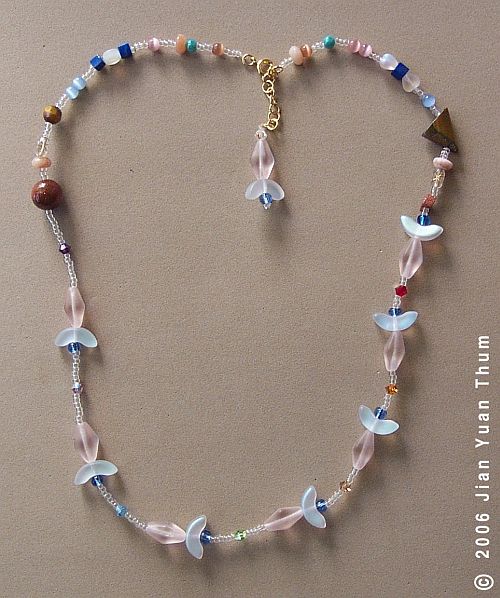 Fish After Rainbow
This is a very special piece in more ways than one. As the name implies, the main design in this piece is of pink fishes (with white tails), chasing after little crystals (which can be imagined as bubbles too). There are seven fishes chasing after one crystal each, and the seven crystals embody the seven colors of the rainbow. Note also that this necklace is entirely assymmetric. The fishes are "swimming" at different speeds, with the ones ahead being 'faster' than the ones beind. The ends of the "fishes after rainbow" motif are marked by 2 goldstone beads of different shapes. The rest of this piece is carefully adorned asymmetrically with pink opal, lapis, tiger eye, jasper, cat's eye, turquiose miracle beads and glass beads. Comes with 14K gold plated adjustable length ending. 19 to 20 inches. $55.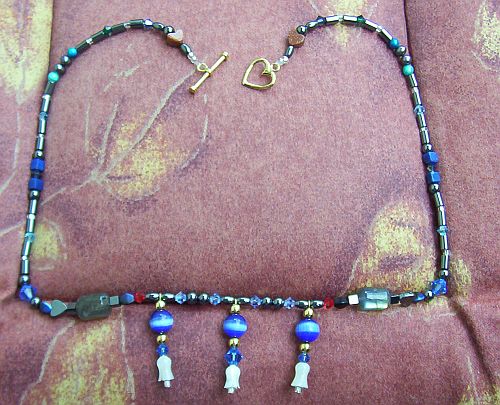 Wedding Bells

Fan Coral
The ceramic pendant is specially handmade by the artist, with a sterling silver bail added to it by hand. The necklace itself is a beautiful progression of colors, and has shell shaped beads to match the fan coral in the pendant. The toggle clasp is sterling silver. This piece is about 24 inches long. $40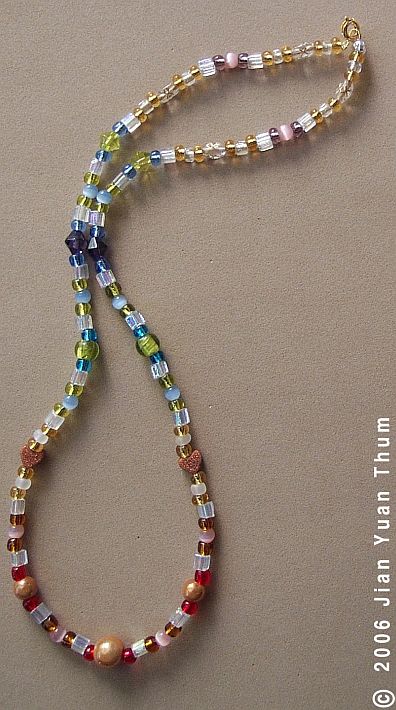 Caramel Miracles
Named after the caramel miracle beads that are the main feature of this piece. Miracle beads are gorgeous when the light comes from behind the viewer. Little goldstone hearts flank the center attraction and mark the ending of the warm color portion of this necklace. Greens, blues and purple come in the center portion, and finally the top portion is in rich yellow with a little hint of pink. Clasps are 14K gold plated. This necklace is 18.5 inches long. $25.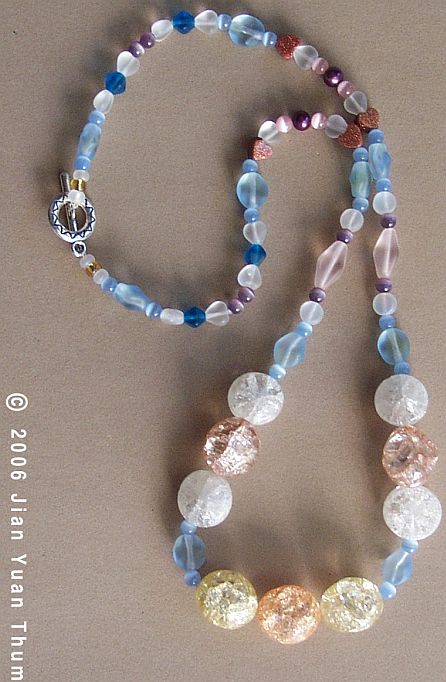 Cracked Glass
The design for this piece started with capturing the beautiful combination of yellow and peach cracked glass. Other patterns along the necklace are formed with a combination of glass beads, cat's eye beads, goldstone beads and pearls. Features a sterling silver toggle clasp. About 21.5 inches long. $40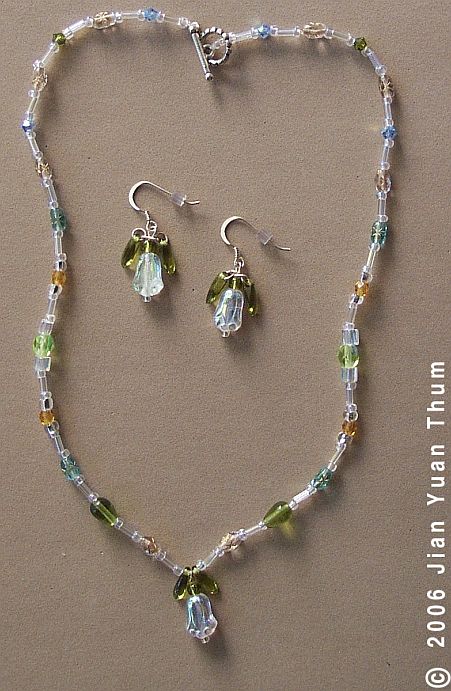 Flower Drop
The "flower drop" is a translucent flower shaped glass bead flanked by 2 olivine dagger shaped glass as "leaves" or "sepals". This is a delicate set with mild colors, giving it a feel of lightness. All metal parts are sterling silver. Earrings are $10. Necklace ( 16.5 inches) is $30. Necklace and earrings $35.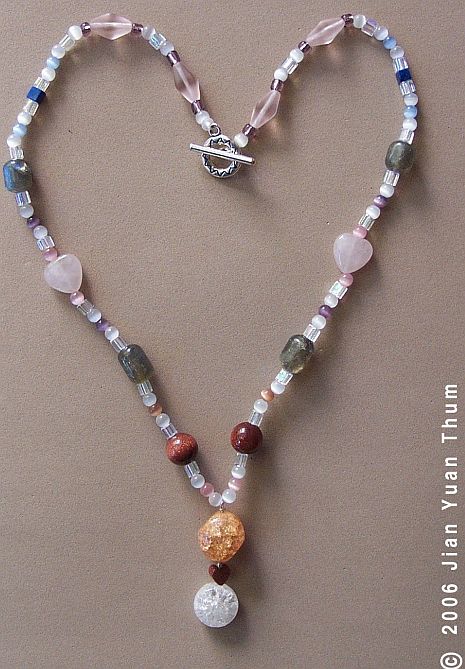 Gemstones
The main features of this piece include goldstone, labradorite, rose quartz and lapis. Various colors of cat's eye beads and glass beads fill the gaps. The center hanging piece brings in attractive cracked glass beads. This piece has sterling silver toggle clasp. 18 inches. $40.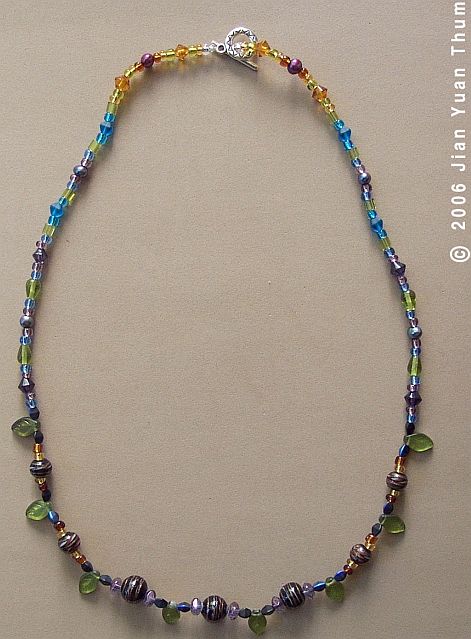 Night Leaves
A dark necklace with leaves that are green on one side and iridescent on the other, making it special in that it can be worn one way or the other. Despite the predominant dark beads, this necklace is still rich with colors, and also adorned with fresh water pearls. A very elegant piece, 24 inches. The toggle clasps are sterling silver. $40.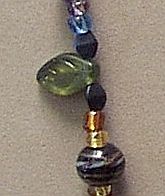 detail from Night Leaves * If you would like a differnt color combination than pictured, or have a special request, please ask the artist!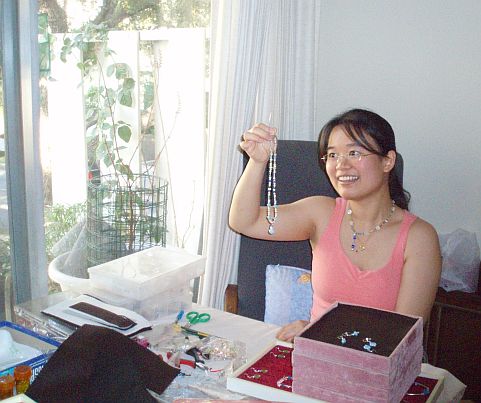 Click here to order or ask Jian Yuan questions by email

or phone: 626-376-4470