FAMILY PINS AND PENDANTS

There is no end to variations on this theme. Each piece is created individially, custom made to fit your family! I have done up to 25 little people in a design (for a great great grandma!!)
PRICING: Each figure, holding something is $15. Each animal is $25. Each small object, heart, star, etc is $5. The central large heart usually varies from $40 to $50. This pricing is for a 14k gold fill heart and accents, and sterling silver people. You can order in all 14k. The price will vary. For simpler, and less expensive alternatives to family pendants see other little people charms and pendants
item#f2

This family pendant shows a mother and father holding their boy's hand and their two pets, at their feet, all inside of the family heart. All of the figures are contained in the heart. The piece below shows the children (or grandchildren) dangling from the parents, who are inside the heart.
item# f1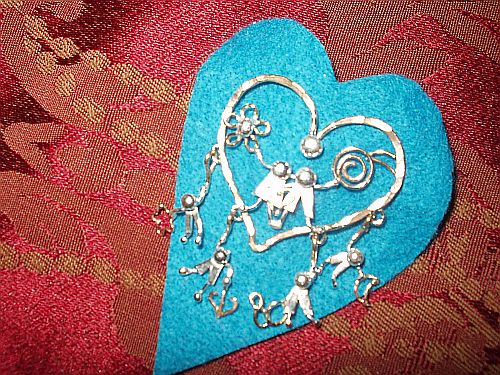 This pin depicts a mother and father, with four children, each one holding a representative object in this one the oldest holds a star; the second, who is in the navy, holds an anchor; the third, a bowling ball and bowling pin; and the youngest a moon.
The heart in this piece is 14k gold filled, the figures are sterling silver. Each part is custom designed and handmade.
The pin is a scatter pin, or could be made as a stick pin.
The central heart in this piece is about 2 inches across, the figures in the center are about 3/4 inch, the children about 1/2 inch.
It could be made as a necklace.
TO ORDER, WRITE AN EMAIL FROM MY FRONT PAGE DISCUSSING YOUR IDEAS, and the amount you can spend on your piece. The designs and pricing is flexible.
go to the CATALOG page
go to Kathy's home page