CAT PENDANTS AND PINS
(Double the price of the charm to order post or dangly cat earrings.)
Kathy makes each little cat individually by hand, so each one has its own character and personal qualities. This is the work of one individual artist, who appreciates the mystery and individuality of each creature.
See the Home Page for information on the artist, and ordering.
item #c1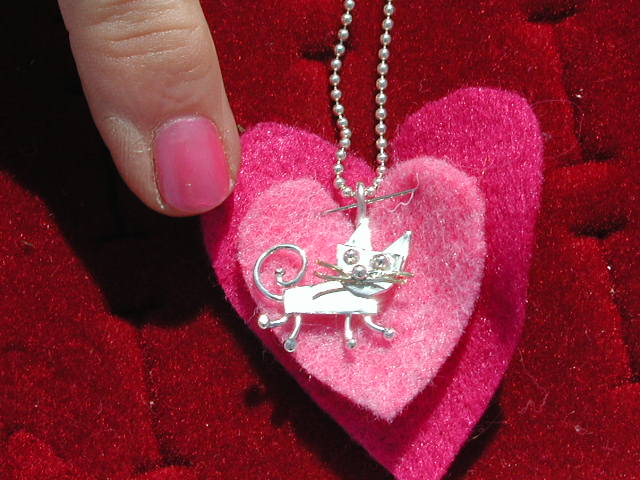 A delightful whimsical cat, ready to be your constant companion. Will make you smile. Sterling silver body, individually handmade. This design can be customized according to your cat's look and personality. Send a PHOTO OF YOUR CAT, if you like, I will make adjustments to the design ($10 extra) making a longer, shorter tail, body shape different, etc. The pricing of $30 is for a small figure, about 3/4 inch long, but any size is possible, pricing may vary, just inquire. Whiskers are gold fill so they stand out. They can be silver if you prefer. Chain is $10, see catalog page for lengths.
item#c2



Similar to the above piece, but with a golden heart on it's body. A sweet silver pin (scatter pin) or charm-pendant. Specify which you would like. $35.
ANGEL CAT PENDANT OR PIN
item #c2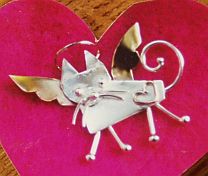 This is a pefect design to represent your angelic cat. It can be customized according to your cat's look and personality. Send a PHOTO OF YOUR CAT, if you like, I will make adjustments to the design ($10 extra) making a longer, shorter tail, body shape different, etc. The angel cat is sterling silver, with gold fill wings, and a three-dimensional halo! The pricing of $75. is for a medium size figure, about 1 inch long, but any size is possible, pricing may vary, just inquire. Whiskers are gold fill so they stand out. They can be silver if you prefer. A chain is $10, see catalog page for lengths. It is a sturdy scatter pin.
Go back to Kathy's Home Page