Steve with his bass, in the 1970's. His music was a source of pleasure, expression, and success.
Left to right: brother Phil, Mom, Steve (with that great 'Steve look in his eyes' even back then) and brother Rick.
Steve and Georgie with their first child, Elizabeth. Steve would be proud of Elizabeth now. She has worked hard helping families and teaching English in Israel
Kathy's drawing of Steve and his children (Richie, Diana, and Elizabeth) at Richie's Bar Mitzvah
April 28, 2001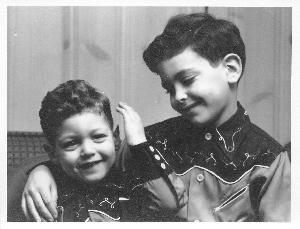 Steve (left) and Rick, circa 1954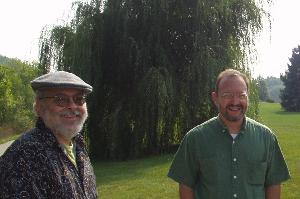 Rick and Steve in 2002.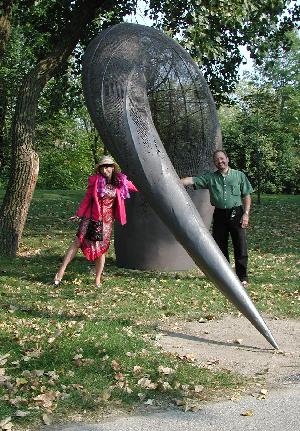 In September 2002, when we visited Skokie, Steve took a walk alone with us to the nearby sculpture garden.
Kathy was very fond of Steve from their first meeting in 2001, and looked forward sharing his sweet and cheerful ways with Rick for a long time. Even in that short time, she grew to love him and misses him now. He welcomed her lovingly and humorously into the family as only Steve could!
**********************************************************
Steve and Georgie looked over the family history at Aunt Elizabeth's 90th birthday party in San Francisco in 2002.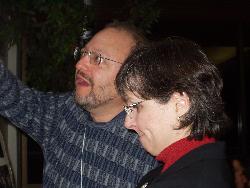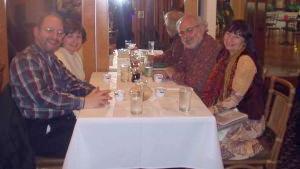 We met Steve and Georgie the morning after the party in San Francisco for dim sum before we left. This was the last time we saw Steve. When Steve passed away unexpectedly and tragically on May 13, 2003, the cover photo on our family home page above, documented that gathering. It was posted in the evening, before his heart attack. We were told that he saw the photo and was pleased.
**************************************************
Steve and Georgie at the Garfield Park Conservatory, in late September, 2002 during our visit with them.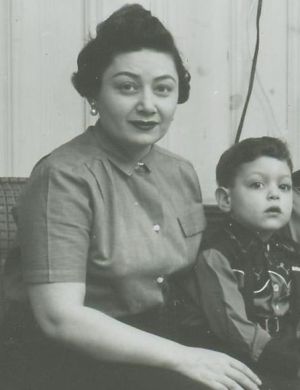 Steve's mom was proud of his accomplishments in the Lyric Opera, and of his wonderful family.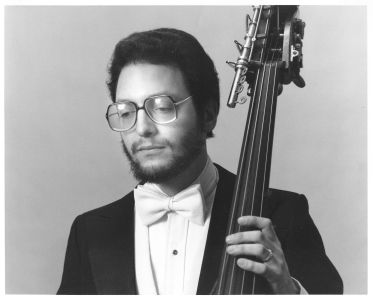 ***********************************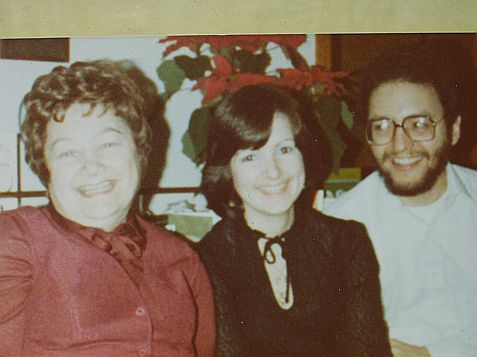 Steve, on the right, with his wife Georgie, and his Mom, Belle, on the left.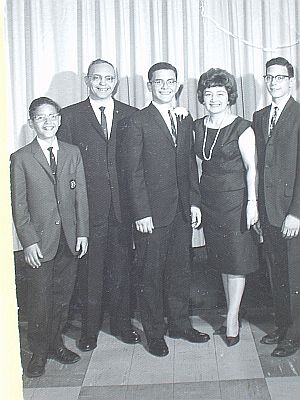 Steve was the little one. (Rick in the center, with his Mom and Dad on either side. Phil to the right.)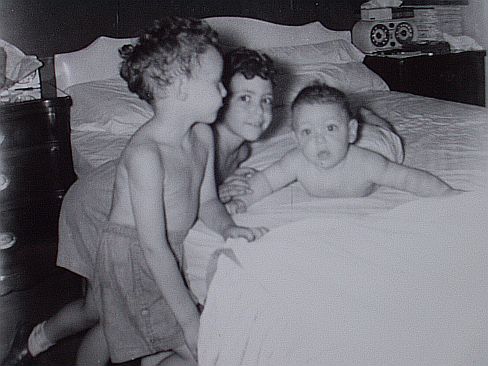 Rick is proud of his little brother, Phil watches intently, as Steve does a hundred push ups.
*******************************************
His constant good humor was a joy to everyone who knew him. He loved his family most. He enjoyed everything he did, including playing double bass in the Chicago Lyric Opera, and his piano tuning business. He had many friends, who will miss him deeply.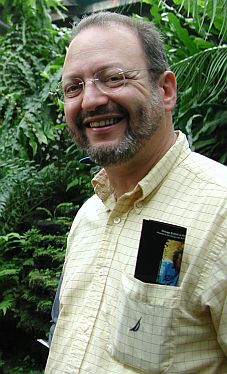 ***************************************************************************
Go to
HONORING STEVE
Our new report on our visit to Skokie, near Chicago, Illinois in his honor, June 27, 2004
***************************************