Sean's Third Day in Pasadena
Thursday, July 14, 2005

This is the way to begin your day! Yesterday Kathy told Sean that hummingbirds love this vining plant on our balcony with tiny flame-like tubular blooms. The next morning while Seanie was painting quietly: this moment of "grace".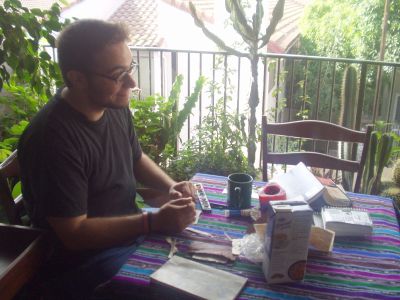 Seanie inspired!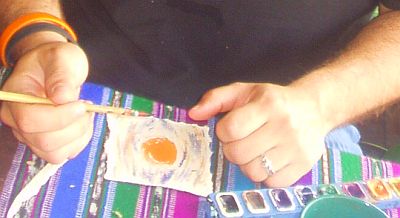 From the hummingbird's perspective...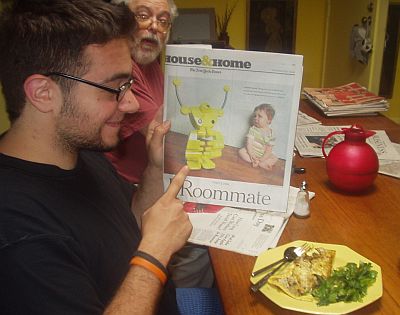 "I want one of those!" It's a small robotic friend...companion helper, able to take photos, talk back, and do household chores! (Only $6000.) (Rick is stunned!) On another topic, that's a "rice omelet" on Seanie's plate... one of our unusual breakfast choices. It's a nice way to use leftover brown rice. We learned from the movie "Tampopo" (highly recommended). Seanie des not need to see it, since Rick acted out the whole movie for him at breakfast.

Morning music. Rick is playing "Gabrielsky on a Streitwolf".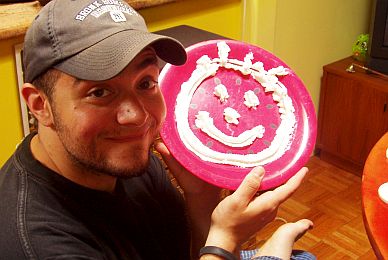 For lunch we had strawberries with whipped cream, and smiling faces!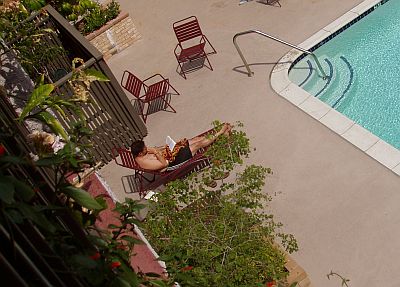 What a life, right?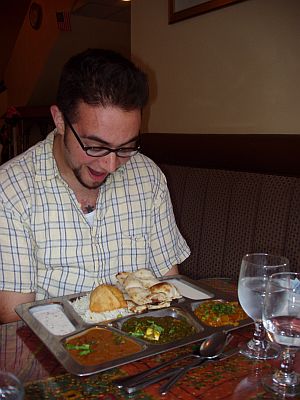 For dinner we went to "Sitar" a really good Indian restaurant on Colorado Blvd., and Seanie was definitely impressed.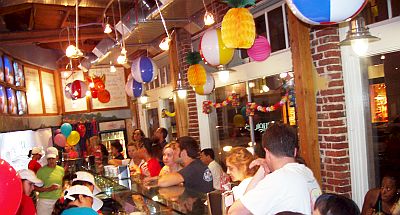 After dinner we walked all over town looking for a good ice cream place. Kathy remembered "21 Choices", an amazing and popular frozen yogurt place in Old Town. We'd never been there before, but have friends and relations that drive many miles to go there!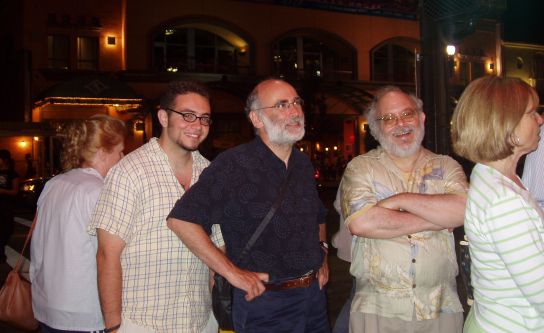 There was a long line, so it must be good! Next to Seanie is our friend Arjeh, a mathematician from Utrecht, who is in Pasadena visiting Caltech for several weeks. We all went to dinner together, and then here.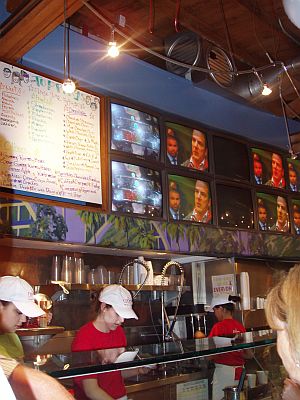 This place has style. Above the counter, two of the T.V. screens show the preparers at work, chopping and mixing fruit, nuts chocolates and candies before your very eyes and into the low fat or nonfat yogurt mix.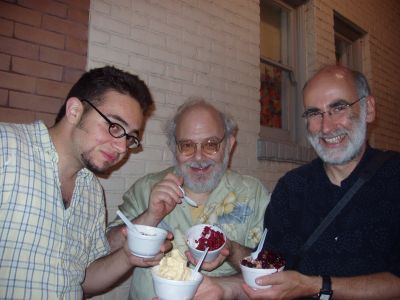 Instead of 21 Choices like the store had at its beginning several years ago, now there are six new flavors every day, and over thirty topping choices...but that's a more complicated name! Kathy had "Tropical Colada" ( a mixture of peach, coconut and pineapple), Rick had vanilla with raspberries, Seanie had vanilla with Twix, bananas and Oreos, and Arjeh had Dutch Chocolate (of course) with boysenberries!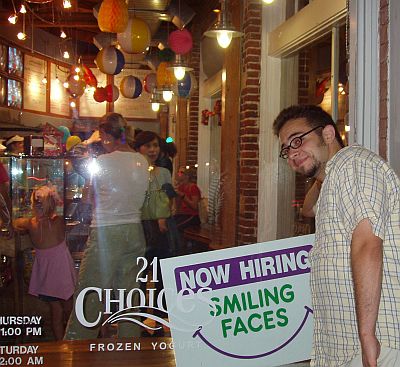 Seanie loved it, but was so tired, his smile just could not get big enough to get hired!
It's okay, Seanie, we'll go home now!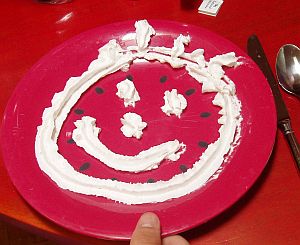 That's where the biggest smiles are, right?
Go to Home Page