OUR STOP IN AMSTERDAM, Part II
A visit with Jaap Frank (August 6, 2003), and other musical treats
Rick has known Jaap as a collector of flutes and flute literature,and a writer on the subject of the flute. He is also a graphic artist, and teacher. We had told him we were coming to Amsterdam, and were lucky to be able to arrange a visit to his home. Rick enjoyed looking at and trying his flutes. Jaap is now selling his collection through Soren Venema, of Palm Guitars, (Part of Bark Musical Instruments) in Amsterdam. Go to: www.palmguitars.nl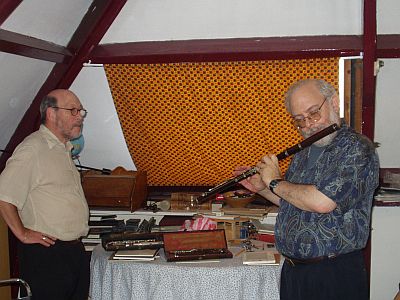 Jaap's home is a museum of musical illustrations and figurines, especially depicting flute players!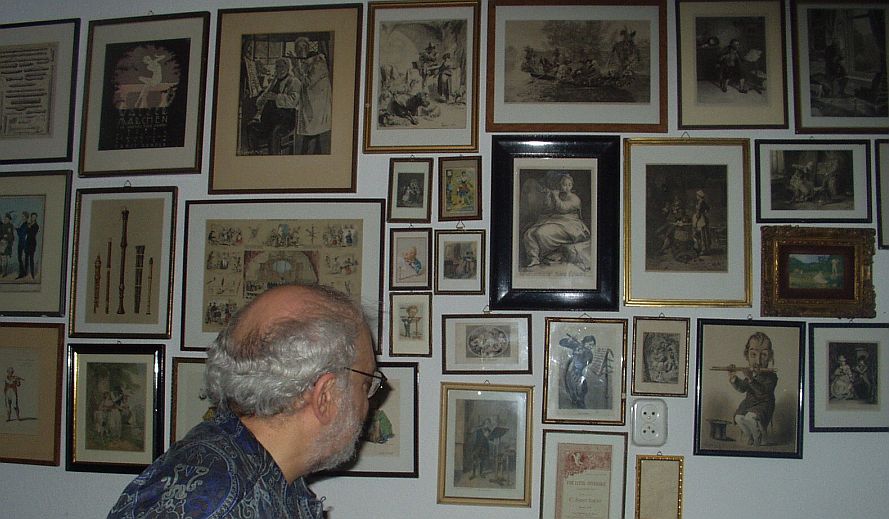 Kathy had never before met Jaap or Sabine, his wife, and enjoyed our conversations and their hospitality. Kathy did this quick drawing of Sabine (knitting while we talked) in her journal.


We were sorry to leave so soon, but happy we could have this meeting with friends in Amsterdam!

We had many bridges yet to cross before we got to Iran! (You can see Kathy's journal in this photo.)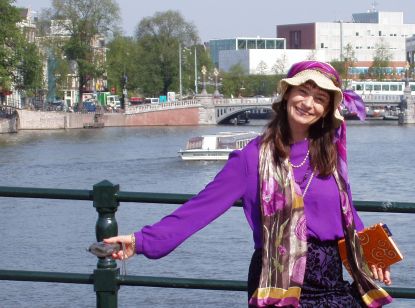 Actually, it was under a bridge that we had our next musical adventure. Near the stone entrance to the Ricjks Museum, musical groups schedule days of performance, because of the great acoustics. We heard what seemed like a giant organ playing a Bach Toccata and Fuge as we approached one day, and saw that it was three accordians. Here is another musical treat...later in the afternoon, we heard Mongolian throat singers and traditional musicians playing there. We bought a disc from them on the spot.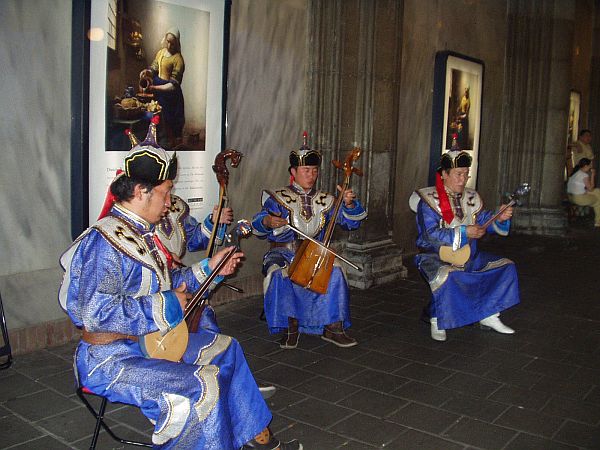 Speaking of accordians, here's one that serenaded us while we had lunch at a sidewalk cafe.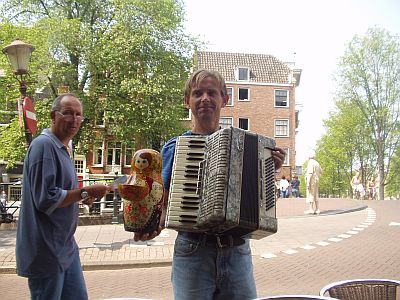 Our only other musical experience in Amsterdam was wishful thinking... we walked by the Concertgebauw and got some brochures, but there just was not time to go to a concert... We did a lot during our short stay, but we could not do everything!