BUYING A RUG IN TEHRAN
The Beauty of It

Our friend Hadi Kharaghani, on the left, Professor of Mathematics at the University of Lethbridge, Alberta, Canada, one of the organizers of the conference, offered to take some of us on a rug excursion, to "Paalizi Carpet", a high quality rug store owned by a friend of his relative, Haj Abbas Najafi, on the right. We had bought a rug in Esfahan on our previous trip, and we were not sure if we wanted to carry another back home. But we love learning about things especially from people who are experts and know their way around the city. So several of us took up the offer.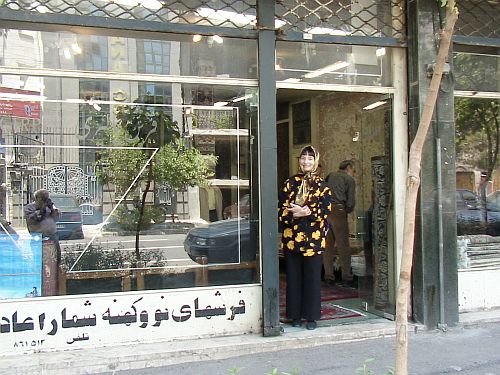 We drove into a different area of Tehran. Each time we were taken on an excursion, we became more and more aware of how large and various the city is. As often is the case, the outside of the shop was hardly marked.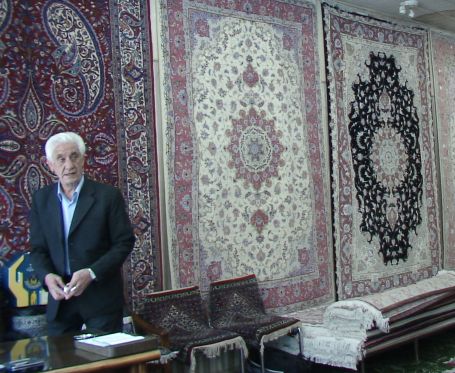 Haj Hassan Lovlahary, the owner of the shop.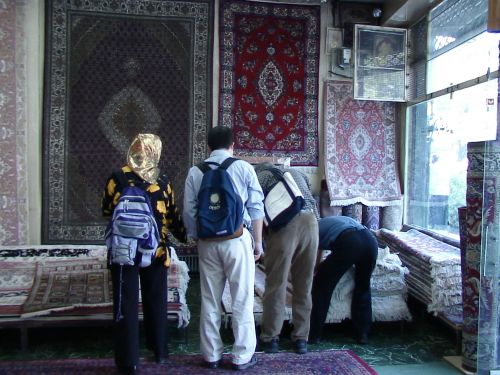 The inside was a fascinating wonderland of colors and patterns.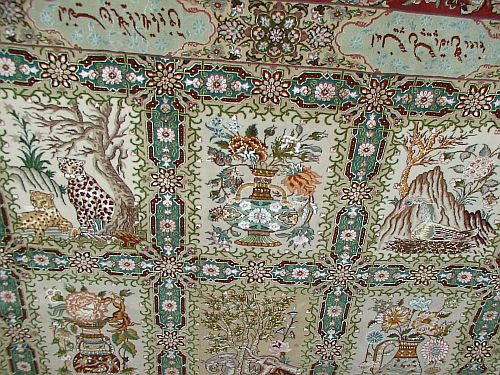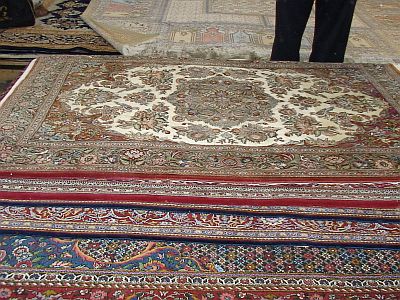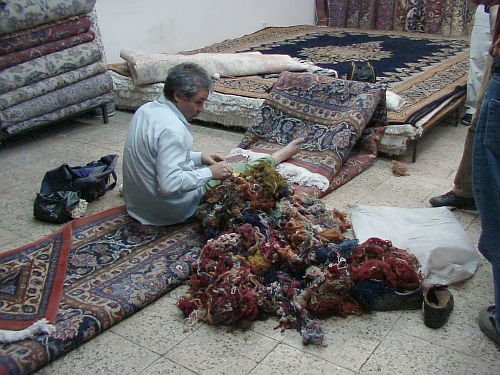 Here was someone repairing a rug...it was amazing to see that colorful wild pile of strands be tamed into tiny repairs to match the designs.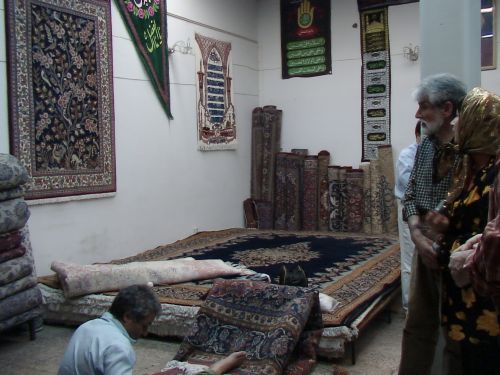 We were advised by a friend who left the night before (and could not come rug shopping) "remember don't buy a rug unless you fall in love with it."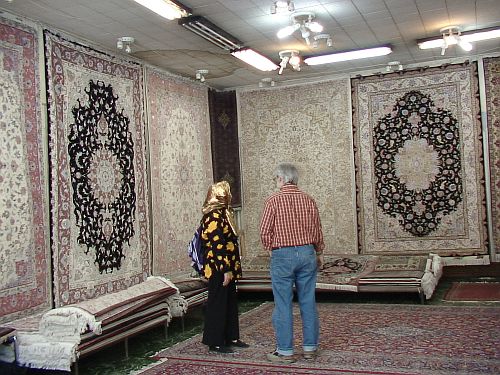 Bewilderingly beautiful, a fantasy museum, we spent most of the time ooh-ing and ah-ing!
With Kathy, on the right, is Jeff Dinitz,from the University of Vermont.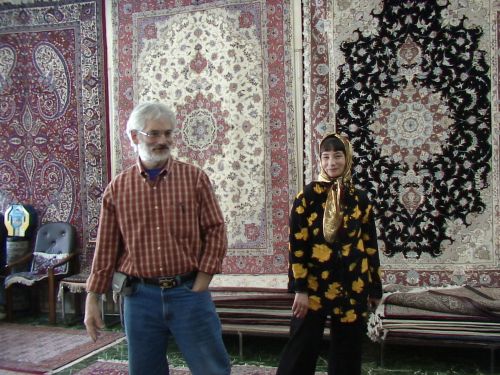 He was pretty sure he wanted to bring one home, and in the end, did choose a beautiful one, knowing exactly where it would go in his home.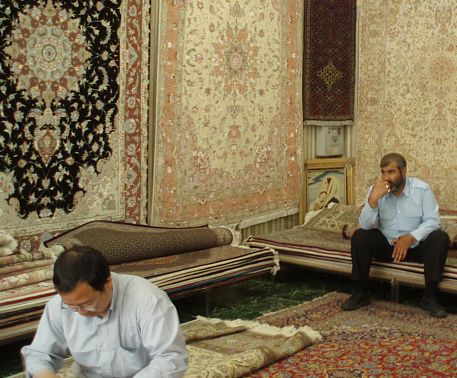 Qing Xiang, our friend from the University of Delaware fell in love with two, and brough them both home!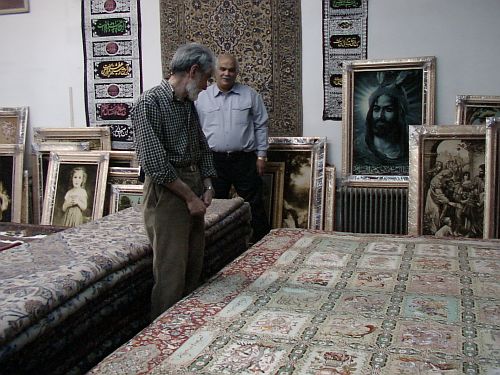 Even Hadi could not resist one to give to his daughter.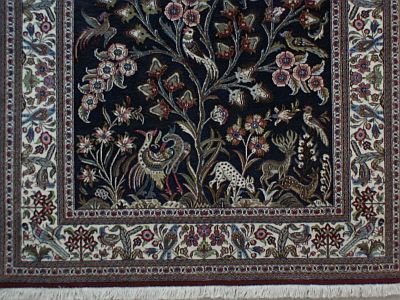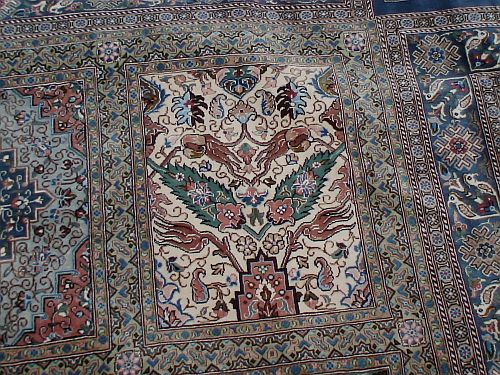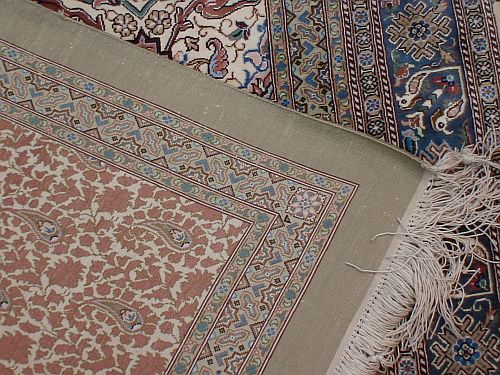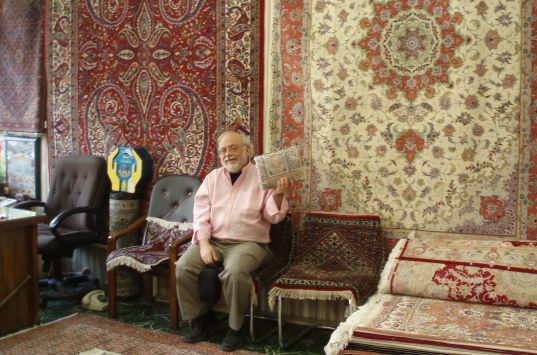 And in the end, as you might have guessed (probably faster than we did) we fell in love too. It was with a silk one from Qom, for hanging. (The one we bought last time is a nomadic one, thicker, for the floor.) This one was not too big, thankfully (!) about and they managed to package it like this....smaller than you would expect for something 2 1/2 feet by 4 feet. (The high quality silk makes it light and foldable.)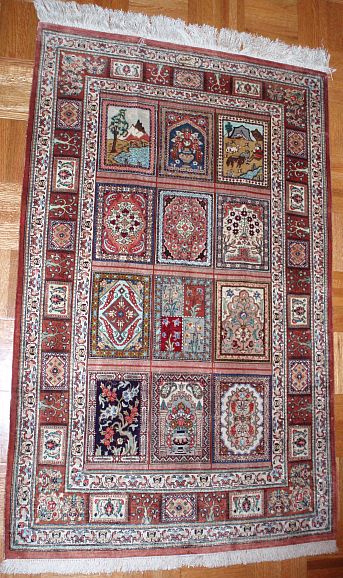 Here it is. It has 12 different central panels, (each one unique) and 18 smaller surrounding (repeating two basic designs).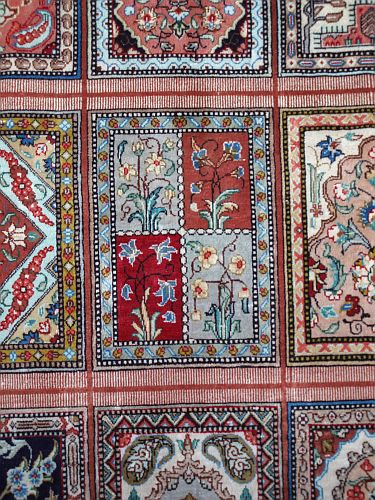 One of the central panels.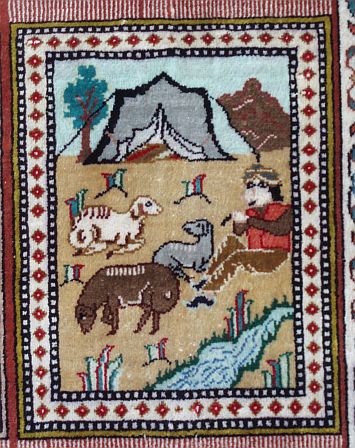 Our favorite panel....and why we HAD to get this one. A flute (ney) player serenading his sheep. Perfect for us...how could we resist?
Go to Our Iran Trip Index