A Tour of Ishahan IV ( August 2003)
Imam Mosque, Sheikh Lotfallah Mosque
Ali Qapu Palace
Treasures of World Architecture
Standing at the south end of the vast Imam Square, just out of our mini tour bus, and still breathless from the treasures of the Palace of Forty columns, we were faced with the immense and imposing sight of Imam Mosque. This Mosque was begun by Shah Abbas I in 1611, and took 18 years, until the last year of his reign, to complete. Notice that the portal faces the square, while the Mosque itself faces in the direction of Mecca.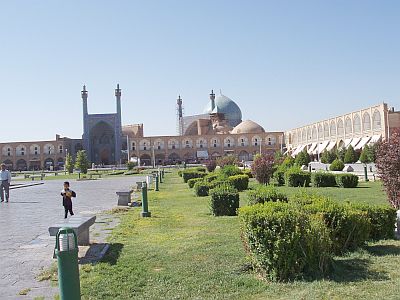 We were finally entering this gorgeous portal. The foundation stones are made of white marble from Ardestan,and the honeycomb design is decorated with magnificent floral, geometric designs and calligraphy.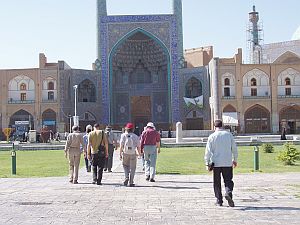 The colors, blue for relaxation, yellow for attention, and turquoise for paradise drew us into this blissful place of beauty.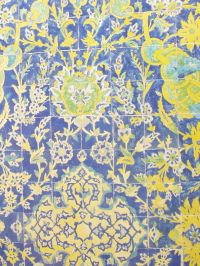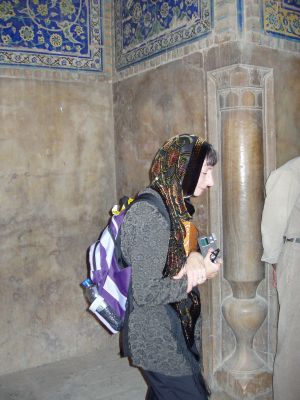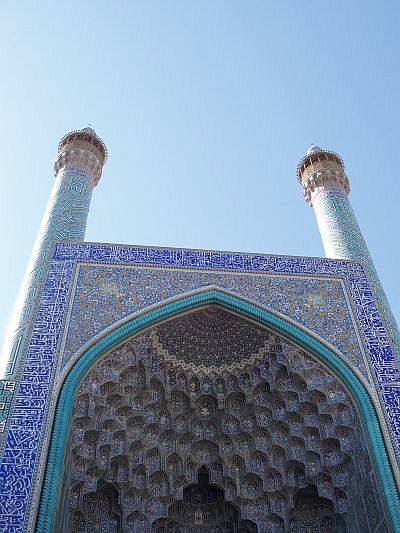 <

From the largest to smallest detail the colors weave a symmetry and kaleidescopic map of the highest form of human acheivements.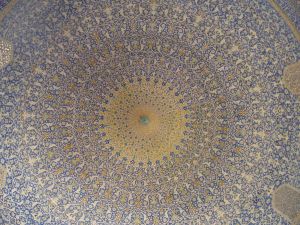 The Sheikh Lotfallah Mosque (built 1602-1619) is smaller, and to the east of the giant square. It too, was ordered by Shah Abbas I, to honor his father in law, who was a Lebanese scholor of Islam who was in Isfahan to supervise the building of the Imam Mosque. What could we see beyond what we have seen?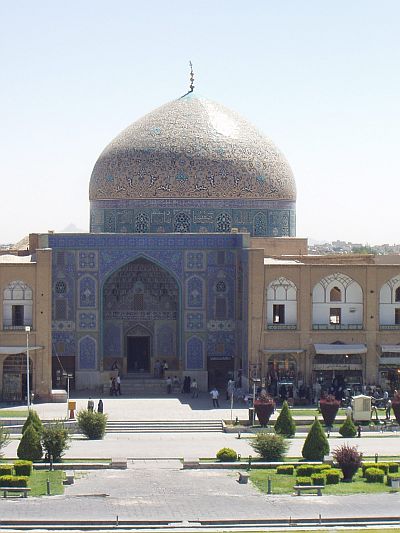 Looking up we were stunned by the incredible architecture and forms.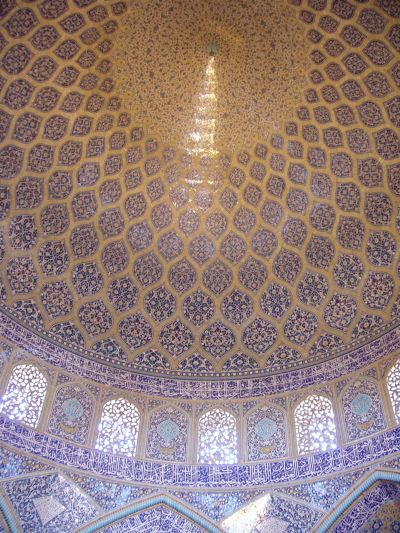 Our inspired tour guide easily drew us into the spell of this immensity.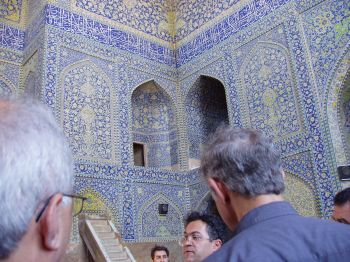 The colors and forms of paradise.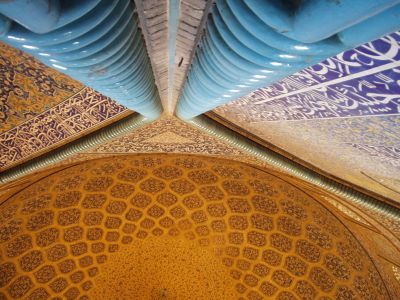 The Ali Qapu Palace dominates the west side of Imam square. Built in the 17th century, it served as a perfect vantage point for the polo games and other festivities that took place in the square. (The ropes are used for lifting things such as restoration equipment to the roof and upper floors.) On the upper floor is an unusually crafted 'music room' (see upper left in photo below).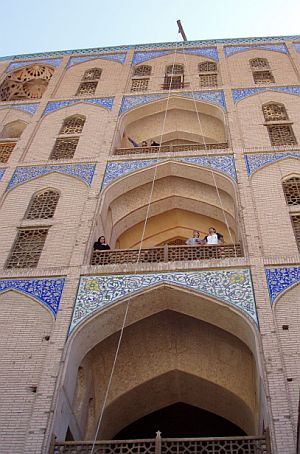 The ceiling of 'cut-outs' depicting vases and instruments were formed for acoustic effect.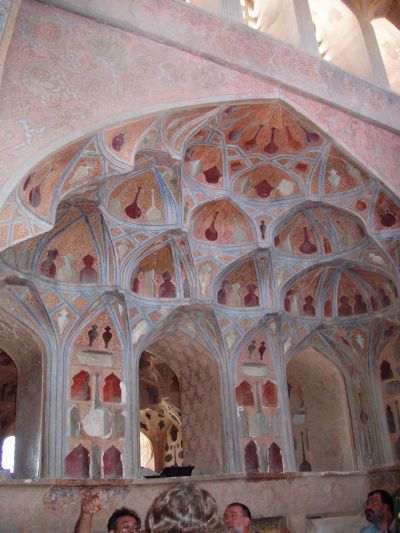 Here we look back, from one part of Imam Mosque to another, the canvas 'tents' in the courtyard there to give some shade to Friday worshippers in the summer heat.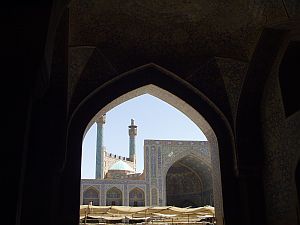 Having toured these wonders, we now have a different view of what a mosque is. How precious is the artwork which over centuries, has so far, endured!
GO TO IRAN TRIP index page