A Tour of Isfahan (August, 2003), Part III
Chehel Sotun Palace
The Palace of Forty Columns
We woke up the next morning early, the light and reflections from the river and bridge a happy sight. Downstairs in our hotel restaurant we gathered with the rest of our group for a breakfast of scrambled eggs, homebaked Iranian breads, lamb sausage, coldcuts, cheeses, butter, jams and cream. Out tour guide was ready for us. We were happy that we were rested and ready too, for our first stop was a feast of artistic pleasures beyond our expectations.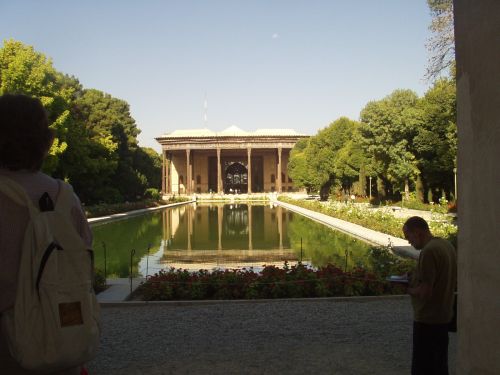 The palace was built as a reception hall in 1647 by Shah Abbas II. The twenty cypress wood columns are reflected in the large rectangular pool, to make forty, a number signifying admiration and respect. Both the number consciousness and poetry of this image seems typical of the Iranian way of thinking. Poetry is a common preoccupation, even now. We met many Iranians who write poetry, and it is woven into the everyday fabric of life in a way we do not experience here in common culture.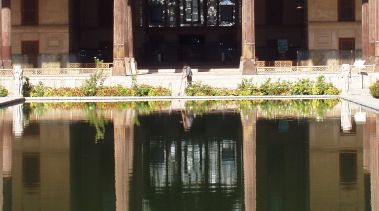 The tall carved cypress wood columns rise to join at the ceiling in an intricate inlay design.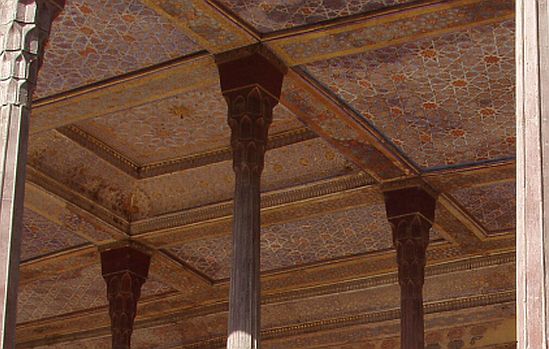 Upon entering, we found rooms full of glorious color, rich with frescoes and paintings all above and around us. During the 18th century invading Afgans covered these with plaster and whitewash to show disapproval of the sumptiousness. And we were told that during the Islamic revolution caretakers and students protected them by claiming they were metaphorical. Most have recently been painstakenly restored, so our viewing was a rare one!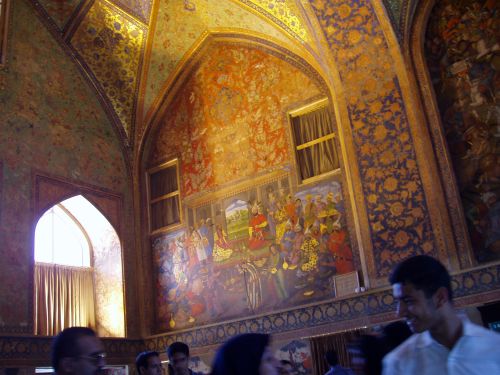 It was such a gift to be allowed to take photographs here with no flash. Many of the frescoes portray historical events, and this wonderful scene, we think, portrays Shah Abbas himself, recieving King Nader Khan of Turkestan amidst musicians and dancing girls.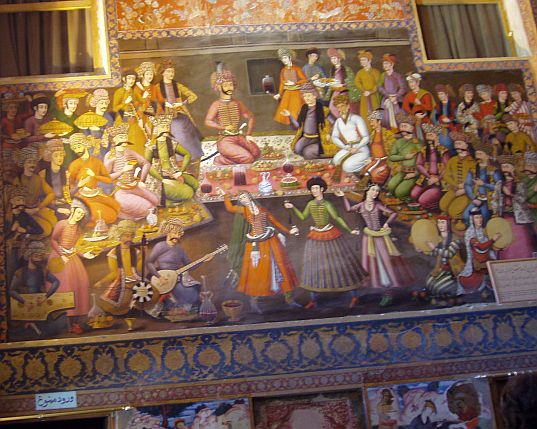 Here is a closer view of some of the musicians and instruments.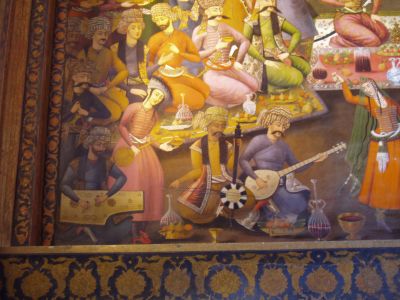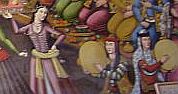 And in another scene, another group, including a pan piper: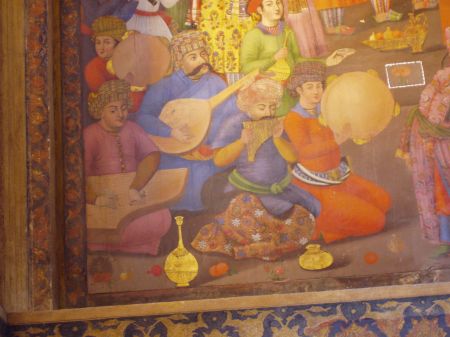 The pouring and drinking of wine is a common theme.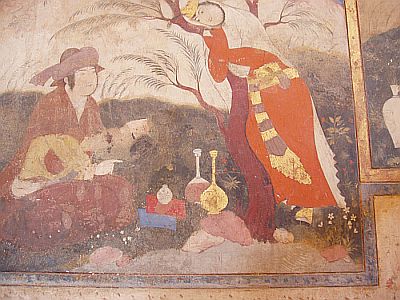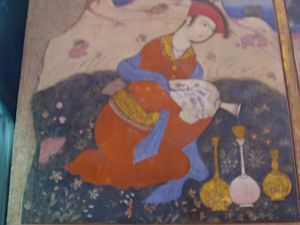 And the Iranian love of beautiful gardens, and relaxing in them: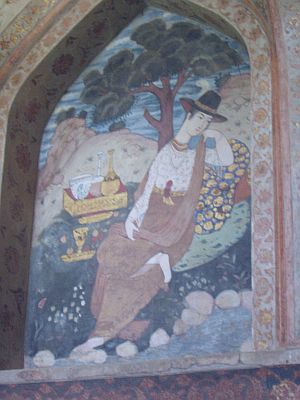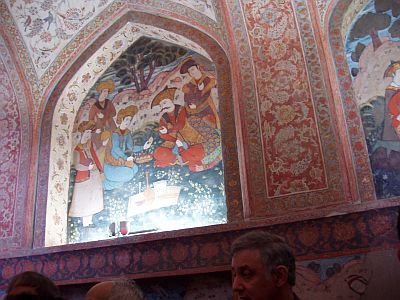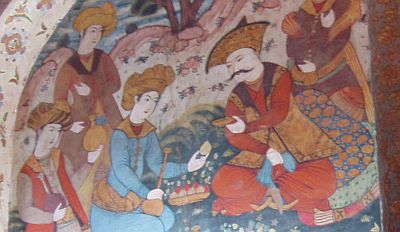 And blissfully dancing in them: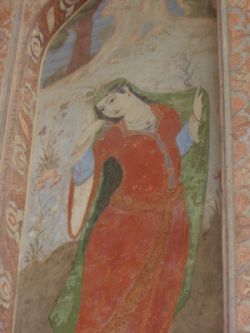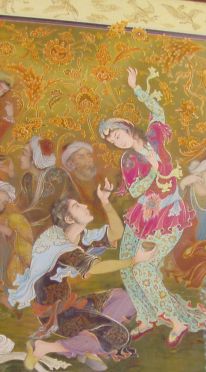 Great confluences of battling people and intricate clusterings of birds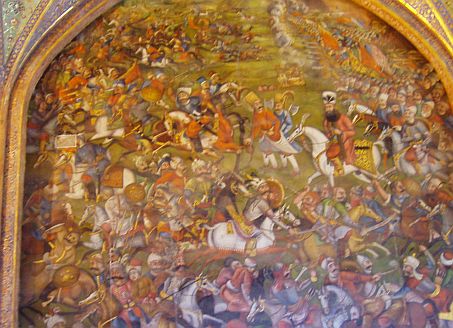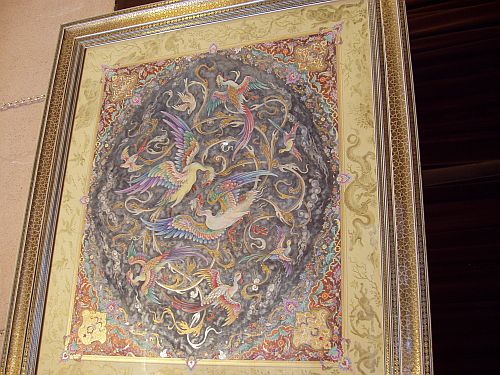 It was hard to leave this treasure house, now museum of beauty. Shah Abbas had especially good taste. We were told he also had 400 wives. We do not know if this is metaphorical. In days past the pool water passed through the mouths of these lions as fountains which form the base of decorative pillars that are nearby. Now they are dry, to protect the foundation of the palace. We sincerely hope that this art treasure will endure.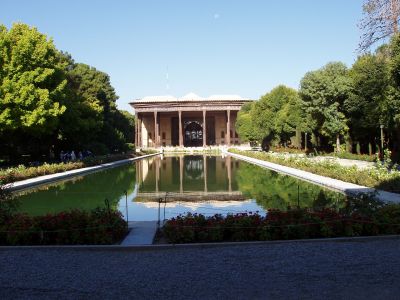 GO TO IRAN TRIP index page