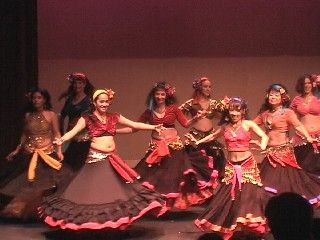 Just before we left Pasadena, Kathy performed with Leela's wonderful Gypsy Dancers in the Caltech dance show. See us in our costumes during our performance April 8.
GYPSY "SONG AND DANCE" IN IRAN

Doing last minute packing, I decided to bring my two skirts and veil along! I was so glad I did!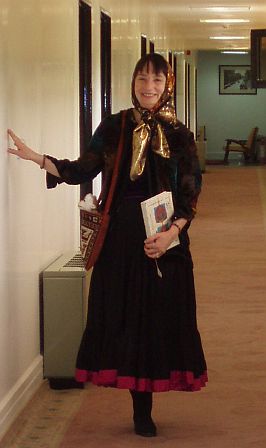 Comfortable and full length, here I am in the guest house in Tehran, fullfulling the full cover requirement in style!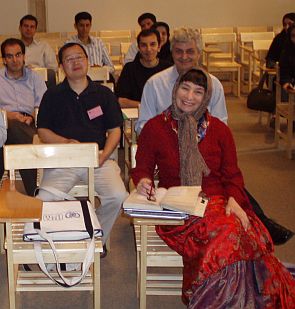 Attending a lecture at the conference, my red skirt was cheerful and fun to wear. Many Iranian students told me how much they loved my skirts, also walking through the bazaar in the city an old woman stopped excitedly, thanking me for dressing that way, and so beautifully, and others wanted to buy my skirts!
My silk veil works well as a graceful headcover! It was light enough that it did not feel how, and soft, so it felt nice too!
Never would I have guessed how useful my costume would be on this fascinating trip to Iran!
Go to Women's Fashions in Tehran
Our Index of our Trip to Iran (April 2006)
Themes from our Iran Trip in 2003
Go to Kathy&Rick's Home Page