AT THE TOMB OF HAFEZ
Shiraz, April 28, 2006

One of the high points of our trip has been the visit to the tomb of Hafez. Khajeh Shamseddin Hafez lived in Shiraz from 1300 to 1389. He is the most loved and memorized poets of Iran.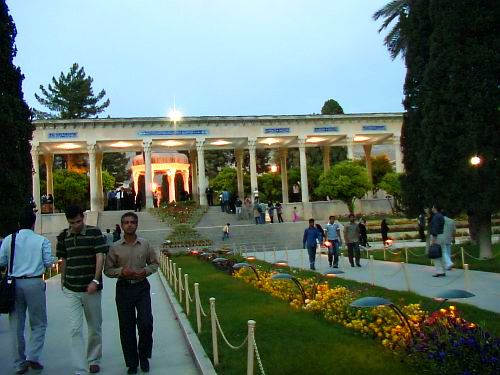 We arrived at twilight and the soft breezes and scents of flowers wafted through the garden approach to his tomb. Our guide told us that Hafez rarely left Shiraz. He loved the atmosphere of his birthplace so much that he rarely traveled. She told us that it is said that once he began a sea journey, a storm came up very quickly, and the boat returned to port because be requested to come back to the beautiful breezes of Shiraz, the legendary "city of roses and nightingales".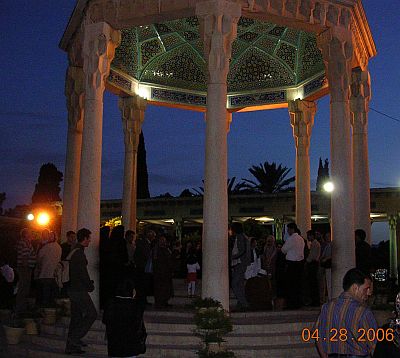 A marble tombstone was placed here, inside a shrine to Hafez by Karim Khan in 1773. The octagonal pavillion, supported by 8 pillars, was built over it in 1935.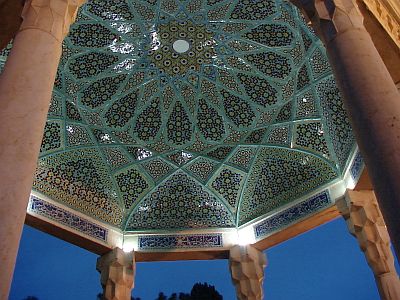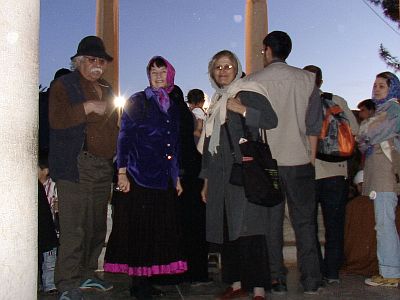 Kathy with our host Reza Khosrovshahi, the director of mathematics at IPM and his wife Laya by the tomb. Reza is a great lover of poetry and his wife is an wonderful artist. One of her paintings hangs in a prominent place in our living room, a treasured purchase from our last visit. She shows her work in galleries in Tehran, one of their sons is an opera singer in Toulouse. Their younger son is a fantastic daf player. They are great lovers and supporters of the arts, so this trip to Hafez's tomb was important to them. When I asked Reza of we were going to the tomb on our trip, he said "Of course!" He told us that poetry is very close to the hearts of Iranian people, and that his verses are so well known and loved that they are quoted in everyday life.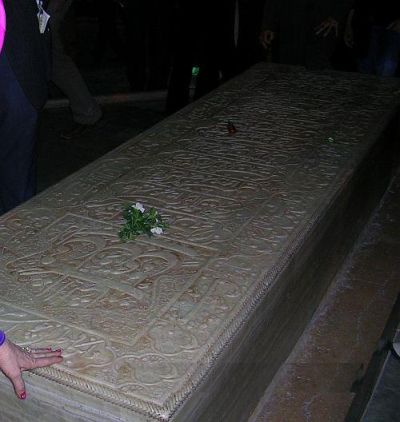 It is customary to touch the tomb.
I thought of poetic friends.
A ghazal is incsribed there...the lines include, according to our hosts
"Feeling thy presence, I shall come out of my sepulcher...
Rise, softly moving creature, and let me contemplate thy beauty."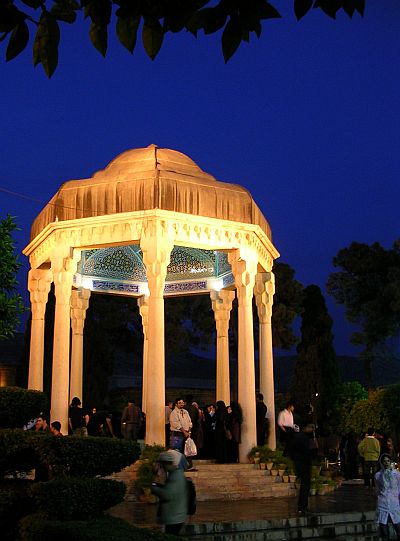 Here is the ghazal incribed on the tomb as translated by Gertrude Bell, 1897
(If I find other translations I will post them):
WHERE are the tidings of union? that I may arise--
Forth from the dust I will rise up to welcome thee!
My soul, like a homing bird, yearning for Paradise,
Shall arise and soar, from the snares of the world set free.
When the voice of thy love shall call me to be thy slave,
I shall rise to a greater far than the mastery
Of life and the living, time and the mortal span:
Pour down, oh Lord! from the clouds of thy guiding grace.
The rain of a mercy that quickeneth on my grave,
Before, like dust that the wind bears from place to place,
I arise and flee beyond the knowledge of man.
When to my grave thou turnest thy blessed feet,
Wine and the lute thou shalt bring in thine hand to me,
Thy voice shall ring through the folds of my winding-sheet,
And I will arise and dance to thy minstrelsy.
Though I be old, clasp me one night to thy breast,
And I, when the dawn shall come to awaken me,
With the flush of youth on my check from thy bosom will rise.
Rise up! let mine eyes delight in thy stately grace!
Thou art the goal to which all men's endeavour has pressed,
And thou the idol of Hafiz' worship; thy face
From the world and life shall bid him come forth and arise!
Go to Kathy's Ghazal
Go to Our Iran Trip Index