The scarf is from Jordan, purchased from a friendly online seller. It compliments the skirt and blouse, which were found at'Replay,' a favorite vintage shop in Pasadena. Kathy compensated for the 'cover-up'in Iran by keeping it colorful.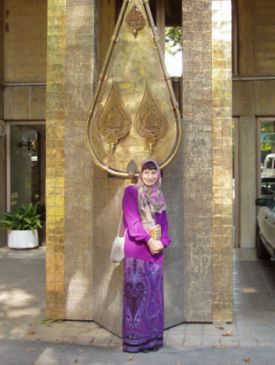 The headscarf is from eBay, not a recent purchase, but deemed appropriate. The robe is a specially researched eBay purchase. This seller loved this one, but she was two inches shorter, so it was too long for her. It is a silky material, with variations in tone, and a subtle flowery pattern. It attaches with velcro and snaps, and is reversible to black-- you can see the sleeves showing. Notice the dark shoes. Women do not cover their faces in Iran, except with a camera.
The robe below is a match for the one above; they were bought as a pair, and this one is reversible to black too. The scarf is an old favorite, a gift from Kathy's daughter, Colleen. Notice in the background, Shahriar Shahriari, our friend mathematician from Pomona College in California, who helped organize the conference. He, like Rick, an invited speaker. He was extremely helpful to us, as he knows Tehran and Iranian customs, as well as being a sympathetic and generous person.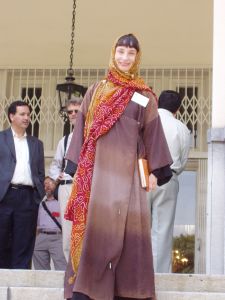 Mandana and Kathy's fashion walk. This was the first time Kathy wore these pants, a 'Replay' purchase. They were invaluable for hiking in the 'night garden', and other strenuous adventures. Mandana's sleeves are especially pretty, with silver embroidery. Kathy's blouse was a gift from Colleen.The main idea with the dress code, is for things to be loose fitting. This outfit qualifies, but the top is shorter than most. Kathy's headscarf was handmade by a very nice seller on eBay, especially for Islamic use.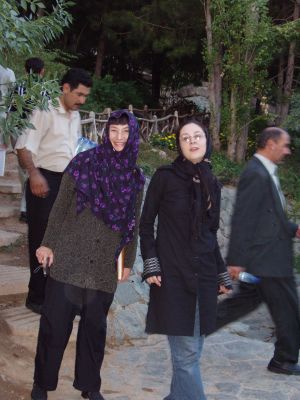 In our room at the guest house, Kathy is dressed in matching skirt and top from 'Replay', and a beautiful velvet Islamic scarf (hijab) which was bought just before the trip, on eBay. It was thin, so not too hot.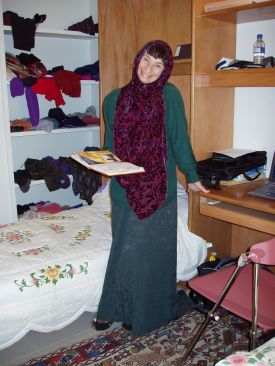 This beautiful headscarf was a gift from Rick on our trip to Shanghai. It took this trip for it to really be used to the maximum. This is evening wear. We were going to a party! The black robe is the blue one reversed.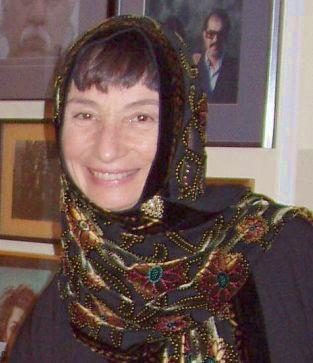 Relaxing with Mandana at an outdoor luncheon in the garden at IPM. Kathy's scarf was a gift from Colleen. Notice the kleenex box on the table. This is a common accessory at meals, instead of napkins. We also noticed they seem to be on the front and back windows of most cars.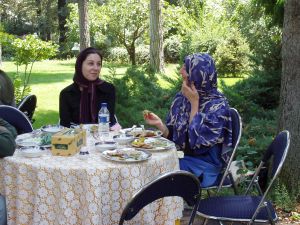 This was an exotic look-- but we were going to a concert — of classical Persian music, followed by Rick on historical flute! The wonderful headscarf is really a fringy 'jacket' but Kathy adapted it for ther special event. The velvet brocade vest and skirt from Replay.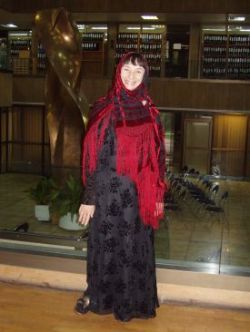 Rick is beaming because he's taken all these great photos. Also he did a wonderful job at the conference, giving two great talks, and three musical performances! Also he managed to keep Kathy smiling, in spite of her 'bondage.' Kathy's headscarf was a gift from Colleen, from Morocco, where she traveled about 10 years ago.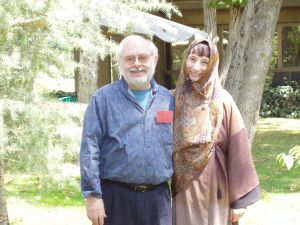 This is a variation on the first day's outfit, but this time with a smaller version of the handmade headscarf. Notice it is just tied under the chin. The 'under the chin' tie was a common style. But Kathy preferred the 'pin-up' version, as you can see in the previous photo. Before we left, we had a lot of advice from Islamic women 'to not tie', because the scarf would slip all the time, and Kathy went equipped with a vast selection of pretty 'hijab' pins found on eBay, most handmade with love for that very purpose. They were so right! Women in Iran spend a lot of time adjusting their scarves. They have a 'scarf tic' and Kathy found it unbearable. But this scarf was not a slippery material, it did not slip, and it was a nice change.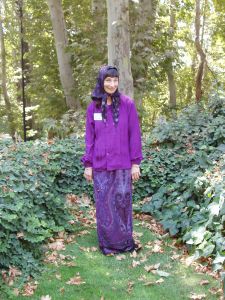 On the trip to Isfahan-- after the formal conference was over, the black pants were in use again. We took plane rides, got in and our of the bus seemingly hundreds of times a day. Our ambitious tour guide had us climbing every stair in sight, especially and narrow stone spiraling ones, up high into the turrets.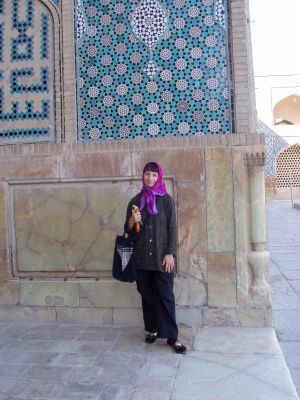 On the plane to Paris, we stopped in Beirut. There, on Iran Air, most passengers from Tehran disembarked, and a flood of French people filled the plane, smiling women with no headscarves! That is when Kathy's came off, a big relief, after a job well done?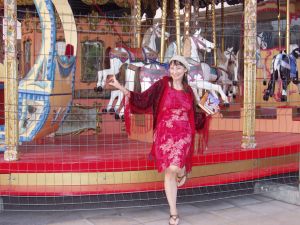 GO TO IRAN TRIP index page