CULINARY AND ARTISTIC FEASTS: HARRY BOWER's VISIT TO OUR HOMES IN PASADENA AND SANTA BARBARA
Friends gather and enjoy (October 16-20, 2003)
Many remember that our friend Harry was responsible for the exquisite food served at our wedding concert reception two years ago. Whenever he can, he visits and gives us some encores!
Here's Harry, directing assistants in our Pasadena kitchen. (Tim, Kathy's son, and Kathy)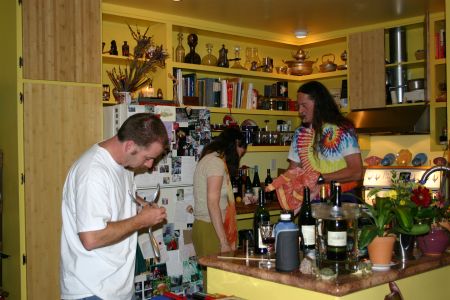 Harry had these cyclamen in mind before whe came to visit. He took Kathy to the mursery to smell each one. They are nose-picked for fragrance, and made the most beautiful arrangement that graced the Pasadena living room all week! The beautiful candle holder on the left was a gift from Harry, and accompanied our happy evening lava lamp.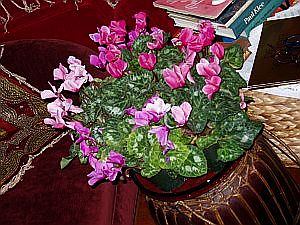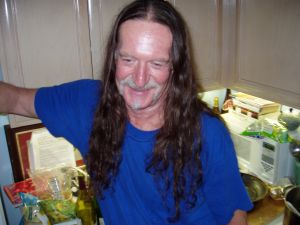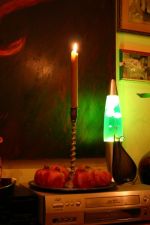 Each night of his visit Harry made a wonderful meal for us and our guests. The first night our guests were Nina and David Shorey.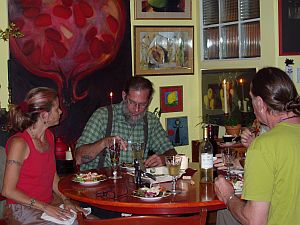 Here's the shrimp-artichoke appetizer from that meal.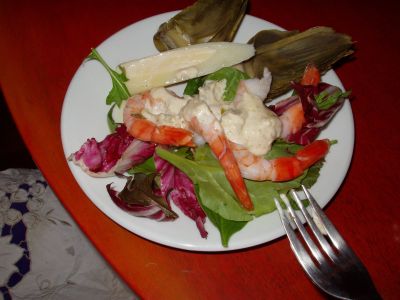 Tim and Dylan came for a meal, and Harry made a wonderful sea-bass dish with olive-tapinade.

Later he made a cabbage-sausage dish.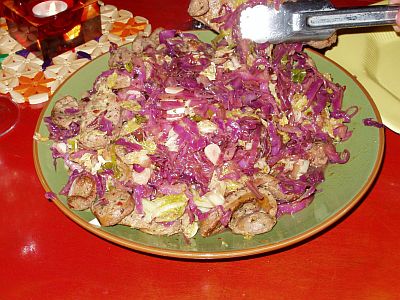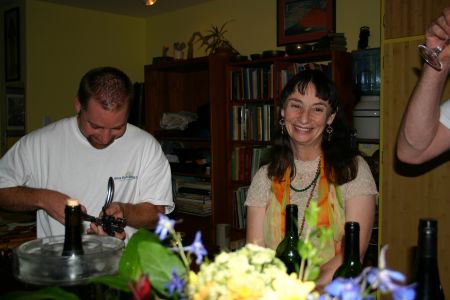 Somebody still wanted cheerios, but we did not mind.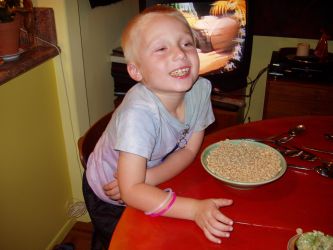 When Risa Freeman came Harry made this delicious tempeh curry with peas as a vegetarian entre.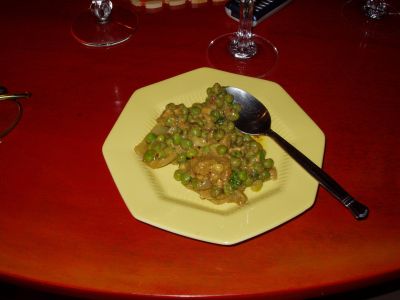 Here's an asparagas soup and fish appetizer on the side.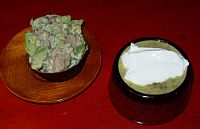 In Santa Barbara, Harry entertained a whole group of happy friends, and made a lamb dish that they are still talking about.
Friends Hyla and Tracy are on the left in the photo, Rick is pleased, and Harry is enjoying his creation.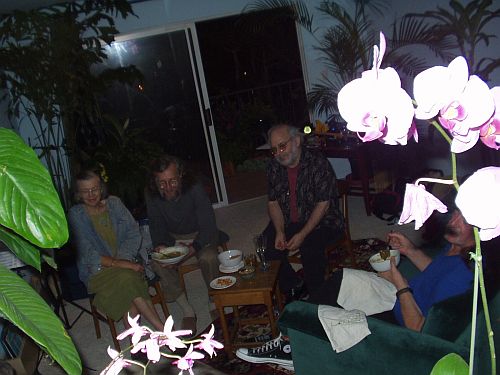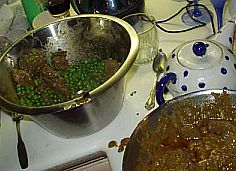 The party got a little wild when Harry and Santa Barbara friend Nan got to see what it felt like in each other's shoes...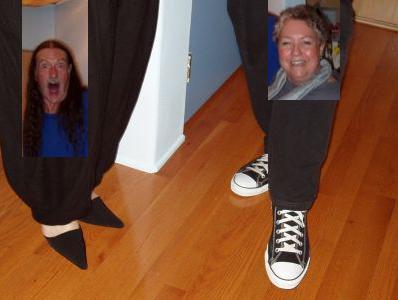 It was a delicious time in both cities, with a low-carb accent, you might notice, since Harry is cooking like that these days... recipes anyone?
And here is the inspiration and heart of the festivities...flute music of all kinds...all else falls into place around the beautiful music. Rick and Kathy were thrilled.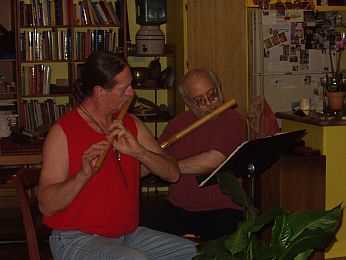 Thanks, Harry!