When Harry visits us from San Francisco , all the flutes come out, and flute players, music lovers and lovers of food and good times are lured irresistably to our doorstep. We had to change our welcome sign so many times it got all smudgey, but our homes in Pasadena and Santa Barbara resonated with beautiful sounds, fragrances, and good taste, both musical and culinary!! Later we'll tell you about the food, but right now, we can see Harry is deciding which flute to play.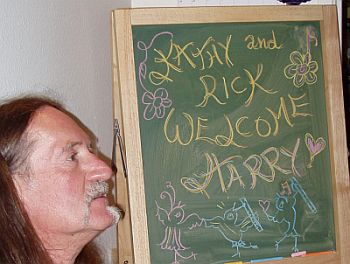 Actually, it was not hard to decide. Rick and Harry could hardly wait to try flute duets with Rick's new renaissance bass, and Harry's new tenor. Look at the photo below for a long time, because they looked like this for many hours during Harry's visit!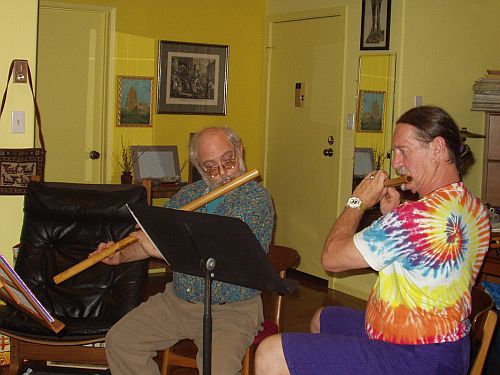 Our first musical visitors were Nina and David Shorey. You remember them because we visited them and their houseboat in Amsterdam. Now, they have moved to Marina del Rey. Both are known in the historical flute world, and skilled in flute restoration. Rick and Harry have both bought flutes through David.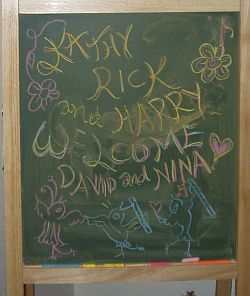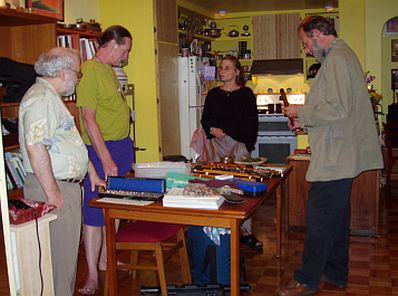 Specimens from both Harry's and Rick's collections met their appreciative eyes.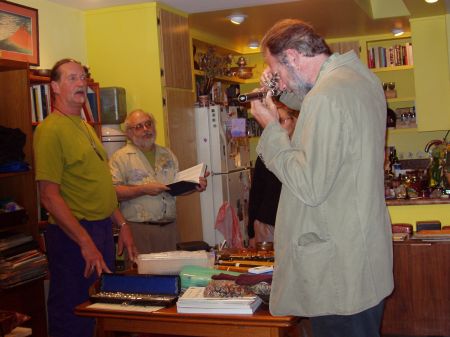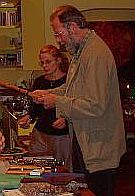 Rick and Harry were anxious to get back to doing this...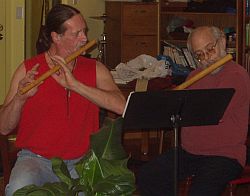 Our next visitor was flute player Risa Freeman. Risa recently moved from NYC and has started her new job as manager of Bibliographic Services and AATA Online at the Getty Conservation Institute. Her job here, is to make renaissance flute trios possible, and she did that very well!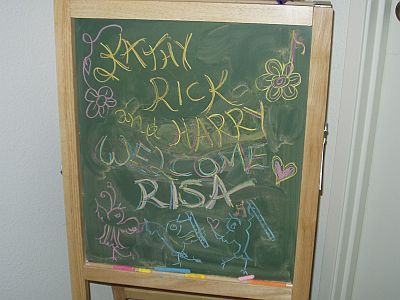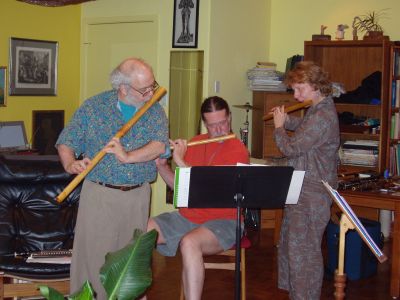 Later, they went on to the baroque.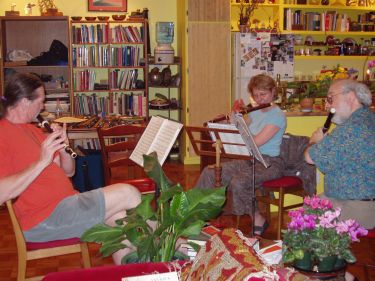 Kathy was blissfully listening, and to add to her joy, her son Tim and grandson Dylan appeared and listened while they untangled all the sets of earphones and cables we have.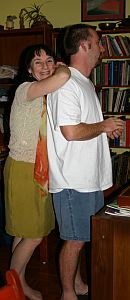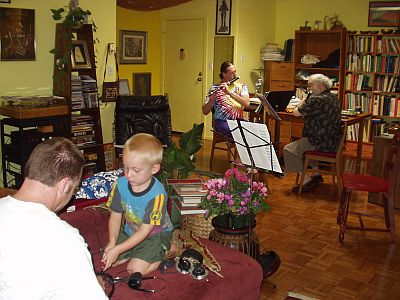 Finally, we went to our home in Santa Barbara, and Rick and Harry had a chance to play more duets.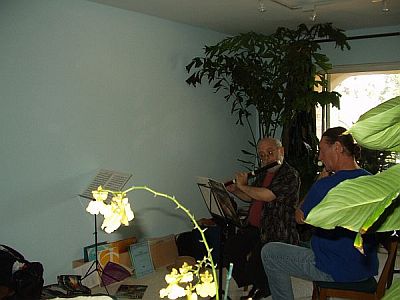 From the renaissance of Pasadena to baroque Santa Barbara, those duets sounded better and better.
Happy flutes; happy people!