This was my first experience of:

The Southern California Haiku Study Workshop
at the Pacific Asia Museum October 21, 2006
The Pacific Asia Museum has become the permanent home of the Haiku Study Group, and this was the first meeting held at this beautiful location.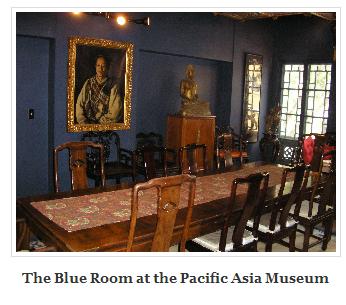 The beautiful blue room at the Pacific Asia Museum provides the atmosphere for the inspiring session. Poets read and discuss recent haiku, comment on seasonal changes in our local area. Called kigo, these details carry emotional impact in the writing of haiku. All this while tea was made and sipped, and delicious snacks brought by participants. Then during a twenty minute writing session we wandered in the garden coutyard.
photo by Deborah Kolodji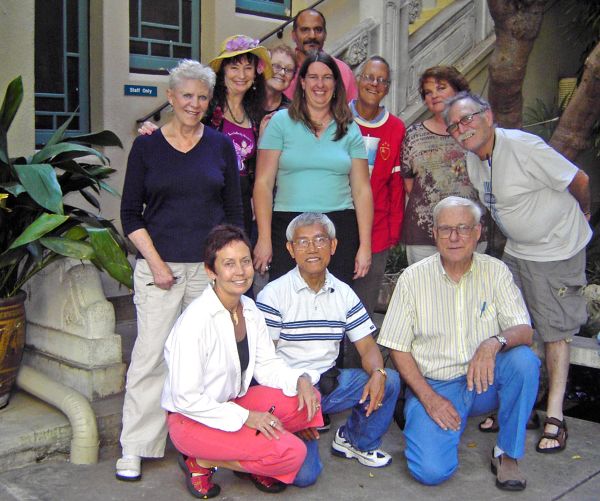 The group in attendance, October 21, 2006. In the center, in turquoise, is organizer Deborah Kolodji. See her poetic Livejournal
Photo courtesy of Victor Gendrano, center, front

After the writing session the poems are read each twice, anonymously by one reader. A light-hearted vote is taken and the authors may announce themselves. The five most appreciated were given small symbolic gifts. Here Debbie is noting the authors and votes.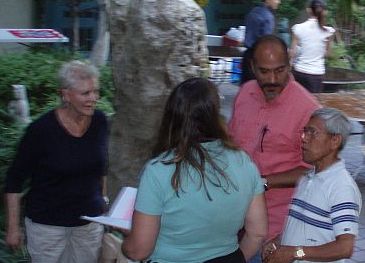 Discussing the haiku.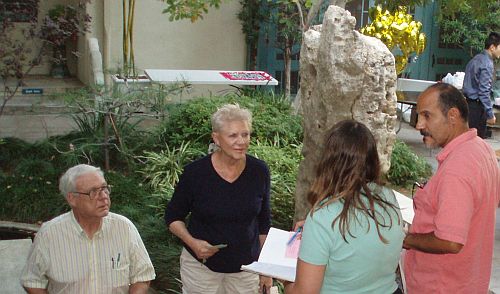 Talk in the inspiring garden.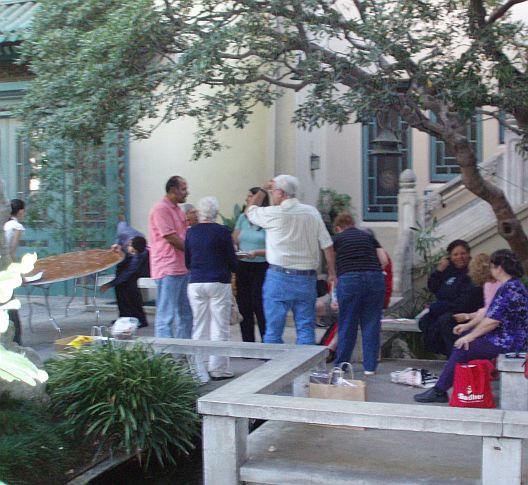 Beyond the zig-zag bridge. Our meeting wwas so prolific we spilled over our two hours, and finished in the garden.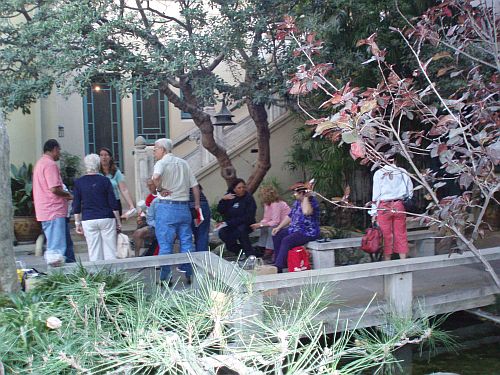 The group chatters in the courtyard garden.

Courtyard Chatter Haiku
by Kath

garden courtyard chatter
one brown leaf
windfall on my page

under the red tree
pale petals tangle
in long-hair grass

sweet burst of gold
honey locust
deserves its name

dry pods
wide open lilies
empty tatami room

fierce festival vest
boy runs away
scared by his own costume

old stone pool
last week full of golden koi
now only loose change

rosa chinesis
one last fragile bloom
two new buds

she imagined this place
now we stare at her urn
unfurling red lilies

***********************************
— written during the Southen Ca Haiku Study Workshop
Pacific Asia Museum
October 21, 2006

with Thanks to The Pacific Asia Museum for providing this fitting and inspiring home, and to Debbie Kolodji for her tireless work for haiku in our area.

go to Kath's Livejournal Page
go to Southern California Haiku Group Page
go to The pacific Asia Museum go to Kathy and Rick's Home Page