Deepavali, the Festival of Lights, at Caltech
Friday November 11, 2005: Beckman Institute courtyard 6:30 PM - 8:30 PM
OASIS (Organization of Associated Students from the Indian Subcontinent) celebrates Deepavali (Diwali, Lighting The Lamps): the traditional Indian festival of lights! We observe this memorable occasion with floral and lamp decorations, and dancing.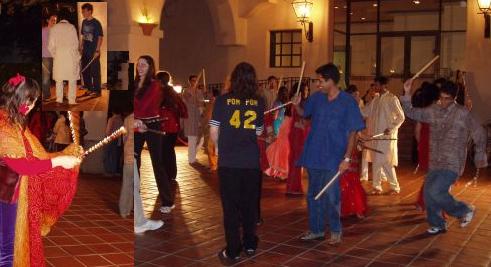 Of all the festivals celebrated in India, Diwali is by far the most glamorous and important. Enthusiastically enjoyed by people of every religion, its magical and radiant touch creates an atmosphere of joy and festivity."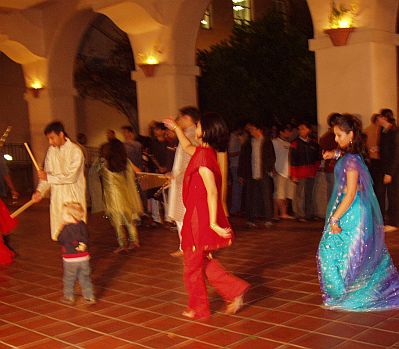 "Every Year On the dark nights if Diwali the sound of firecrackers announces the celebration of the favourite festival of Indians. Homes are decorated, sweets are distributed by everyone and thousands of lamps lit to create a world of fantasy.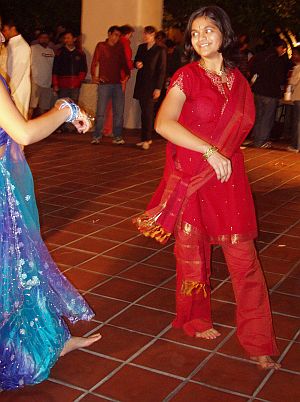 "Diwali, one of the longest festivals in the Hindu year, is a time when everything in India comes to a standstill except family life, feasting and shopping. Diwali is considered auspicious for shopping, inaugurations of new homes, business deals or for starting any new ventures and projects."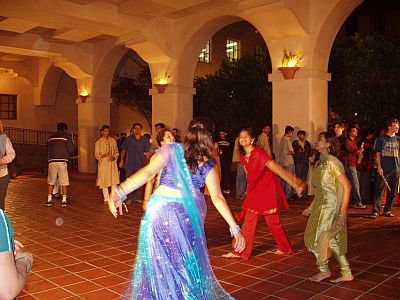 On this day, people buy something for the house or some jewellery for the women of the house. It is auspicious to be buy something metallic, esp silver."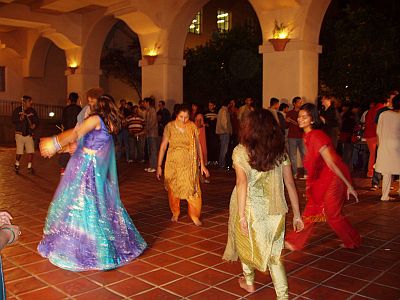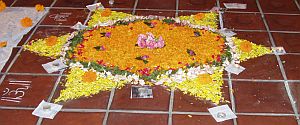 The first day of Diwali is Dhanatrayodashi or Dhanteras. Doorways are hung with torans of mango leaves and marigolds. Rangolis are drawn with different coloured powders to welcome guests. The traditional motifs are often linked with auspicious symbols of good luck. Oil diyas are arranged in and around the house. Because of these flickering lamps, the festival has acquired its name : Dipawali or Diwali meaning `a rows of lamps'.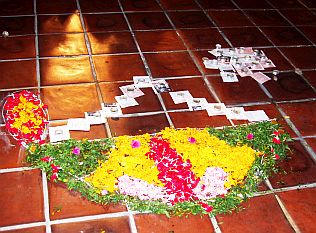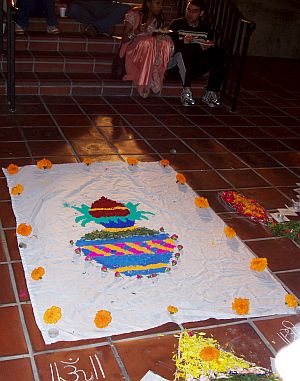 Traditional Indian sweets were served and the dancers were surrounded by waiting lines and enthusiastic onlookers!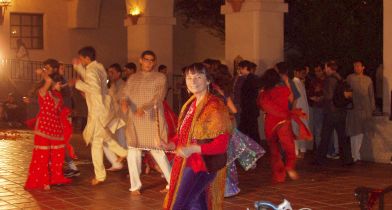 Quotes above are from this page, where more can be learned about Diwali, the Festival of Lights
Go to OASIS: Organization of Associated Students from the Indian Subcontinentat Caltech
Go to Kathy's Outsider Page
Go to Kathy and Rick's Home Page