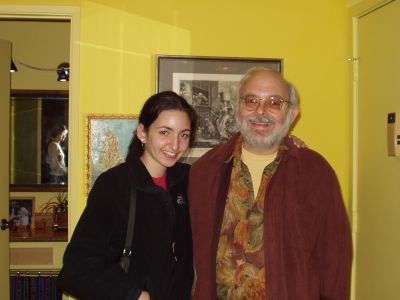 It was such a delightful surprise when we got a call from our friend Rachel Foster while we were at home in Santa Barbara on Sunday. Our niece, Diana Wilson was visiting from the Chicago area, and they wanted to visit us! It was a last minute trip. Rachel (you can see her 'Vermeer like' image in the mirror in the background) had encouraged Diana for a long time to visit her in Redlands, where she is attending college. Diana is a senior in high school, and poised to decide where to go next. With the long holiday weekend, she decided to come, and had all she could do to get on a plane... so we had no idea she was coming. What an unexpected joy!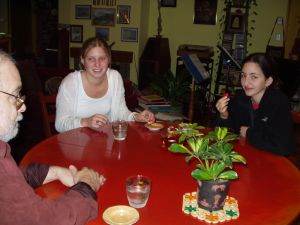 She arrived on Saturday night and Monday evening she was sitting at our 'pomegranate' table having a strawberry. Of course, Rick gave her the full tour of our condo, as she had not seen our place for many years, and a lot has changed!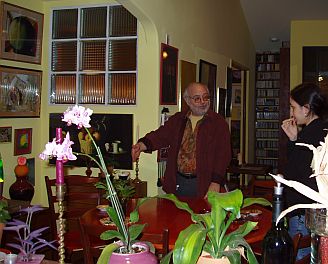 He started out with the usual explanation, "there used to be a wall here..." Kathy painted Diana's name on our 'zen board' by the door, and Rick illustrated with his 'signature' creature drawing, and did an impersonation. The characters on the board are painted in water and disappear in five minutes. This visit lasted about 3 hours, and we savored every minute. In this picture you can see Rick's painting of a home and a beautiful yellow tree peeking over his shoulder, from when he was ten.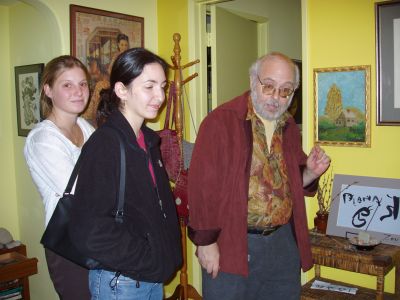 We were off to the 'Athenaeum', the faculty club at Caltech for a special dinner. It was the site of our family dinner the night before our wedding, and since Diana and Rachel could not be there then, we felt it was important to share a meal there together.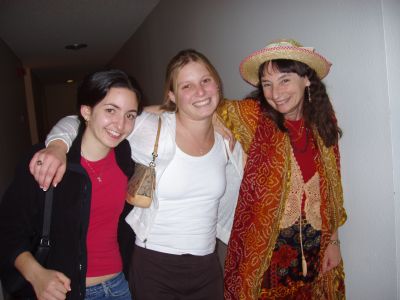 The Athenaeum is an elegant setting and the meals are served with beautiful little touches. Diana appreciated the sorbet between courses.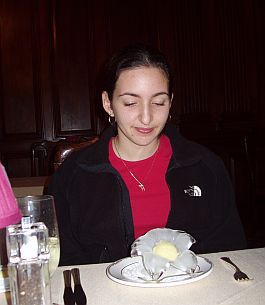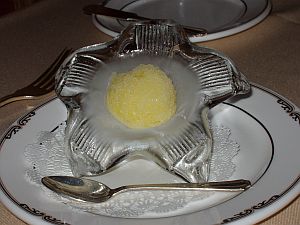 Can you imaginae a happier group?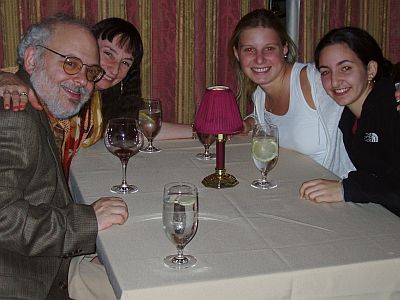 We walked home across campus, past the darkened water lily pools, and sleeping turtles, down winding stone paths and the 'olive walk' through the cold California night, and kept warm by 'huddling'.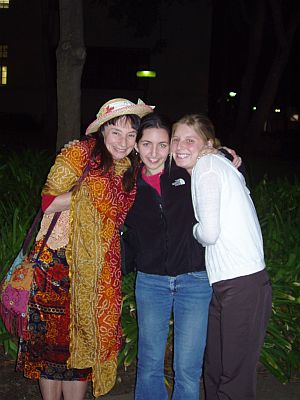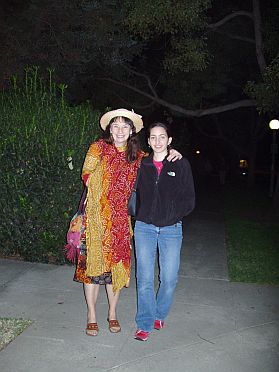 Kathy is proud of Diana, and feels close to her as she begins to make some important decisions. Diana has always been artistic and creative. Of course we would love to have her studying nearby... but she has about eleven schools she has looked at so far to choose from across the country.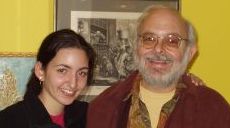 Diana is lucky to have Rachel as her dear friend. We thank Rachel for making sure Diana got to our doorstep on her short visit. The next morning Diana was on the plane, back to Chicago at 8 am.