KATHABELA AND RICK IN BANFF (Nov. 9 to 14, 2008)
Arrival and Beginning of the Conference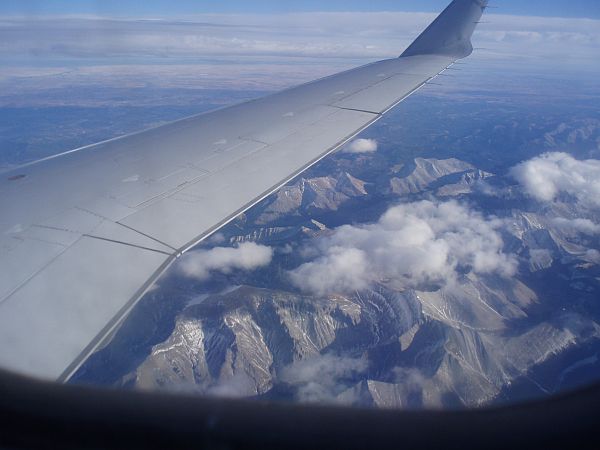 Just before arrival in Calgary, Canada on Sunday afternoon. A chilling sight, in mainly black and white. Dark mountains crusted with snow.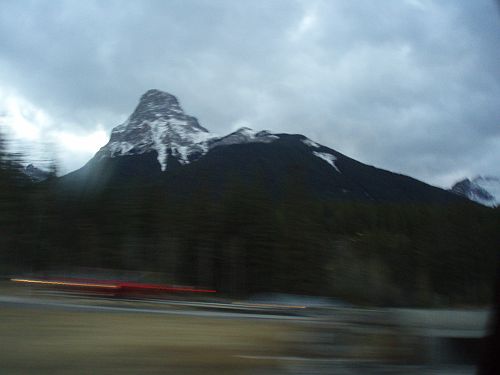 From Calgary we boarded a shuttle van for the 2 hour ride higher into the mountains to the Banff conference center. Suddenly we are on a different planet. Magnificent and strange to our usual Southern California eyes .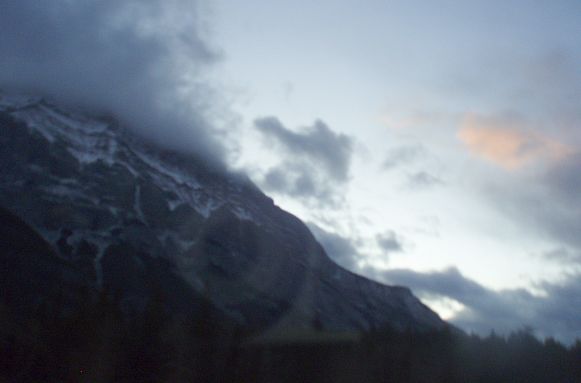 Approaching sunset rising into the mountain setting where the conference will be held. An ominous feel to the immensity and black and whiteness of this scene. A consoling pink glow soon disappeared.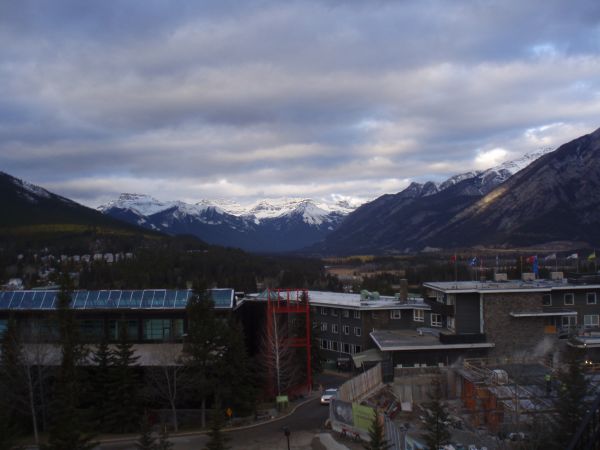 The Banff conference center claims to be a center for creativity and innovation as a result of providing this inspiring setting. How could it be otherwise?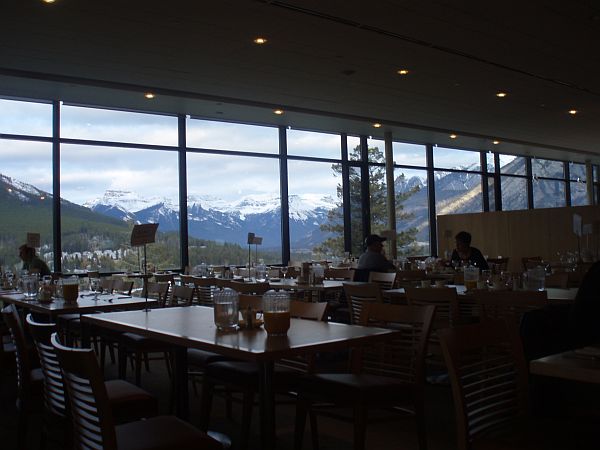 Even the dining room is dramatic. This is the view. Sure to inspire imaginative converstion.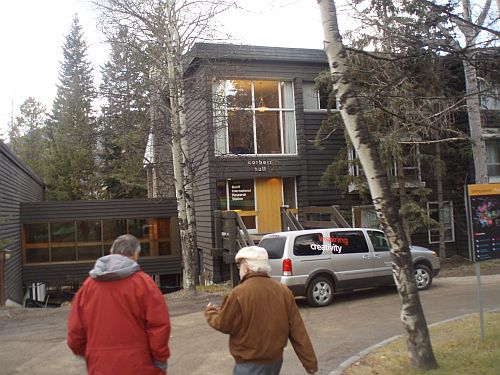 Approaching Corbett Hall where we have our room. Thus adjoins the conference rooms. We only have a short brisk walk to the dining hall. It's just below below freezing here right now.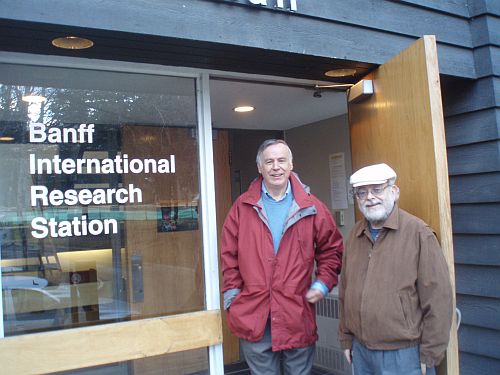 Rick and Canadian mathematician Aiden Bruen at the entrance to our building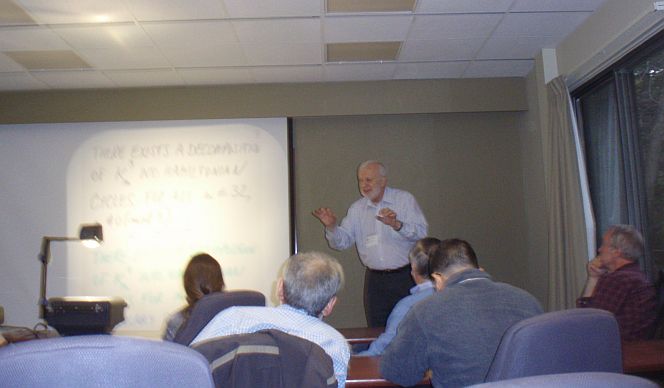 Here's what we are here for! Alex Rosa gave the first talk of the conference.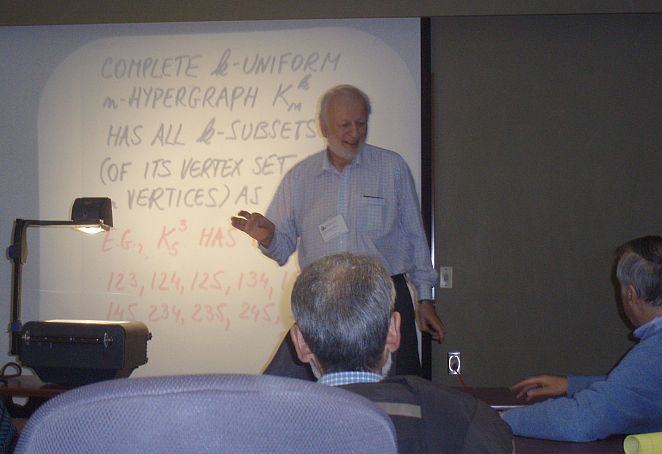 Alex was celebrated in Bratislava, his homeland, with a conference last year that we attended.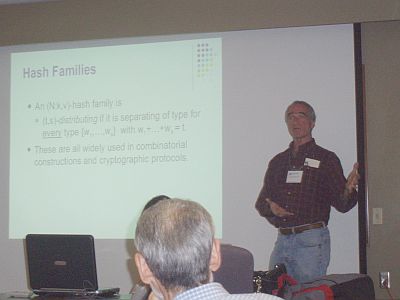 Our friend Charlie Colburn talking about Hash Families (don't ask).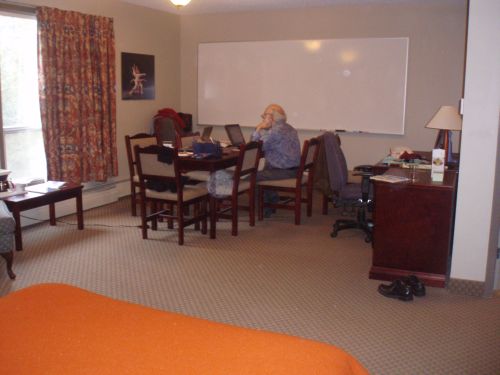 We have the best room in the house, we think, suitible for holding a Poets Salon! If anyone can make it up here before we leave, we can have one here. (giggle) We have great wireless internet here, as you can tell.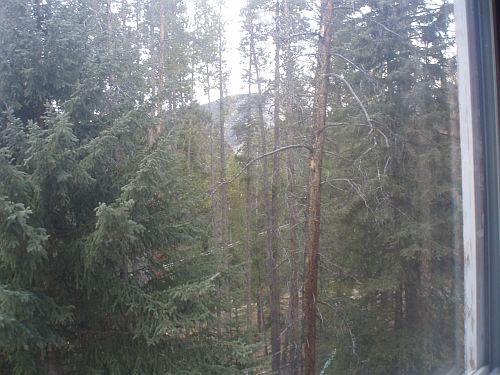 View from our window waiting for poetry.
Go to Kathabela and Rick's Home Page Go to Banff Conference Center