DIGGING FOR RAINBOWS

One day walking along the Santa Barbara shore, I found
a bright yellow perforated plastic scoop.
The shore was covered with white foam, like soap suds.
Here the camera, without enhancement showed mysterious rainbow bubbles that such a scoop might hold, thrust into such foam at the edge
of the vast ocean and sand.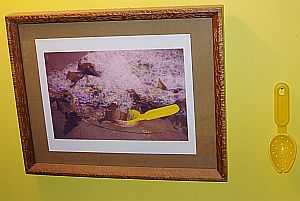 I saved the scoop and it hangs next to the print of this "readymade ocean work" in our collection at home.
Go back to DIGGING FOR RAINBOWS
Go back to Index of images