Ensemble KrazyKat and its Instruments
Ensemble KrazyKat regards music of the 19th century as early music, albeit late early music, and demonstrates that this music can benefit from the approach of combining period instruments with a fresh examination of repertoire and the study of performance practices.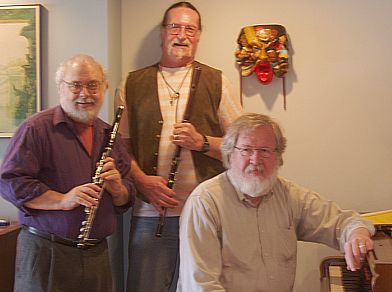 The flutes used by Ensemble KrazyKat are antique instruments made in Germany, Austria, and Russia — wooden, multi-keyed, conical-bore flutes from both the early and late nineteenth century. The modern metal Boehm flute was introduced in 1847, and while it became popular in the next several decades in France and England, it was not much appreciated in Germany where the more flexible tone and the character of the conical wooden instrument was prefered thoughout the century. We show below some of the instruments that will be played June 12.


Five-key flute, anonymous (German, c.1820)


Ten-key flute by S. Koch (Vienna, c.1820)


Schwedler flute by Kohlert (Graslitz, c.1900)
The conical, wooden, keyed flute was the only type known to Kuhlau; it was the instrument that Köhler never abandoned, and played into the 20th century. (Listeners will hear a difference, however, between the early and late 19th century instruments, the latter being somewhat louder and sometimes a bit warmer.) These flutes are for the most part much more difficult to play than either the baroque flute or the modern flute, but many musical gestures, expressive effects, and some passage work are in fact much easier on them than on the Boehm flute. We often feel, while playing music of Kuhlau and Köhler, how the music was crafted to exploit our instruments, and we do not believe it is possible to convey the ideas as well with other types of flutes.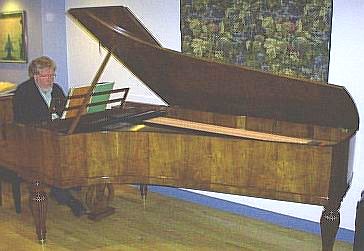 The piano was built in Vienna in 1857 by Johann Baptist Streicher and is straight strung with a wooden frame. While it looks almost as large as a modern grand piano, its tone is more transparent and it damps quickly because of the Viennese action. In particular, it does not cover flutes or other instruments like the modern piano. Passages in some 19th century music than are ponderous or heavy on the modern instrument become easier and clear on this type of piano.
Click here for more on the instruments.
A Few Program Notes
Born in Ülzen in Hanover, Friedrich Kuhlau (1786–1832) spent the years 1904 to 1810 in Hamburg, but fled to Copenhagen in 1810 upon the invasion of Napoleon's troops. He was soon appointed Court Chamber Musician, and later Court Composer, with the responsibility of composing dramatic works for the Royal Theater. His influence on Danish music was considerable. Outside of Denmark, he was known primarily as a concert pianist.
To supplement his income, Kuhlau produced numerous compositions for piano and flutes. Both pianists and flutists study his works, which show intimate understanding of both instruments. Kuhlau has been called "the Beethoven of the flute". It is often said that he played the flute himself—but this is myth. Click here for more on Kuhlau.
Kuhlau's Trio for two flutes and piano op.119 abounds in charming themes and exploits the many tone colors possible for these three instruments, sometimes putting the piano in opposition to the flutes, sometimes supporting one or both flutes, and sometimes being supported by the flutes.
Kuhlau's piano sonatinas are elegant, finely crafted works—certainly among the very best of this form. They are often used today as pedagological works and are too rarely heard in public. An early piano brings out their charm.
Kuhlau wrote six popular sets of duets for two flutes. Op.10/1, the very first of these duets, is already a masterful and satisfying piece, with some excitement at the end. There is, we think, a special charm to the flute duet, especially on early flutes. The flutist can be expressive without worry about being drowned out by another instrument.
* * *
Ernesto Köhler (1849–1907) was born in Modena to a German father and an Italian mother. After a two year period as first flute at the Karl Theater in Vienna, he joined, at the age of 22, the Imperial Ballet in St. Petersburg. In 1900, he was appointed first flute of the Imperial Russian Opera. He wrote an opera and several ballets as well as numerous works for flute, including a popular flute method. Click here for more on Köhler.
The Concert Duets, op.67 and op.68 are written for two flutes with piano accompaniment. Both flute parts are varied and intricate. Op.68 is based on a melody by Chopin. Op.67, to be heard later in our program, consists of variations of a melody by Schubert.
The two short duets from op.55 do not treat the two flutes equally—the first flute plays the melody and the second flute is accompaniment, or as in the case of the second duet we play, an adaptation of a Chopin Waltz, the right and left hands of the pianist.
Papillon (Butterfly) is one of many short character pieces Köhler wrote for solo flute and piano.
Köhler's Valse des Fleurs has been charming audiences for more than a century. It is one of those rare pieces whose beauty is both poignant and amusing.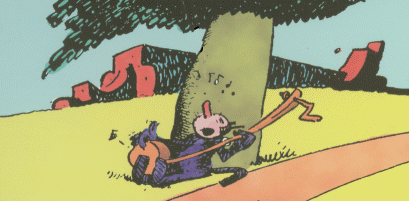 With apologies to George Herriman's Krazy Kat