ORDERING INFORMATION FOR HAPPY LITTLE PEOPLE AND THEIR WORLD
AND POETIC AND MUSICAL DESIGNS
by Kathy Wilson

1. Always include your address so that I have it on hand for mailing
2. I take PayPal: (Paypal address is the same as the email address I use on the homepage)
3. Everything is custom made so feel free to request any design or change.
4. Mailing is priority mail, $6 for US and approx $15 outside US, unless you want express mail.
This jewelry is lovingly and individually constructed, and personalized to represent and delight you, your family and friends. Each one is hand-soldered and formed by the artist. Each is constuctcted individually in sterlng silver, 14k gold, gold filled, brass, and copper, and specalizing in combinations of metals.
WEB SITE:
http://www.oldflutes.com/kathywilson
EMAIL:
kathywilson@oldflutes.com
Call with questions and orders:
(805) 886-9384
Call, write or email orders. AN EMAIL is the best way to secure your order. Put you address in every email, to be sure it is there when your order is ready to mail.
Visa, Mastercard or PayPal accepted (same email address)
MAILING ADDRESS:
Kathy Wilson
439 S. Catalina Ave. #306
Pasadena, CA 91106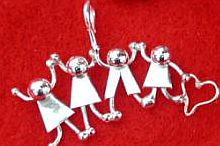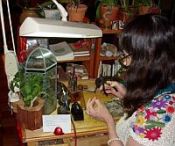 LITTLE PEOPLE::::CATS::::DOGS::::MUSIC AND MUSICIANS
CHARMS/PENDANTS/PINS/ RINGS/EARRINGS
::::FAMILY PINS AND PENDANTS/NAMES/MOM AND GRANDMA PINS::::
ANIMALS OF ALL KINDS::::SEA CREATURES
ANGELS::::JUDAICA::::HEARTS::::HOOP EARRINGS::::DANGLE EARRINGS
FLOWERS::::GEOMETRIC SHAPES::::ABSTRACT AND SYMBOLIC DESIGNS

Kathy Wilson, formerly known as Kathy Kasper in Santa Barbara at the Sunday Arts and Crafts Show, since 1976.

to all: YOUR ONLINE ORDERS WILL BE FILLED PERSONALLY AND PROMPTLY.
Matches for earrings, old designs, and repairs and alterations will continue to be done, and new designs developed and posted.
Check for regular updates to the web site
or email Kathy with custom orders.