Rafael Dressler's New and Complete Instructions for the Flute
Dressler's New and Complete Instructions for the Flute, Op. 68, was published in London in 1827, and in New York in 1828. It is intended for the simple system flute with eight or more keys. We make available here a facsimile reproduction of a 19th century edition in the writer's collection. This reproduction is Copyright 2006 by Rick Wilson, but may be downloaded and printed for personal use.
This is a relatively concise flute method that covers the basics well. The fingering charts are easy to read. Instances in which various keys and various fingerings are to be used are explained and illustrated by exercises.
The iv+55 pages can be viewed individually by clicking on the thumbnails below. Alternately, a zip file (13 MB) of gif files suitable for printing may be downloaded by clicking here; these files are of significantly higher resolution than those the links below give. A version of the entire method in PDF format (21 MB) is available here. A comb-bound printed copy may be obtained from the writer for $12 plus shipping ($5 for U.S. Priority Mail). Click on to order by email. (State that you want Dressler's method; instructions for payment will be given by return email.)
---
---
Use your browser's BACK button to return, or click below for the HOME PAGE.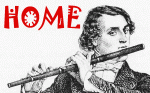 ---