"VROOM" VROOMs INTO PASADENA
"Vroom" is a not an official publication of Poetrydmv, (The Department of Modern Verse), but is edited and presented by member poet and "Pasadena poetry guru" Don Campbell, as a Poetry Month celebration. It contains forty of the over 200 member poets, who sent their poems in to the anthology. Both owners and proprieters of Poetrydmv, poets Steve Podielsky and Stephan Anstey, had poems included in the volume. (Steve Podielsky's "City of Cabs" is available from Amazon), Stephan Anstey's included poem was read (see below) by Kathleen at this reading.
From the DMV website: "The Department of Modern Verse is a constantly evolving community of wordsmiths, lingophiles and logophiles. We strive to attract greater appreciation for words, particularly poetic verse. As a forum, we allow, actually demand, feedback and interaction among members, both those who have a similar interest in writing, and those whose interests are more esoteric. Members are expected to post their own works and maintain their own selection list."
Go visit (and join) The Department of Modern Verse (The DMV)
http://www.poetrydmv.com
Video clips from the event:
Introducing the DMV &nbsp — &nbsp &nbsp video &nbsp &nbsp audio only
The Circles in the DMV &nbsp — &nbsp &nbsp video &nbsp &nbsp audio only
showing the list of poets &nbsp — &nbsp video &nbsp audio only
Jim Benz, " a fish bowl" &nbsp — &nbsp video &nbsp audio only
Stephan Anstey, "after the landmine" &nbsp — &nbsp video &nbsp audio only
Maria Michelle, "Virgil Street Line" &nbsp — &nbsp video &nbsp audio only
Julie Cook, "there's more than one way to skin a Reese's or skin a cat" &nbsp — &nbsp video &nbsp audio only
Emily Rose, "Get Me the Hell Out of Oz" &nbsp — &nbsp video &nbsp audio only
Daniel Ridges, "The Mechanics of Sex and Life" &nbsp — &nbsp video &nbsp audio only
Robbi Skaera, "Icarus Peaks" &nbsp — &nbsp video &nbsp audio only
(go to a recording of Robbi singing Icarus Peaks)
Kathleen's Surreal Art Demo &nbsp — &nbsp video &nbsp audio only
Kathleen Wilson "Mendocino 4" &nbsp — &nbsp video &nbsp audio only
Don Campbell, "So I Remember" &nbsp — &nbsp video &nbsp audio only

VROOM!!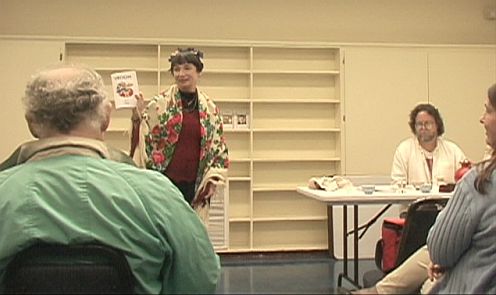 Telling the DMV story, and thank you to Don for VROOM
Teas, coffee and cookies on the table...Don sipped the Mint Tea...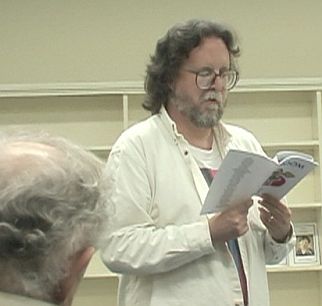 Don Campbell reading from VROOM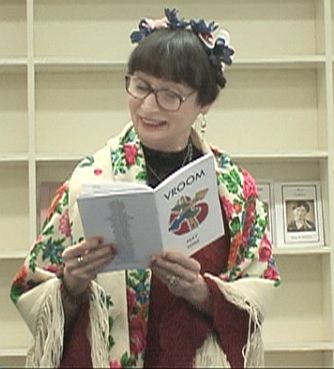 Kathleen Wilson reading from VROOM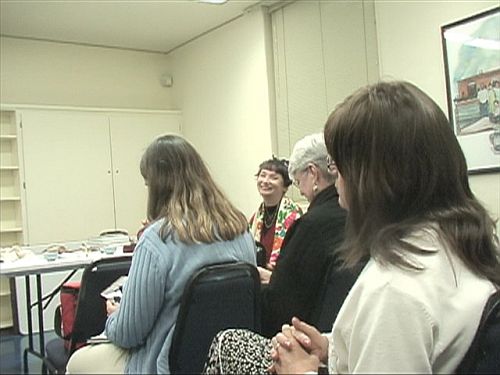 Poets listening to Don from the audience.

Showing her surreal art of the kind that goes with her poem in VROOM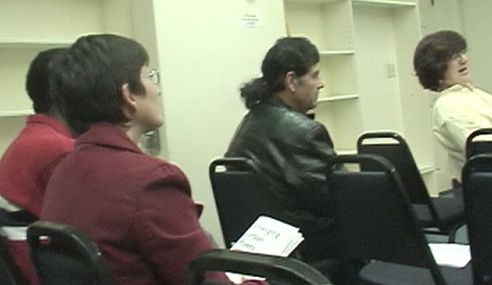 More poets listening from the audience. Poet Mira Mataric (who hosts her own reading series in Pasadena) in the front row.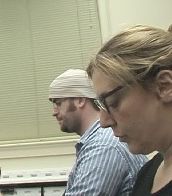 Two wonderful poets listening...Scott Kaestner, and Theresa Antonia (who hosts another series of poetry readings in Pasadena) in the foreground.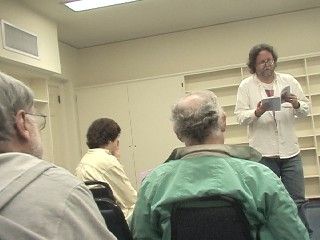 Don with his entranced audience. On the far left, is "Calokie" another dynamic local poet who read later in the evening and whose work is featured in many of Don's publications. You can see a better photo in one of the reading links in the poety calendar below.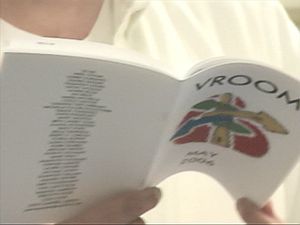 Don pointed out the shape of our list of poets...a coincidence...just in order of when the sent their poems to him!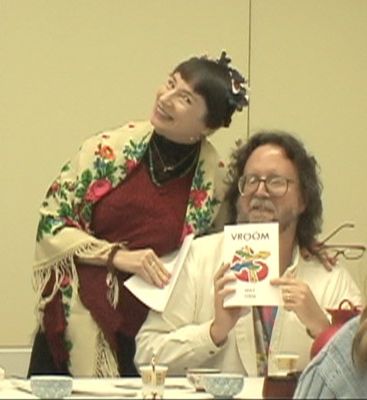 Oh! We did it! We're so proud of the DMV...audios coming soon!
Go to Pasadena Poetry Calendar
Some of the links there will show audience poets reading at other readings!