Kathleen Roland, Soprano
Teaching Voice at the Pasadena Conservatory of Music
See about Kathy's lessons with Kathleen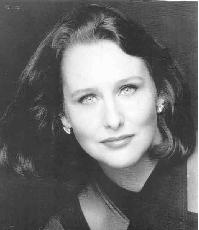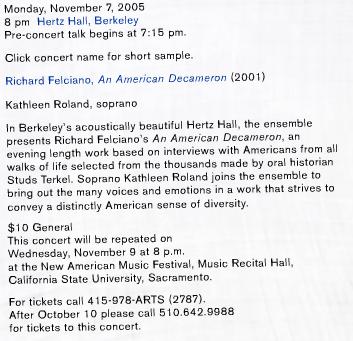 From Pepperdine University Pages: Kathleen Roland is active as a soloist in the realms of opera and orchestral music. A featured singer with many music festivals, including the Santa Fe Chamber Music Festival, the Britten-Pears Institute in England, where she sang with conductor Oliver Knussen, the Tanglewood (where she was a Fellow in 1992 and 1993) and Cumberland Music festivals, Miss Roland has also been heard on the Los Angeles Philharmonic Green Umbrella series and the Los Angeles County Museum Sundays at Four concert series. The singer has sung with many notable conductors, including Reinbert de Leeuw, Oliver Knussen and Kent Nagano. Her operatic credits include the roles of Rosalinda in Die Fledermaus and Giulietta in Tales of Hoffmann.
Ms. Roland has been a lecturing professor of voice on the faculty of the University of Southern California, where she has been a frequent soloist with the USC Contemporary Music Ensemble. Ms. Roland has been a featured soloist with the acclaimed Southwest Chamber Music Society of Los Angeles, with whom she has garnered critical praise for her performance of music of the 20th century. She has sung as well many times, to critical acclaim, with Long Beach Opera and the Pacific Serenades Chamber Music series. Recent performances include concerts in 2000 and 2001 with the Santa Fe Chamber Music Festival, concerts in Stockholm of American music, and the premiere in Los Angeles of Kurt Weill's The Eternal Road with the Los Angeles Jewish Symphony.
She has recently been awarded an American-Scandinavian Foundation grant, allowing her to live in Stockholm during the spring of 2002, where the soprano was a guest artist/teacher at the Royal Conservatory in Stockholm, performing concerts of both American and Swedish contemporary music. The soprano was a featured soloist with Southwest Chamber Music during their 2002-2003 season, performing four concerts with the organization. Ms. Roland may be heard on a recently recorded CD of the music of American composer Libby Larsen with pianist Katarina Strom-Harg. She holds a Doctorate of Musical Arts in vocal performance from the University of Southern California, and is a member of the music faculty at Pepperdine University in Malibu, California.
Go back to The Outsider Page