Concert: Southwest Chamber Music
Norton Simon Museum, February 4, 2006

The Composer Portrait Series focuses on Grawemeyer Award-winning composer Chinary Ung, described by George Crumb as the Cambodian Bartók. This timely and important retrospective of Ung's music was culminated by the world premiere of Aura, a major new work commissioned by Southwest Chamber Music Board member Sue Bienkowski and her husband, Wang Lee.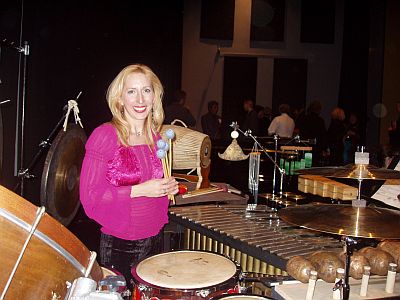 Lynn Vartan, percussionist, surrounded by her instruments, after the world premier of Aura, a piece by Chinary Ung. I am lucky to have Lynn as my teacher.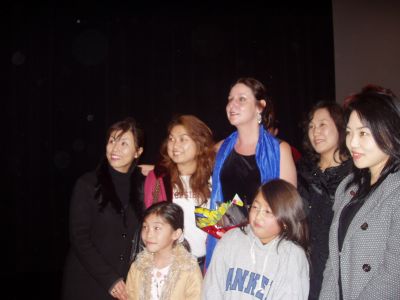 Kathleen Roland, soprano, in blue Cambodian scarf, after her performance in "Aura". She also sang Trois Poèmes de Stéphane Mallarmé by Claude Debussy. She is surrounded by some of her proud students. Kathleen is my voice teacher.
In a Landscape by John Cage
Trois Poèmes de Stéphane Mallarmé by Claude Debussy (piano and voice)
Songs in the Forest by Lou Harrison
Yu Ko by Chou Wen Chung
Trois Poèmes de Stéphane Mallarmé by Maurice Ravel (for chamber ensemble and voice)
Aura (World Premiere) by Chinary Ung
A broad repertory surrounds this Composer Portrait Series of Southeast Asia's leading composer. The series begins with illuminating discussion between two-time GRAMMY®-winning conductor Jeff von der Schmidt and composer Chinary Ung, with performances by Tom Peters and Lynn Vartan at the Norton Simon Museum.