Place/Displace: Three Generations of Taiwanese Art
at the Pacific Asia Museum in Pasadena We were so happy we got to this fascinating exhiibit! It was the very last day...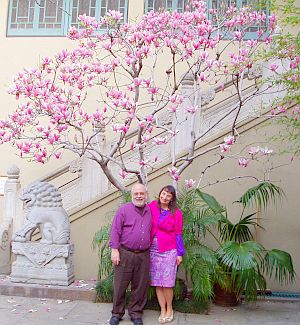 February 5, 2006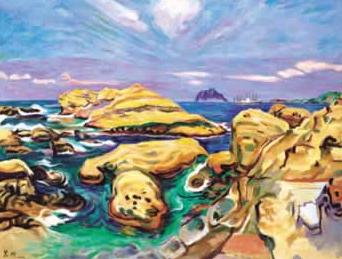 Overview of Fire Burn Island By Hsin-Yueh Lin Oil, 1996 Place/Displace: Three Generations of Taiwanese Art, organized by the National Taiwan Museum of Fine Arts, is one of the first exhibitions in North America to explore issues of cultural identity in the contemporary art of Taiwan. The exhibition features more than 40 works by 24 artists, both native and overseas Taiwanese, and examines the identification and transformation of cultural identity as expressed in their highly diverse works. The works include ink painting, oil painting, sculpture, calligraphy, and video art, and they reflect the uniqueness of Taiwanís history and culture. Guest curators Charles Liu and John P. Begley examine the role of politics, economics, communication, and environment in the formation of identity through the artwork selected for the exhibition. Traditional work is featured alongside avant-garde work. The most senior artist is more than ninety years old, while the youngest is in his twenties. By tracing the art through several generations, the past and the present interact in this exhibition to raise questions about cultural heritage and identity.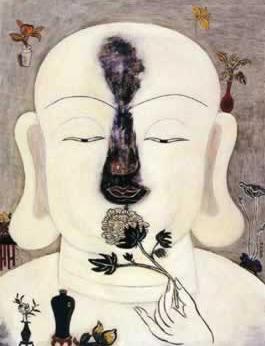 Limpic Wind By Min-Tse Lee Acyrlic, 1996
An interview with Guest Curator Charles Liu
Pacific Asia Museumís Assistant Curator Bridget Bray sat down with the Guest Curator of Place/Displace Charles Liu to learn more about the exhibition. BB: Why do you think contemporary Chinese art is given so much attention in the United States while not as much is given to Taiwanese art? CL: First, itís important to note that many of the Taiwanese photographers and video artists are recognized internationally, on the same scale as well-known contemporary Chinese artists. An example would be Chen, Chieh-Jen in 1999 and Lin, Shu-Min in 2001 who had their work shown in Venice at the Biennale. But generally I would say that China captures more attention. There are more resources dedicated in China towards the artists and their promotion. When curators put exhibits together, they feel that they have to include China to be complete but they might not think of Taiwan in the same way. BB: What place does politics have in Taiwanese art in general and this exhibition specifically? CL: Artists may be impacted by politics in their lives but art is not necessarily a political forum. I prefer to keep art separate so that people can interact with the art directly, without political filters between them and the works they are viewing. Art is art and I have tried to keep the focus on it in this exhibition. BB: You seem to have a special connection with the American West and its natural beauty in your work. How has the region impacted your work? CL: I work in traditional ink painting but because weíre in the 21st century, I feel that we need new images. In art school, we all learn Western art and techniques. In ink paintings of landscapes, I use a traditional technique but with a different approach to the subject matter. In my landscapes I depict an aerial or encompassing view instead of the tradition of depicting the mountain from the view standing at the bottom. We have all flown over these areas in planes and share that view as a result. I still express the philosophy of being in harmony with nature but I try to use a modern language to tell a traditional story. BB: In the last ten years in Taiwan, have most artists made a conscious effort to move away from traditional sources and modes such as Chinese, Japanese, and European schools of painting? CL: A survey exhibition like Place/Displace shows the styles as they exist today. We have so many reference points to draw from in Taiwanese art, it becomes very multicultural. The media and ideas are all different. It is very high-energy but not very stable as is typical during a period of growth. Twenty years ago, Taiwanese artists tried to follow Western art, now they all want to do something different and express a personalized vision. Taiwan and their Taiwanese identity will always be a part of that. Artists will always be searching for their place in the world and their cultural identity. BB: Many of our visitors may be seeing contemporary Taiwanese art for the first time during Place/Displace. What would you like our visitors to leave the exhibit knowing? CL: First, itís important to know that while many Taiwanese artists want a connection with other artists around the world, they want to express their personal vision without being limited to other artistsí traditions and techniques. Taiwanese artists want to catch attention and donít feel that art is just about beauty, comfort and decoration. Images can be quite strong and express complicated or sensitive issues. Artists such as Chen, Chieh-Jen may challenge the viewer and open a new kind of dialogue. Second, Taiwan is a very small island but many different arts have survived and been supported as a part of our cultural identity. I hope that the visitors will sense the energy behind the art and how we are developing. I chose the theme of following the three generations to give viewers a longer view. I like history and the historical background behind the artists but I would prefer that the art not be used in political debates. I donít explain what I think each artist is expressing because I would rather let each viewer have their own conversation with the artist by viewing the work and seeing what thoughts, ideas and feelings it triggers in them.
Go to Kathy's "Outsider Page"